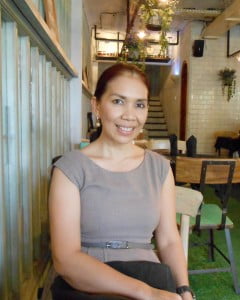 For the last nine years Petty Elliot has been living a secret life. She's ducked in and out of Jakarta's Restaurant taking mental notes and snapping mental photos of some of the city's best—and worst—dishes. But is the life of a food critic as exciting as it sounds?
"Exciting? Yes," admits Petty, who has been writing and contributing to local and international publications on Indonesian cuisine for nearly a decade. But, the mother of two admits, that sometimes the life of a food critic can be a little bit lonely.
"For me a meal is about friends and family, but sometimes, to review a restaurant you have to go alone, or you can't bring a large group of friends. Things can get lonely. And you eat a lot so you have to balance it with exercise."
Petty believes the key to wellness is finding a balance between foie gras and fitness. Beyond that, Petty, one of five Indonesian contributors to the Mille Guide, is quick to point out that writing reviews isn't all applause and pats on the back. Sometimes, to insure Indonesian restaurants stand up to international standards, you have to be critical.
"It's challenging," she admits. "You don't call. You're not invited. It's a cold, honest opinion. To have international quality restaurants here in Indonesia, it's important to give positive criticism. To give proper reviews are really important."
At the end of the day, the kid gloves have to come off and the standards need to be high. So how would Petty rate Jakarta's restaurants on an international scale?
"It's a fascinating scene," says Petty, who also advises international chefs here in Jakarta on how to infuse Indonesian ingredients into their menus. "Every day there's a new restaurant. But so far there's been too much focus on ambiance, decor and music. Restaurants need to take a deeper look at sustainability. There's been a strong international movement to use local ingredients, say from a 10km area surrounding the restaurant. I don't know why owners and chefs, customers, the whole community don't embrace local-grown food, especially for Indonesian dishes."
But she's not silently judging chef after unknowing chef. Her critic is not premeditated. The hardest part of doing restaurant reviews might be keeping an open mind, suspending judgment. Something we could all work on. Something that peace of mind and wellness depends on.
What would an interview with a food critic and a restaurant reviewer be if she didn't leave you with a Top Five list of her favorite restaurants in Jakarta. "For Italian I like Roso and La Luce. I like Sala, a small resto and I think for a French bistro you think the quality is nice. They're Indonesia and they understand quality cooking. For brunch I like—and they're only open Friday, Saturday and Sunday—G48, by Plaza Senayan. They understand taste and quality.
"And I like Pacific Restaurant in Ritz Carlton Pacific Place – I've been to the kitchen and seen the inside many times. I know the team. They do some special things. They're the pioneers. They started the trend of bringing in International chefs.  And one last one, for Chinese I like Din Tai Fung. If you know what you want, you go there. You want a bowl of noodles, that's where you go."
OK. Top Six restaurants. But, with so many good places in Jakarta to go, who's counting?