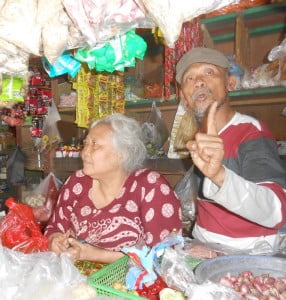 It may not look like much from the road, but just under the awning, Pak Kumis and his wife of 20 years, Ibu Aseh, are selling everything under the sun, from slick green banana leaves used to wrap tempe and Padang food, to fresh pineapples and vine-ripened tomatoes.
The mum-and-dad markets of the world are disappearing, but Kumis and Aseh are standing strong against the tide. They've owned and operated the same roadside stand for the last two decades. The loving couple, who have worked side-by-side every morning, come rain or shine since the days of Soeharto, have no plans of giving way to the big name international chains.
If it's shiny white floors and upright Haagen Dazs ice cream coolers you're looking for, Kumis and Aseh can't help you. But if it's fresh veggies piled high and authentic ingredients for traditional Indonesian food dishes strung from the wooden ceiling, then this is the place. The food stall has soul. There's no cash register, no air conditioning. Just pyramids of bright orange carrots, stacks of callused limes and dusty ginger knuckles piled like rubble against an iconoclastic scale. The only thing missing is a sempoa abacus. A line of ants race up the sides of the tired wooden walls as customers come and go, crossing off items from crumpled grocery lists or enjoying a sneaking mid-morning snack of krupuk and iced tea.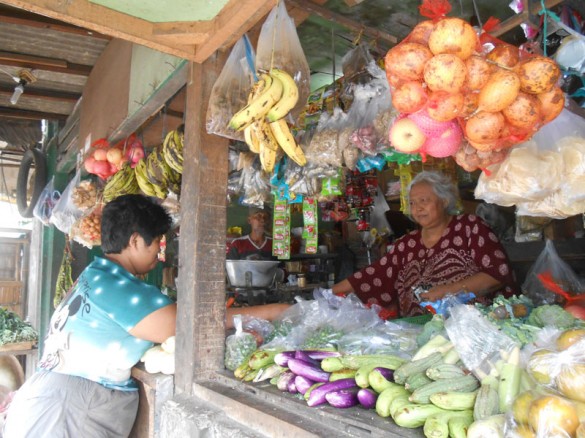 There's a constant flow of customers. Most are greeted by name—everyone with a smile. Pleasantries are exchanged, inside jokes are cued up and goods are purchased, but more than money changes hand. Both Kumis and Aseh have been up and shuffling behind the counter helping customers since before the sunrise, but they smile and greet everyone as if they were ancient Javanese royalty.
It's a family affair. Kumis and Aseh opened their one-stop grocery store right after they were married. They live in the back and their roadside store, just off Gatot Subroto, Mega Kuningan, has been so successful that their children have opened a second branch in Pasar Benhil.
But as Pak Kumis explains, it's not all easy going. "We open every morning at 5am and by three in the afternoon I'm headed to Bekasi to pick up supplies for the next day", he says between bagging a half kilogram of eggplant and a handful of spices. "Then I am back here at 9pm before falling asleep and then doing it all over again."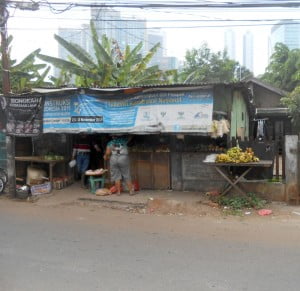 And while Pak Kumis and Ibu Aseh's shop is a welcome sight to people who still enjoy the thrill of bargaining and the joy of interacting with their grocer, spots like these are slowly fading from the radar.
"Prices are always rocketing up and down", Aseh says. "Before it was jengkol. Then it was beef. Now it's tempe. We act like we are used to it, but we're not", she says with a shrug of her shoulders. "We have to make money, so it's hard to explain to customers who rely on us that our prices have to go up."
And while Aseh explains the complications of running a small business with a smile, she cautiously admits that sometimes she wishes she could slip off to the back room, where she and her husband have lived for the last 20 years, and take a few days off.
"The economy demands that we stay open all hours. We have to compete with all the chains around", Aseh continues. "If you want to make money, you have to work hours like this."
Aseh passes the hours with a smile on her face, relying on good-natured banter and a few quips here and there to keep everyone smiling along with her. "The customers come and go and my husband and I spend the day joking. We love to see new people, and sometimes new friends are the highlight of the day."