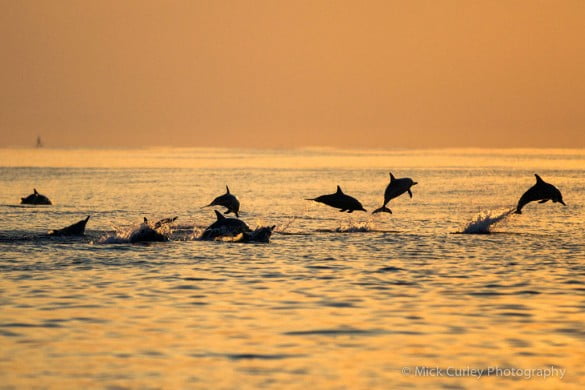 "We just want to protect dolphins but we have to wear bullet proof vests? That's ridiculous!" said Femke of the Jakarta Animal Aid Network (JAAN) as 12 black-uniformed men cursed JAAN's "save the dolphins" efforts outside the @america venue at Pacific Place mall in Jakarta. Ric O'Barry, star of the Oscar award winning dolphin-documentary The Cove and representing the Earth Island Institute (USA) was there with JAAN to meet with Minister of Forestry Mr. Zulkifli Hasan and U.S. Ambassador Scott Marciel to discuss releasing captive dolphins used as restaurant attractions in swimming pools and in travelling circuses. Just to bring everything up to speed, Indonesia is one of the last countries in the world to allow travelling dolphin circuses, but this will hopefully be coming to an end.
Saving any animal or marine mammal in this case should never have to come as far as wearing bulletproof vests in fear of aggression. Fortunately nothing but threats were made by the men in black and good seems to be coming out of this first February 6th public meeting at @america. During the brief meeting, Forestry Minister Hasan admitted to JAAN that these types of travelling circuses and restaurant dolphin pools are illegal and was surprised to hear that they even existed. In his words he vowed to find where they were and, "If necessary I will go there myself and dissolve them."
There are two known places in Bali that feature dolphins in pools as attractions. One is the Akame restaurant in Benoa, and the other is the Melka Excelsior Hotel in Lovina that markets itself as, "The first hotel in the world with dolphins in their pools for swimming." As you can see this is not something normal or allowed in other parts of the world.
Reports are that a Central Java holding pool is responsible for selling the dolphins to such shows and mobile circuses. An Indonesian biodiversity law is being used as a loophole to allow the operation of this dolphin pool under the guise that the dolphins have been rescued. From the pool to the circus or restaurant pool becomes a grey area exchange but that is the basic mechanics of how dolphins are made available for sale.
The problem is that captivity in small pools is seriously detrimental to the health of dolphins and many of them die young at work. Chlorine in the water helps keep the pools clean through several cycles of guests but is horrible for a dolphin's throat and skin. Dolphins need big open spaces for their sonar to work, and without that their senses are dulled. Inadvertently dolphins in such captivity live much shorter lives due to these unnatural circumstances.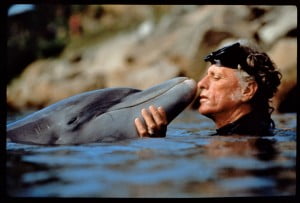 Ric O'Barry claims a show dolphin once committed suicide in front of him after giving up trying to learn tricks in its captive pool. But with a ready supply of replacement dolphins on hand, the restaurants in Indonesia have run their dolphin attractions day by day for years. Sure there are overseas waterparks such as SeaWorld in America that have dolphin shows that arguably treat them well with enough living space and food, but O'Barry's answer is that he is, "not happy with Sea World or any sort of dolphin captive park." O'Barry was the original dolphin trainer for the classic TV show Flipper, making a lot of money in the process. Something inside him changed, and soon after he became the biggest advocate for dolphin rights, helping to expose the horrible dolphin slaughter in Taiji, Japan. Indonesia is his new mission.
The travelling dolphin circuses are not much better in treating their show performers. Being transported by air and truck in tiny crates around Indonesia is hardly healthy to any person or animal, nor is being exposed to extreme gravity changes during flights when your natural habitat is in the ocean. In the shows the dolphins are made to jump through hoops set on fire among other dangerous acts. It was actually when a concerned person witnessed a dolphin die during one of the shows and made a call to JAAN asking if there was anything they could do to stop this that started the movement to put a stop to dolphin circuses. To date JAAN is the only Indonesian foundation doing this.
JAAN, along with Ric O'Barry, have started the first dolphin rehabilitation sea pen in Karimun Java to bring dolphins back to health and then release them back into the sea. The US$50,000 rehab centre is fully operational and the most advanced of its kind, but without any active help from the government there has not been one dolphin admitted there.
Additional support has been coming from around Indonesia too. Concerned residents in Bali staged a protest at the Kuta Central Parkir where the dolphin circus was taking place last year. The protest was very effective because it delayed the show opening and made it unpopular. Other local businesses in Bali such as Carrefour, Coca-Cola, ACE hardware and more have vowed to never allow dolphin circuses on their premises.
In Jogjakarta, an Indonesian youth group put together a dolphin puppet show for kids meant to show the bad of such dolphin circuses. To get the message home, they brought the puppet show to the same places the dolphin circus travelled to.
And that is why those men in black suits were pushing their weight around outside @america when O'Barry (in a bulletproof vest) met with Minister Hasan. Dolphin shows and dolphin sales are worth a lot of money and there are many opposed to ending this financial boon. The men in black called themselves the "Alliance of Indonesia" and were later found to be paid by those in the dolphin business to intimidate those at the meeting. Since that initial meeting, another meeting was called in late February between O'Barry, JAAN and Forestry Minister Hasan where a new Memorandum of Understanding (MoU) for freeing the dolphins was signed.
Following the MoU signing, Minister Hasan travelled to Bali and witnessed the Akame Restaurant dolphin pool where he ordered the two dolphins, Wayan and Made, to be released and sent to the JAAN Karimun Java rehab station. Strangely enough it took some days after this order for plans to be made, and then right before transporting them out the dolphins disappeared into thin air. Nobody knows where they are and they have mysteriously vanished from Akame restaurant and far from the Karimun rehab sea pen where they are supposed to be. Searches are ongoing with some news reports calling the dolphins kidnapped. It is quite hard to believe that dolphins are being hidden so well.
Until the missing dolphins surface it is anyone's guess where they are. Although the dolphin movement has gained government support there are still other powers at work that will try to perpetuate this black market trade. Advice to stop this industry is to simply not support it by not going to dolphin shows and restaurants. Public opinion and movement are strong and with enough solidarity they can change the course of such businesses.
Other peaceful alternatives are to strengthen dolphin tours that bring people out to see the dolphin in their natural habitat. These kind of eco tours are really what people want to see – dolphins in their natural environment –not shackled in a swimming pool. You can also help by supporting JAAN, and Ric O'Barry's Earth Island Institute. This story is still developing, so stay tuned for more info on one of the most intelligent creatures on earth, the dolphins.
JAAN WEBSITE: http://jakartaanimalaid.com/blog/programs/aid-for-dolphin/
Ric O'Barry's dolphin project: http://dolphinproject.org/