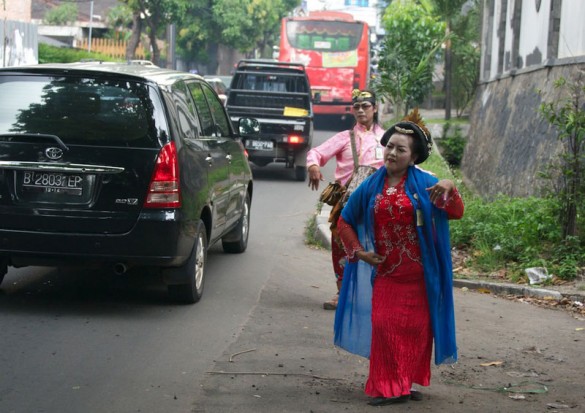 Nonong and Basio, both 47 years old, are not your typical Jakarta workers. In fact, they don't live in Jakarta but travel in from Cilicap on the southern coast of West Java hoping that a few kind motorists will enjoy their colourful costumes and traditional dancing and part with a few Rupiah so they can earn a living and continue to travel back and forth between the cities.
Whilst most expats complain about the traffic in Jakarta, for this couple it is a godsend, as they position themselves at key locations where the traffic is mostly at a standstill, performing the Jaipong, a traditional Sundanese dance. The dance was created in the 1960's when President Suharto banned most forms of western music in 1961.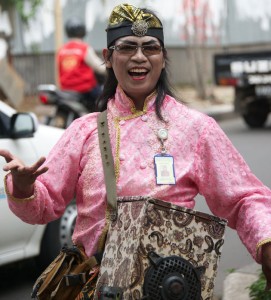 They own their dance uniforms but must pay Rp.15,000  per day for the hiring of musical instruments to lure the motorists into winding down their car windows. They seemed to be fairly successful as in the 20 minutes I was with them they received eight donations! Some days they will perform until late, as it is a very competitive business, and sometimes there can be turf wars, which is not very pleasant according to Basio.
The rainy season is a hindrance, as a wet and bedraggled street dancer does not have the same appeal for the motorists, so during these times they perform at the bus stations under shelter. Sometimes they get lucky and get contract work performing at circumcision ceremonies, birthday parties and weddings. Dancing is very much in the family as they follow in the footsteps of their parents and their 23-year-old daughter is also a very good dancer.
This smiling couple appeared very comfortable and happy with their job and really love performing. They are very honest, genuine people doing their best to survive in a competitive environment and a great example of people overcoming the odds, which is very much life on the streets of Jakarta.