Joki is the force behind The Little Green Cafe, an organic, healing community enclave in South Bali. She was born and raised in Croatia to a family of local healers and herbalists who grew all their own food.
What was it like growing up on a little island in Croatia?
My mother healed with natural herbs, making teas and always cooking. She was a little witch lady. We ate incredibly well. I was born with eczema and grew up with it. Nothing fixed it until at 16 I was taken to see a Chinese doctor. He put me on a special diet, eliminating things such as olives, dairy and red fish. He put me on a regimen of Chinese herbs. I was healed of the eczema and a kidney condition as well. I realized then the importance food plays in our health and it became my passion. He gave me a book I have kept and still refer to today; it combines western and eastern healing methods.
Tell us about your time working for Neal's Yard in London.
In my early 20s I went to London where I was fortunate to be 'adopted' by Neal's Yard Bakery, one of the first vegan restaurants in the UK. They gave me my own kitchen and the freedom to experiment and play, teaching me everything they knew. Celebrities like Madonna would walk in with a ray of light. She wore a bindi and went vegan, gluten free, sugar free, influencing Londoners to turn to a healthier, more spiritual lifestyle embracing yoga and meditation and organic foods. She was a huge part of the movement towards a healthy lifestyle in the UK.
I was best known for my desserts – all sugar free and gluten free, as they are to this day. I also managed The World Food Café, which was another popular organic restaurant for Londoners with lots of musicians and celebrities coming on a regular basis.
What brought you to Bali?
I met my husband in India. He made garments there and in Bali and sold them in the UK. Eventually I gave up my work in England and moved to Bali with him. Fashion was never my thing; if it were up to me there would be no fashion industry. There were no places here in Bali where I could go and eat the healthy foods I needed, so I created The Little Green Cafe initially just for myself and my friends.
How is Little Green Cafe different from most eateries?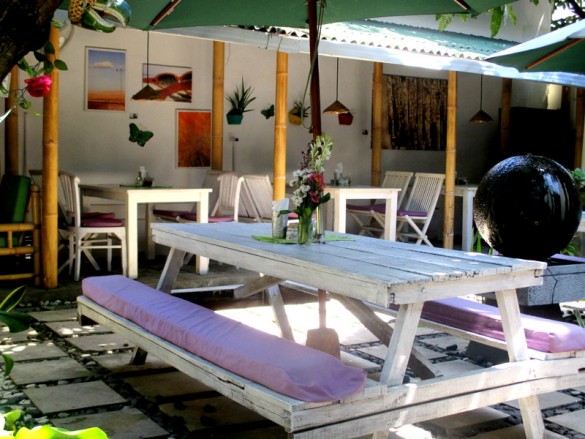 I keep it fresh and organic, serving food that's cooked and eaten that day; any leftovers go to staff and then to the local prison. We eat for our body and our soul, so it has to be good and nutritious. If there are six soups on a menu they cannot be fresh, so I keep my menu simple and it changes day-to-day, season-to-season. I source only from my known sources which deliver daily. I don't chop my vegetables too much as that kills their lifespan faster, and most foods must be consumed directly after preparing or juicing; after half an hour many of the vitamins and minerals have oxygenated and died. Food is powerful and contains the ingredients our bodies flourish on but also will make us sick if it is not real food, so keeping the processing to a minimum and getting it to the table from the farm is the best way to eat a healthy diet.
What is your advice to vegetarians to have a balanced diet with enough protein?
We have been so misdirected when it comes to food – broccoli has more protein than a steak. But make sure that broccoli is grown naturally and is not over processed! Politically inspired anorexics are not good vegetarians! Not eating meats or animals is not enough; eating sweets and processed foods that aren't meat is not good vegetarianism. Eat colourful fresh fruits and vegetables as they come out in season. Enjoy grains and nuts. Explore herbs as teas, checking there are no additives, and try not to have your food travel long distances!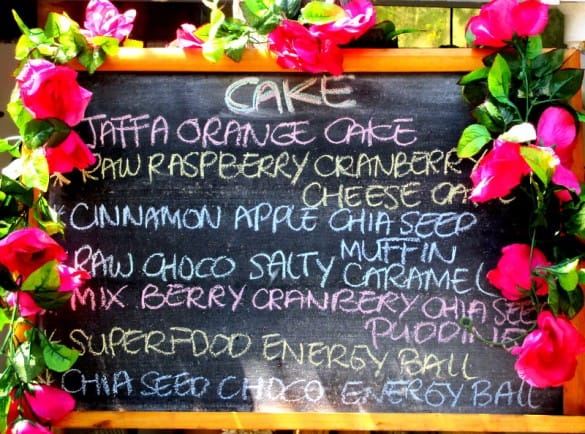 Sounds like a full-time job!
Well I am here to do that, but I think if you let your diet rule you to the point it is stressful, that it will not be effective. Guilt is the worst thing! Go ahead and have that steak or a milkshake if you want it. Just be aware and try to have at least half of your diet fresh and organic. You absolutely do not want eating to be a job. On the contrary, enjoy eating!
People find when they come to me with ailments that they start to appreciate and crave the foods that serve as their medicines. Your body will guide you. Once you start eating right and feel the difference it makes, such as more energy and better sleep, the body will respond best to the foods that are healing and good for it. If you cut processed sugar and salt out of your diet, your body will find everything sweeter and more savoury as your taste buds will actually change. We kill our taste buds with artificial or over processed sugars, spices, and condiments. Cross boundaries and experiment with the local natural foods available and you will be surprised how your tastes will change.
Do you take private clients with health issues or special needs?
Yes, I work with people who have issues or want to lose weight, etc. It's best working with a client privately if they have the time but I also give seminars and cater to yoga and spiritual retreats. Busy people come for a few days of peace and tranquillity. In three days your body can adapt to new habits, especially in a setting that includes mental and spiritual practices along with a good diet. I have witnessed amazing changes in people in short periods of time and some people I see returning say it changed their way of living. I give talks about healthy eating and one of the big subjects now being accepted is that one does not have to give up eating to lose weight or fight diabetes. It is what you eat!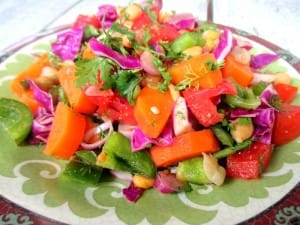 What are your favourite foods this week?
This week I crave tomatoes and avocados because their season is coming to an end soon.
What are some good anti-aging foods?
Actually, all good fresh foods are anti-aging. We need water, air and food to live, so the better the quality of those, the better the state of one's health. Watermelon and ginger are great cleansers and youth enhancing. The best is coconut water!
Can food consciousness save the world?
Definitely! Food has become a political issue. Populations are controlled by food and our food is controlled today to a large degree. Half of the people in developed and developing societies want to lose weight while a huge percentage of the world is starving! We waste so much food it contributes to pollution!
Food must be put back in the hands of the people and grown on small local farms and homes. It is a simple solution and proven to be the most effective. Our food choices will determine our future.
Thank you, Joki! For more information, please visit www.facebook.com/The.Little.Green.Cafe