Birdwatching is one of the many ways to relieve the stress that the world thrusts upon us.
But to get to watch those fleeting moments of those melancholy avians, you have to prepare some equipment, yourself, and be in the right place at the right time.
Let's begin your Birdwatching 101 Adventure!
When you have to get a glimpse of these elusive and more often than not shy creatures, you would have to be ready to build a lot of patience and arm yourself with the comprehensive beginner's guide to birdwatching. Learn the basics, you can also ask around for some tips. As you get ready, here are some of the things you can start with to become a full-fledged birdwatcher.
Learn to Determine Each Bird Species
It's not enough that you got to see and observe our innocent and sometimes rowdy little feathery friends. It would be more fun and exciting to guess and get to know each one of them. Of course, you don't need to be the walking encyclopedia of the bird species but having all the basic information is a start. You can begin with a guidebook of bird images and familiarize them.
You can search for complete and brief instruction on how to identify the birds that you'll see during your birdwatching. Learn to differentiate each bird by its group, shape, size, behavior, field marks, voice, etc. You can even buy a good book with all the images of the different species of birds in your area and place it beside you while looking at your binoculars.
Start in Your Backyard
To attract even one kind of bird around your area, you have to at least have trees, shrubs, and plants all around you. If you have not got one, plant a Bougainvillaea, Dogwood, Sunflowers, Milkweed, Cardinal flower, or a Virginia Creeper. These plants are classified as safe plants for a bird. In reality, any tree, shrub, or plant is okay, but you have to make sure that your bird friends will be safe and stay for you to observe them.
Plants aren't just the attraction that can persuade birds to come and play. They are, of course, beings that need to eat. So you can lure them close enough by building a bird feeder that would clearly be easy to spot when you are up in the air. Look for a guide on how to craft your simple bird feeder at home.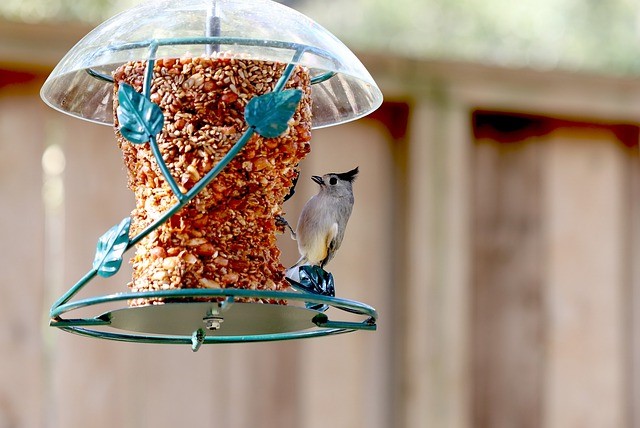 After you've built and placed the bird feeder at a visible area in your backyard or porch, pick the best kinds of food for the birds to keep coming. You can choose among seeds of sunflower, canary, cracked corn, nyjer, safflower, peanuts, and nectar. Be sure to avoid giving birds processed bread as the pastry is apparently not good for them.
Invest in Binoculars
If you want to step out of your yard and be one with nature, you can find some local group in your area that is into this interest of looking out for birds. Groups like this usually have their posts built inside the forest to watch birds while not harming or disturbing them. You can then use your high-quality binoculars to see and observe birds that are miles away up in the sky. You can purchase great optics for $100 to $200 that will have a waterproof warranty and are not heavy for you to carry around.
Become a Morning Person
The early bird indeed catches the worm. You could spot your friendly avians in your backyard at the crack of dawn. Birds are like us, they sleep at night and try to fetch some food in the morning. A 6:00 am alarm would be quiet enough where birds are not on their guard and would almost always land on your bird feeders, especially if you leave some food for them there.
If you are really into birdwatching now, you have to be ready to get up in the morning since many species of birds are more active and vocal as soon as the sun comes up. So be prepared and get your body clock warmed up to watch over those shy feathery beings.
Birdwatching isn't an exact science, and there aren't precise ways to spot them in an instant. It is a waiting game. If you are up to the challenge and have a day to spare, you have to be ready to get heaps of coffee, be patient and quiet in your hidden spot and observe them from afar. You'll never know, you might just experience the tranquillity and peace that you almost don't experience in your busy life