Indonesia Expat and Singapore National Academy are joining forces to provide insightful articles on Surabaya. The young, student journalists in the SNA Media Club get to learn valuable writing techniques with the help of the editorial staff at Indonesia Expat. All stories and photography are provided by the SNA Media Club and SNA Photography Club.
Surabaya is the second largest city in Indonesia with Jakarta sitting at the top. Surabaya may not be on the radar for expatriates and tourists, but our humble city has its charms and hidden gems. Do as locals do and explore these top 10 sites on your next trip to Surabaya, including a grand tour of our monumental shopping centres.
Ciputra Waterpark
Address: Kawasan Waterpark Boulevard Citraland, Sambikerep, Kota SBY, Jawa Timur 60219
Opening Hours: 1pm-7pm Tuesdays-Fridays & 10am-7pm Saturdays-Sundays
Contact number: 0317441155
If you or your little ones love playing with water then Ciputra Waterpark is the place to go. They guarantee a fun-filled day in the sun with lots of laughter. Locals love the waterpark, especially in the hot summer weather. The waterpark has many exciting pools and water slides. One of which is the Wave Pool, it produces artificial waves to surf and coast along. There is a 5D cinema featuring three movies – Knight Quest, Robinson Crusoe and The Time Carousel. And if you get hungry, the great news is Ciputra Waterpark sells a diverse array of food in its canteen to satisfy any appetite.
Kenjeran Beach
Address: Jalan Raya Pantai Lama, No. 2 – 9, Kenjeran, Bulak, Kota SBY, Jawa Timur 602123
Book a private boat from the Kenjeran beach to the iconic Suramadu Bridge while watching the sunset on the horizon. Kenjeran Beach is a peaceful place to stroll while enjoying the sea breeze. There is a new vista point to hang out in the evenings with your family while waiting for the amazing, golden sunset.
Sanggar Agung
Address: Jalan Pantai Ria Kenjeran, Sukolilo Baru, Bulak, Kota SBY, Jawa Timur 60122
Sanggar Agung is a Chinese temple which is open to anyone to visit. It has statues of Chinese religious deities and other Asian religious icons. The 20-metre tall statue of Guan Yin on the waterfront is the main attraction of the site. Other popular statues are the meditating Buddha, the giant Phra Phrom (Four-Faced Buddha) statue covered in gold and Chinese dragons.
Bamboo Forest
Address: Jalan Marina Asri, Keputih, Sukolilo, Kota SBY, Jawa Timur 60111
Do you want to experience Japan here in Surabaya? Surabaya has its own bamboo forest and cleverly taken shots will definitely result in Instagram-worthy photos. Have a picnic with your family under the shade of the bamboo trees while enjoying the peaceful rustling of the leaves and the melodious sounds as the bamboo stems hit against each other in the wind. Close your eyes and your senses will transport you to the Bamboo Forest in Arashiyama near Kyoto, Japan. The parking costs roughly Rp. 2,000 while the entrance to the Bamboo Forest is free.
Wonorejo Mangrove Ecotourism
Address: Jalan Raya Wonorejo No.1, Wonorejo, Rungkut, Kota SBY, Jawa Timur 60296
Opening Hours: Everyday 8am-4pm
Contact number: 0318796880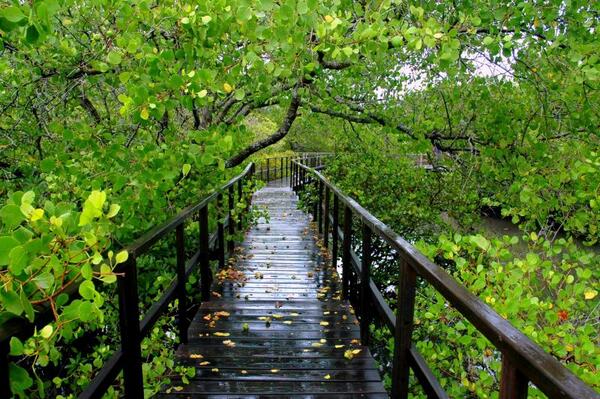 Get away from the hustle and bustle of the city and experience the peaceful stillness of the Wonorejo Mangrove Forest. You will be amazed to find yourself surrounded by greenery and fresh air. Catch a beautiful sunrise or sunset from the gazebo by booking a private boat for you and your family. The Wonorejo Mangrove forest is a huge mangrove preservation centre which was founded to combat the steady loss of mangroves–a habitat for many species of birds, crabs and even monkeys. The Mangrove Forest is the perfect spot for sightseeing, photo opportunities by the ocean and the ability to learn more about the wonderful wildlife of Indonesia.
House of Sampoerna
Address: Taman Sampoerna No.6, Krembangan Utara, Pabean Cantian, Kota SBY, Jawa Timur 60163
Opening Hours: 9am-7pm from Monday-Saturday & 9am-6pm on Sunday and public holidays
Contact number: 0313539000
You will feel that you've been transported back in time, the moment you step through the doors of the beautiful Dutch, colonial-style building and then you will be greeted by the strong scent of tobacco, cloves and other spices. The building, built in 1862, was originally an orphanage funded by the Dutch government. However, in 1932, a man named Liem Seeng Tee, purchased the building and made it into a cigarette-making factory named House of Sampoerna. Now, it is a museum that houses vintage objects originally owned by the founder's family and the House of Sampoerna also demonstrates how their Dji Sam Soe cigarettes, Indonesia's prestigious hand-rolled cigarette, are made.
Tugu Pahlawan
Address: Alun-alun Contong, Bubutan, Surabaya City, East Java 60174
Opening Hours: 8am-2:30pm from Tuesday-Friday, 8am-3:30pm on Saturday and Sunday. Closed on Mondays and holidays
Contact number: 0323571100
Surabaya is known as the "City of Heroes" as it was the Surabayans who fought courageously for independence against the Dutch in 1945. Tugu Pahlawan means "Heroic Monument." It is the central place-maker of the city and was built in honour of the soldiers who fought during the Battle of Surabaya on the 10 November 1945. The building is located in front of a government office and is decorated with carvings displaying the struggles of the locals as they fought for the freedom for all Indonesians. There is a museum named 10 November Museum underneath the monument which explains the historical significance of the monument. The entrance fee is only Rp. 5,000.
Surabaya Carnival and KidsPlay
Address: Jalan Frontage Ahmad Yani Siwalankerto No.333, Dukuh Menanggal, Gayungan, Kota SBY, Jawa Timur 60234
Opening Hours: 4pm-11pm from Friday to Sunday & 5pm-11pm from Monday to Thursday
Contact number: 0318483131
Ready for an adrenaline rush? Head down to Surabaya Carnival, a nighttime amusement park, with lots of exciting fun rides that will leave you screaming for more! Some of the most famous attractions in the amusement park are the Ferris wheel, a 4D cinema, pirate ghost ship, 3D art and wax house, go-kart and more. It also houses the 360 Theatre Dome; a theatre that displays a movie in full 360-view for free. The entrance fee to this amusement park ranges from Rp. 20,000 to Rp. 80,000. Kids Play, consists of a small indoor waterpark and a science education centre where kids can play while at the same time learn scientific themes. Entrance is priced at Rp.20,000 to Rp.40,000.
Pandora
Address: Jl. Raya Ngagel No.123, Ngagel, Wonokromo, Kota SBY, JawaTimur 60246
Opening hours: Daily 10am-10pm
Contacts: 087851194500 or email at [email protected]
If you are brilliant at solving puzzles and mysteries of the unknown, then Escape Room Pandora is definitely a must. Located in Marvel City, Pandora escape game can be played in a group of 2 to 10 people in 60 minutes. Your group's task would be to solve tricky puzzles, seek secret passages and hidden chambers and complete the assigned tasks based on the gripping storylines of the Chernoble Diaries, Amityville the Awakening and Alcatraz: The Last Witness horror films. To add to the challenge, you will encounter many surprises along the way with high end visual and sound effects. Are you ready? Will you scream?
Taman Flora
Address: Jl. Raya Manyar No.80A, Baratajaya, Gubeng, Kota SBY, Jawa Timur 60284
Opening hours: Daily 7am-5pm
Contacts: 085851580880
Taman Flora is a large park that has a myriad of beautiful and exotic flowers. You can feed small deer here, too. There is also a man-made river with Koi fish. Overall, this place is perfect for any aspiring photographers who wish to take photographs of plants and wildlife.