She's Indonesia's Greta Thunberg minus the environmental activist's Swedish scowl, replaced instead by a Javanese smile. Interpreting this as an absence of determination would be a grievous error.
Lia Putrinda, 29, a mother of two daughters, has already amassed more awards and recognition than many didactic academics who've struggled for decades to make us change the way we treat our world.
Factors in her success include youth, gender, cheeriness and an ability to inspire. She's also a gifted musician and singer, which helps lighten the delivery of her heavy message: Care for the world.
"I was always serious at school and wanted to do my best for my country," she told Indonesia Expat in her Sendangbiru resource centre on East Java's south coast.
"I'd seen how nature had been damaged by clear-felling and pollution which was affecting the lives of everyone in our community.
"About 20 years ago, we had a drought and the fishermen started reporting smaller catches. It was obvious something was wrong and it wasn't getting better.
"I was told not to worry because the wounds would heal themselves, but I wasn't convinced. I asked myself: 'What can I do?' I knew I had a duty."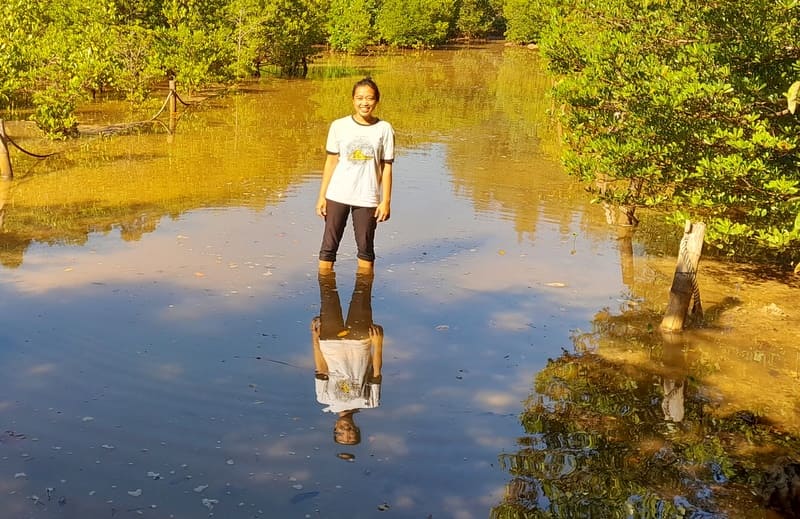 The answer was action – first family and then friends – cleaning forests of trash and planting mangroves in bare tidal inlets where the tree's prop-roots help stabilise estuary mud. The trees had been felled for firewood and charcoal, causing erosion.
Studies show that salt-tolerant evergreens provide safe breeding habitats for fish and shellfish, so a vital food source.
Coral in the ecosystem had also been damaged by explosives used to stun fish and mine the reefs for building blocks, even though illegal.
Nearby attractions, including the famous Tiga Warna (Three Colours) beach, had long-drawn swimmers and divers from Malang, a three-hour drive north.
Locals built guest houses to supply tourists' needs. But Putrinda realised this boost to the economy – traditionally dependent on fishing – could be lost if the attractions were damaged.
Putrinda is featured in a book on the nation's inspiring women by the Indonesian Government's Ministry of Tourism and Creative Economy. She's also been recognised by the Women's Earth Alliance,  a powerful international organisation.
Like Thunberg, Putrinda started young, speaking out before entering her teens. She knows what she's talking about despite having no tertiary qualifications. Her elevated English is largely self-taught, enhanced by a strong vocabulary from reading widely.
She had to forego a scholarship to study marine biology at an Australian university because her family didn't have the money to sustain her for several years abroad.
Staff and students from Brawijaya University in Malang have surveyed the regional environment and produced scholarly reports which have provided academic credibility.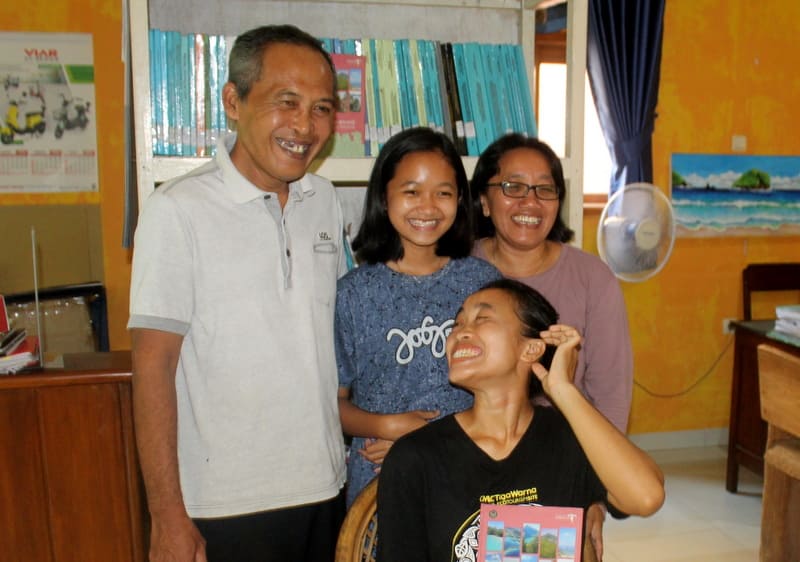 With her father Saptoyo, who used to run a general store, she started the NGO Clungup Mangrove Conservation to formalise the project and raise funds, largely through entrance fees.
Before the pandemic, CMC was attracting around 5,000 visitors a month. The number is now close to 3,000.  Most are Indonesians – few foreigners know of the eco site because there's little information in English – a fault yet to be fixed.
Explorers must be accompanied by a guide who explains the features of the 81-hectare park and ten hectares of coral and answers questions. The Rp190,000 fees help pay the 120 staff and build facilities.
So far, 1.8 kilometres of paving has been laid so visitors can get access to isolated points. There are plans to surface two more kilometres of road.
Visitors' bags are checked for bottles and food packaging – and again on exiting to ensure all waste is carried out. The policy seems petty, but it drives the point that good habits should persist in everyday life.
"Every person should be responsible for their trash," said Putrinda. "What we do now can affect others far away. For example, we are finding plastics on our beaches that have come from India on ocean currents and have been swirling around for years."
This is also an economic issue. Pollution of Bali beaches is giving the island a bad reputation overseas that's likely to push vacationers to seek cleaner places to stay and spend.
The focus of CMC is that education should not be imprisoned in a classroom, all desks facing a blackboard. Students should be able to see, smell and touch the topic.
Learning becomes fun by adding activities like paddling kayaks, pedalling bicycles, swimming and scuba diving to make a total experience. The mangroves and coral can't be seen in isolation.
Like a jigsaw, nature is interlocked. The birds, animals and insects need food and shelter among the trees which benefit from the wildlife pollinating and fertilising.
Putrinda's message is that missing one piece creates a malformed picture. Her organisation has been given some government money but so far has been unable to get backing from big business without compromising principles of no corporate advertising.
Posters and notice boards along the trails only show what the park does and why. There are no urgings to smoke cigarettes or swig colas.
Putrinda is frank about the problems she's encountered, starting with locals who feared bans against plundering the forest would lead to income loss. She convinced them to turn from cutting trees to working as conservationists.
Another problem has been bureaucrats who've resented a community organisation getting credit for caring for the land they're supposed to protect.
Putrinda's initiative has been praised by conservationists, but the applause hasn't gone to her head. She credits her parents for raising her and her sister, Labda Manggala, to appreciate nature and for believing that individuals can make a difference, however lowly their status.
"I want young people to see what's possible and help their communities, wherever they are," she said. "Don't leave the job of change to  others."