Indonesia's mountains are known for their spectacular summits and surreal beauty, attracting hikers from near and far. Sadly, the sight of litter often ruins these stunning views on hiking trails and in national parks in Indonesia. Tackling this issue, Trashbag Community regularly gathers hikers to take charge in cleaning up dirtied mountains in Indonesia. 
For most sports enthusiasts and travel junkies, hiking is a thrill that allows you to witness stunning views from peaks or simply be held spellbound by the natural world. But for Trashbag Community, hiking is more than a mere sport, as they bring the activity to the next level by taking the initiative to clean up the mountains they climb from piles of trash left on them by other hikers.
Established in 2011, Trashbag Community started from a couple of hikers who shared the same concern, which stemmed from encountering garbage left behind in conservation areas. Alarmed by the lack of responsibility from other hikers in caring for the trails they walk on, Ragil Budi Wibowo and Irvan Nugraha built the non-profit community with hopes of redefining what a hiker's main purpose should be.
For five years, members of Trashbag Community have cleaned up more than ten mountains and conservation areas all over Indonesia, including Merapi National Park (Jogjakarta), Rinjani National Park (Lombok, West Nusa Tenggara), Bromo Tengger Semeru National Park (East Java), Lore Lindu National Park (Sulawesi), and Kerinci Seblat National Park (Jambi, Padang).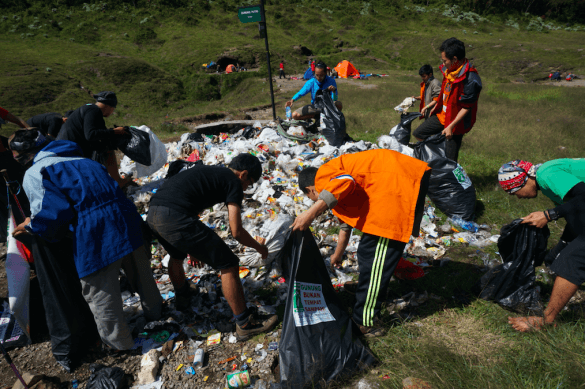 Speaking to Indonesia Expat, Alia Jawas, who serves as member and treasurer of Trashbag Community, shares that the group intends to ask hikers to reflect on their role as pecinta alam, or lovers of nature.
"If we think of ourselves [as pecinta alam], then why is our behaviour damaging nature, like throwing trash in most campsites in a national park? We must know that such places are considered as an ecosystem with animals and trees living in them," Jawas says.
Jawas notices that the problem with hikers is not only their lack of understanding of the importance of having a clean mountain, but also their inability to properly sort rubbish which would normally result in littering. This is due to their main priority of reaching the summit while turning a blind eye to their surroundings, even with rubbish scattered all over the area.
Nowadays, Jawas also finds that the emergence of social media has distracted the focus of hikers to taking and posting selfies or mountain views, and avoiding the real issues at hand.
Overall, Jawas admits that their task gets even trickier once hikers belittle the importance of what Trashbag Community does. Above all, she finds this to be one of the greatest challenges when trying to raise awareness of building a clean environment.
Regardless, Trashbag Community strives to achieve its goal through multiple ways. It recognizes three main points that hikers and society should be aware of if they wish to bring about change. First, Trashbag Community believes that we must start with action, where people need to understand ways to keep the mountains "green and clean". Second, society should be more socialized about the detrimental effects that trash can bring, for instance through a series of workshops, so that they would be more aware of the consequences if the issue is not immediately resolved. Third, Trashbag Community calls out for the government to fulfil their duty by consistently monitoring and managing conservation areas.
As a result, this year they are working with Dewan Pengurus Daerah (DPD) or the Regional Representative Council in 11 different regions across the nation to regularly educate hikers and nature lovers about their campaign 'Gunung Bukan Tempat Sampah' (Mountains Are Not a Rubbish Bin).
"In 2016 we have 11 DPD Trashbag Communities in Banten, West Java, Central Java, Jogjakarta, East Java, West Sumatra, West Kalimantan, South Kalimantan, North Sulawesi, Central Sulawesi, West Nusa Tenggara, and Bali is underway. All these locations have official members of Trashbag Community who help with our campaign, because most of Indonesia's mountains are located in those areas," Jawas explained.
Aside from collaborating with the government, the community also frequently holds interesting events, such as photo competitions and sharing sessions to further attract the masses.
Trashbag Community shows us that there are ways to integrate fun and leisure with our responsibility to care for our environment. In this case, an activity as exciting as hiking can also help encourage people to start thinking and exercising their powers to look after and conserve national park areas before it is too late.
"If we don't start to realize the damage from right now, who knows maybe in five to ten years there will be no clean and amazing mountains in Indonesia. The most important thing is to bring down your own trash and not leave it on the mountains," Jawas reminds.
She believes that with support from the government, pecinta alam and society on a larger scale, the mission to make mountains in Indonesia clean should not be impossible. Take nothing but photos and leave nothing but your footprints.
For more information, please visit http://trashbagcommunity.com