Slovakian born and raised; Marek Vojcarcik has always been amazed by Asia. His time in the hospitality industry has taken him travelling and creating connections with everyone he meets, professionally and otherwise.
Indonesia Expat had the opportunity to discuss the art of beverages, Marek's involvement in one of Indonesia's biggest lifestyle companies – ISMAYA, and his role as the General Manager of A/A Bar in Gunawarman since March 2020.
Marek, please tell us about yourself.
I was born and raised in Slovakia. Prior to Jakarta, I've lived in Thailand, Hong Kong, and Malaysia. I moved to Jakarta in May 2019.
I'm 32 years old and have been an expat for the past eight years. I enjoy lots of sports and recently got immersed in the F45 "cult" in its Kemang studio. I'm a professional diver as well as passionate motorbike rider and traveller. I used to play ice hockey and hope to get into it again in Jakarta.
What are the circumstances around your arrival in Indonesia? Why did you choose to settle here?
I was fortunate to get in touch with the ISMAYA group last year and at that time I was looking for opportunities around the region. I got offered the position of Group Beverage General Manager for the entire group and I accepted this great opportunity to join the fast-paced and growing company. I've found my happy place in Kemang Jaya apartment complex with a great green area and a peaceful neighbourhood.
You have extensive experience in Asia. How is Indonesia special?
In the past few years, I've travelled extensively around the Asia Pacific region. With multiple jobs, I've managed to see most Asian countries either as a business traveller or a tourist. Before I moved to Indonesia, I visited this beautiful country multiple times. I'm interested in its local culture and diversity, from cities to more rural areas. Indonesia is a unique country with very colourful cultures and amazing leisure travel destinations. As a diver, I greatly enjoy Indonesia with its amazing dive spots and biodiversity. Also, as a motorbike rider, there's nothing better than cruising the roads and discovering more remote places, small villages, and communities.
What are you busy with these days?
Besides running an establishment full-time, which takes up most of my week, I have recently started exploring the possibilities of investments into the production of beverages and exploring the countryside. It was quite difficult to travel anywhere during PSBB, hence I got into sports and cooking. If I'm not working, you'll find me in the gym or on adventures around Jakarta.
What made you go into the hospitality industry in the first place?
I've always enjoyed talking to people and hospitality gave me a lot of good friendships. It's very demanding, but it's also a rewarding industry. It's one of the few industries that can take me to many countries, where I'd have never thought I'd travel to in the first place. Not to mention all the crazy stories I've been a part of while running bars, restaurants, or brands.
You describe yourself as "a well-seasoned hospitality veteran". What's the biggest lesson you've learned?
That's a question which can be answered in many ways. I think the biggest take-home would be learning soft skills and genuinely understanding people. Hospitality professionals spend most of the time at work, so I had to learn how to spend quality time off work.
It taught me how to be selective with the people and the places I spend my time as well as how to make genuine friends while travelling. There's a big difference in travelling if you know someone who works in hospitality. Nothing better than coming to a bar as a guest and leaving as a friend. Our job is to make you feel like there's always someone who knows what you like to drink or eat, while genuinely sharing conversations, and calls you by your name. It creates a bond and happy memories for everyone involved.
What were you focusing on as the Group Beverage General Manager of ISMAYA?
In that position, I was focused on the opening of outlets, from the design of bars to menu development and vendor relationships. I was involved in all the new openings as well as festivals organised by the company pre-COVID. As well as helping the training department to develop new courses and engage with owners to develop new opportunities for the company. Nowadays, I'm full-time engaged as the general manager of a speakeasy bar called A/A in Gunawarman, South Jakarta.
You started working at A/A Bar in March 2020, just as the coronavirus pandemic hit Indonesia. How has your experience managing the bar been?
We opened again at the end of June and, so far, the business is picking up slowly but steadily. We all understand that people are scared to go out and be around crowds, however, we're making sure that all social distancing and safety protocols are not just on paper but actually carried out. It's a time in our lives that no one was ready for. I'm happy I get to work with an amazing team in A/A and we have our regulars who support us through these difficult times.
The large-scale social restrictions (PSBB) impacted food and beverage businesses nationwide. What special PSBB programs, during the tight period and transitional period, do A/A offer?
We do, of course, have a data tracking system, which would be used in the situation of there being any positive cases at the outlet. Luckily, this hasn't been used yet.
Besides those mandatory procedures, we've introduced Indomie treats for everyone at the end of the evening. I believe this small gesture gives our guests a pleasant end of the night. After a well-spent evening full of cocktails, a small bowl of Indomie is definitely a good treat. Not to mention, who doesn't like Indomie Goreng? As well, PSBB gave me time to look into new cocktail concepts, which we are currently working on. A new menu will be launched once the dust settles a little bit.
Speaking of programs, what were the key elements you used for ISMAYA's beverage programs across eight lifestyle and four restaurant brands?
Each brand is unique and aims for different guest profiles. My job was to assess the target market and work closely with the marketing team to create new beverage concepts, which would be innovative yet easy to digest for consumers. The portfolio of brands was very wide, from day to day affordable brands to high-end premium outlets.
With the constant regulation of restaurants and cafes permitted to allow a dine-in experience, how has this impacted you?
Every food and beverage outlet are facing challenges. In my field, I'd say the biggest challenge is the lack of support from the government for imported goods, especially spirits and wines. I hope one day we'll be able to offer more diverse product portfolios for our guests. Indonesia deserves more quality spirits, wine, and beer on the market.
How does one ensure to get the ISMAYA experience at home?
ISMAYA is a very creative group, which seeks multiple ways of doing business. During PSBB, the Gourmet Shop and Bottle Shop was developed to diversify income for the company online. Guests can enjoy hassle-free, quality meals which are easy to prepare at home. Other than that, an online festival experience for 2020 was also offered.
We wanted to bring a little bit of lifestyle to our guests' homes. With the motto "Creating a good life", we're doing all that we can to make sure people can live their lives well-fed and entertained at home during these difficult times. Of course, we offer takeaway menus for all brands, from sushi and pizza to high-end steaks as well.
What are your inspirations behind the beverages you create?
Beverage creation is similar to art in many ways. Ideas can come from daily experiences. Some particular ingredients can trigger the creative process too. Once there's an idea, I elaborate and brainstorm how to modify this to the local taste and presentation. I like ideas which are unique, but easy to understand and digest for most people. Once the beverage recipe is done, the presentation process starts by looking at how to package this idea in a very pleasant way.
Tell us about your favourite beverage you've ever made. How about the best beverage that's been served to you?
I try to stay away from the word "favourite", as each recipe was created for guests. I do enjoy making anything as long as it brings happiness and good feelings for the person who enjoys that particular beverage. As for the beverage which was served to me, I would definitely say it was Krug Rose 1988 in Krug Maison, Reims, France. It wasn't a cocktail, however, that particular experience was a combination of travel, taste, and company. It was a remarkable trip.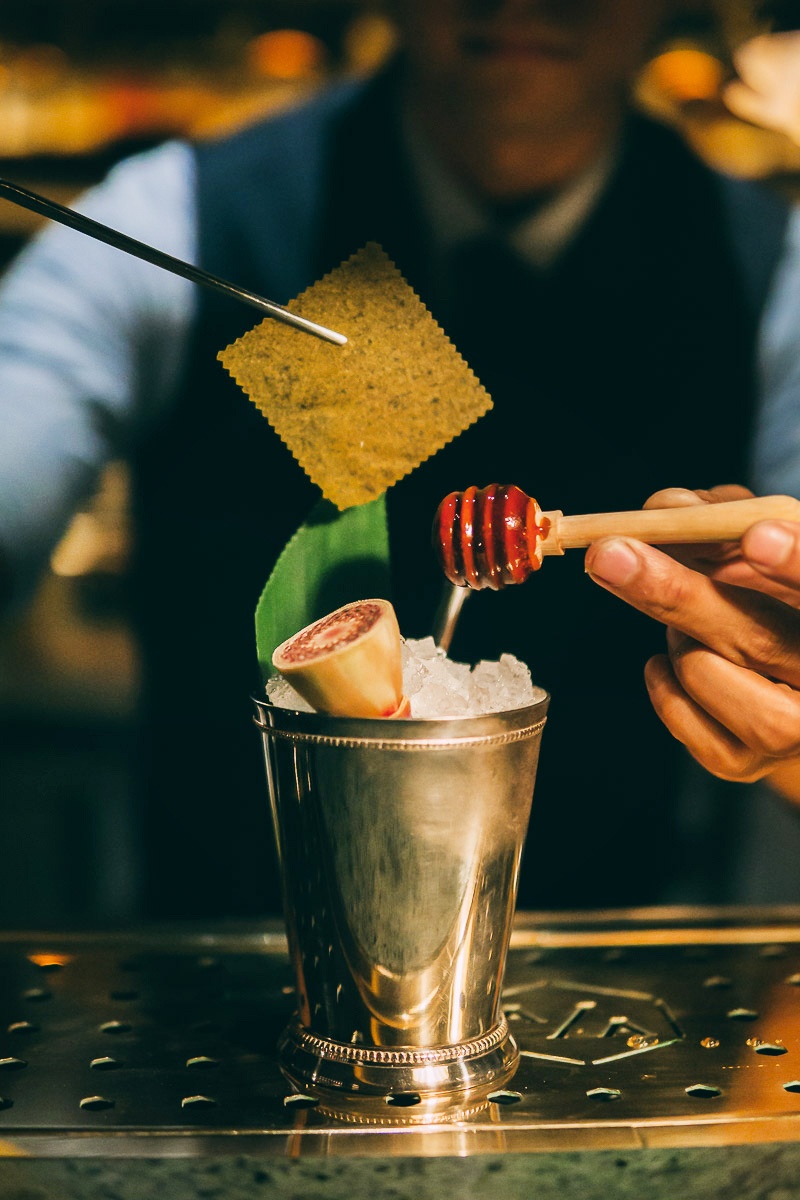 Would you like to share a beverage recipe that everyone can make at home?
There are plenty of simple recipes I could recommend, but I'll share my favourite Martini recipe which is easy to make at home and is delicious.
Mix in a mixing glass – or you can use your French press at home – 45ml of Belvedere vodka with 15ml of Sherry wine. I personally use Lustau Amontillado Sherry which has a bold and nutty flavour. Stir it for at least 15 seconds with quality ice. Remember, ice is like fire for chefs, one of the most important ingredients is the ice itself. Strain it into a well-chilled Martini Glass and you're all set!
It's a very cold and flavourful cocktail, great before any meal or after a long day at work. You can always come to A/A bar and ask me to make it for you, I'll be more than happy to have a good chat with a Martini in hand.
A pleasure to chat with you, Marek! Stay safe and healthy.