Hermann Wegmueller is a Swiss expatriate who has been in the travel industry since the age of 16, previously working in Bali and Bangkok. A newcomer to Jakarta having moved to the capital in September, Hermann leads MG Global, a hotel wholesaler to the travel industry in Indonesia and the world.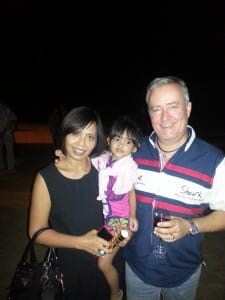 What differences have you noticed between Indonesia and Thailand's travel industries?
Thailand sees tourism as the most important foreign exchange earner, and has therefore set up a government tourism promotion board with substantial funds to promote the country in all source markets around the world. The Indonesian government has just started to realize and develop several large tourism destinations inside the country.
Apart from Bangkok, Thailand offers destinations such as Pattaya, with plenty of entertainment; Hua Hin as a quiet laid back golfing destination; Koh Samui as a small tropical coconut island; Phuket as a large integrated beach resort area; and more. In Indonesia, we are still mainly focused on Bali and a bit of Lombok. The potential, especially in Eastern Indonesia, is untapped and huge. In a nutshell, development in Indonesia takes a much slower path, with the exception of Bali.
You are Managing Director of MG Global, a hotel wholesaler to the travel industry. Talk us through what exactly your business does.
We empower more than 3,500 travel agents with best possible prices and availability at hotels and resorts throughout Indonesia and the rest of the world. In Indonesia, we have approximately 3,000 hotels under direct contracts with such prices and availability. We have strategic partnerships with other global wholesalers and aggregators whom we connect with through various highly sophisticated software. As such, we can supply wholesale hotel rates all over the world.
Your company provides the best deals to customers at over 250,000 hotels worldwide. Can you explain how the B2B model works for MG Group?
Because of MG's immense purchasing power and ability to deliver over 1.5 million room nights a year to hotels in Indonesia, we are able to negotiate exclusive deals (both static and dynamic rates) which are distributed to travel agents, who in turn sell to their corporate and leisure customers. This business model provides hotels with a low-cost distribution opportunity, avoiding paying large commissions to online travel agencies, who in turn spend huge amounts on search engine marketing and other forms of advertising. In general, travel agents are able to offer lower pricings in 95 percent of hotels at any given time.
The MG Group comprises of four major distribution channels: MG Bedbank, Abacus RoomDeal, Rajakamar.com and MG Destinations. What is your company aiming to achieve through these channels?
We aim to get our products in all channels and cover all segments of the hotel distribution business. MG Bedbank targets the B2B segment of the market in Indonesia, whilst rajakamar.com is for consumers and is focused on developing organic traffic, booking through apps and exclusive promotions like the one just launched with BCA bank: www.rajakamar.com/BCA.
RoomDeal is a B2B booking system integrated into the Sabre/Abacus GDS (flight booking system for travel agents) and services agents throughout Asia Pacific. MG Destinations is a supporting division for the other channels and provides logistic services such as transportation. Corporateroomdeal.com provides a booking platform for corporate companies, and MG Global focuses on leveraging our strength in the domestic market to provide Indonesian hotels to global B2B customers and aggregators, as well as making direct contracts with hotels in key destinations like Singapore and Malaysia.
What is it about working in the hospitality/leisure industry that excites you so?
The dynamic, exciting and ever-changing environment, being part of creating a holiday experience, being in a business that is the fastest-growing in the world, and the fact that it is a business that everybody dreams of (both as a profession or as customer). Also, it is a people's business and relationships are still very important.
Working alongside so many hotels and travel agents in Indonesia, you must have an insight into the challenges that they face. What is the main challenge that the industry faces here in Indonesia and what would you do to change this?
The choice of hotels and activities that clients have is ever-increasing. To sift through this 'jungle' is the most challenging aspect. For example, new hotels are opening up almost every day. It is very challenging to get the right staff for the job, and people in the service industry should be better educated in special tourism schools, getting better pay which would lift up the entire sector. The government should extend incentives for such educational institutions.
With a burgeoning middle class in Indonesia, what do you foresee happening in the travel/tourism sector within the next five years?
Indonesians will continue to travel and this sector is destined to increase further. With less time on their hands, I predict that more people will book their holidays online. They will embrace new technology (checking into their rooms before arrival with their smart phones, for example), and will opt for new hotels and destinations.
People who have worked with you say that you are extremely hard-working. What trait in business do you believe is most important to possess in order to be successful?
People in this industry expect instant replies in order to proceed with their work, so it's imperative to be on your toes. Also, honesty and respect are important.
You must be consistent with what you say and what you actually do and deliver. It is much better to deliver more than was promised, rather than the other way round.
You are a licensed Scuba diving instructor. Have you any plans to leave the corporate world and lead a career underwater?
No, I used to do this when I was very young after graduating in order to gain experience in teaching and travelling. I will, however, continue to dive recreationally when I have the opportunity to do so.
When you check into a hotel, what is the first thing that you notice and why?
How quickly and professionally the check-in is processed and how easy it is to understand the room's facilities, such as light switches, etc. Free and fast internet access is extremely important, as is a good bed.
Where will you and your family be holidaying at the end of the year?
We will retreat to a ski mountain resort in Switzerland for the holiday season.
Thank you, Hermann. To get in touch, please email: [email protected]