Meghan is Co-Founder, Director and Producer of the Bali Spirit Festival and lives the mission of the festival through Karma Yoga (selfless service), sharing the spirit and energy inherent in the Festival.  
You are from New York and started doing business at a young age. Tell me about that.
I was an only child growing up in NYC. Being alone all the time, I had to keep myself busy and art was my solace. I was always creative, spending Sundays with a local artist painting in her studio. Ever entrepreneurial, at nine years old I started my first small business, selling seedlings to my neighbours to make our building's front garden beautiful – in NYC, beauty amongst the cement is coveted. My second business was creating and selling funky sculptural jewellery – I did that until 14 or so. In high school, I worked for a travel agent which turned me on to travel and event production, and at 17 I started taking my buddies on international trips and throwing parties. I was fortunate to have gone to the United Nations International School in NYC, a heart-opening, multi-cultural experience that shaped who I am today.
Why did you choose to come to Bali in 1992?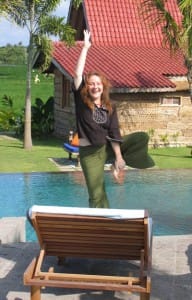 I turned 21 in Bali in 1992. I was in the third year of my BA in Art History, Anthropology, and Asian Studies at Beloit College, Wisconsin, USA, when I discovered Indonesia through the Anthropology department. Lucky for me, the head of the department was an 'Indophile' and I was blessed with the opportunity to come here for a semester abroad and focus on Indonesian art and culture; especially Balinese. It was then I met my future husband, so it was natural for me to eventually settle here.
Why did you decide to stay here?
I didn't come with the intention to stay. But when I fell for this wonderful Balinese man, Kadek Gunarta (also known as Dek), the future was determined. Although we tried to settle in hippie-ville Northern California, Ubud kept beckoning us back. Now, 20 years later, we are still together with two children who go to the fabulous Pelangi School, a small community school in Ubud we helped create. Dek is my life partner and also the co-founder of the festival. He runs his own business and is active in our mutual endeavours in the social sector.
How did the Bali Spirit Festival come about?
In 2007 we had recently launched The Yoga Barn in Ubud and worked in the non-profit sector. On a whim, I took a trip to experience WOMAD, an amazing world music event, and I came back to Bali jazzed up to inspire others with a similar event here. Growing up in NYC and having gone to the United Nations International School, I love world music. In 2008, I thought I'd bring this multi-cultural energy to Bali, and Bali Spirit Festival was born with the help of a brainstorming session with our third co-founder, Robert Weber.
The festival is rooted in the Balinese-Hindu concept of Tri Hita Karana. Can you explain what that means?
Tri Hita Karana refers to harmony with God, harmony in community and harmony with nature, inspiring us to use our resources and energy to achieve balance in one's daily life and environment.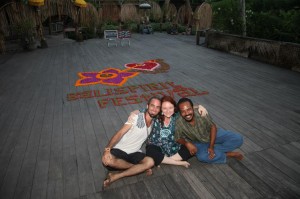 It is said you live the mission of the festival, or Karma Yoga (selfless service). What other companies and NGOs are you a part of?
Through the Bali Spirit Festival, BaliSpirit.com (an online directory for holistic Bali) and our other bricks-and-mortar businesses, Dek and I have launched Yayasan Kryasta Guna, a foundation to support community, culture, health and the environment. Through this foundation we run an HIV/AIDS awareness programme (Ayo! Kita Bicara HIV/AIDS), a bamboo reforestation programme (Bali Regreen) and a multi-cultural arts performance programme.
You are a certified yoga teacher since 2002. How does yoga enhance our energy; individually and collectively?
Yoga is an internal practice; in my opinion it's a practice based on awareness and certain values. I do not actively teach asana (the yoga art of sitting still), but I do practice and teach seva (selfless work). I believe that yoga enhances all areas of our lives positively, and awareness is the driving force behind Bali Spirit Festival and everything I do.
Tell me about the highlights of this year's festival in early April.
The festival grew by about 20% from 2014 – it is increasingly global, with participants coming all the way from Estonia and central China. This year we had nine workshop pavilions, a vibrant marketplace, an incredible daily kids' programme, magical healers and an enhanced daytime music programme on the Coco Love stage. At the One World One Stage night concerts (at Agung Rai Museum of Art), a big highlight was the Spirit of the Hornbill Dance Academy who flew over from central Borneo to perform and represent the rainforest. Also, a special guest appearance by '90s singing siren Toni Childs was fabulous. 2015 was the best ever!
Can you tell me your philosophy behind making money?
There's a phrase: 'conscious capitalism'.
I believe generosity makes the world go round, and money is made to be used for good purposes; not to enrich oneself but to enrich community.
Business should be win-win and when you put out good energy, you get it back! 
Do you have any new plans for the future?
To gather up a group of people who want to see the quality of life for Ubudians improve and, most likely, to create more community spaces and events.
Thank you, Meghan! For more information see www.balispirit.com