In the realm of Indonesian sports, a league of extraordinary gentlemen has risen to capture the hearts and imaginations of a nation.
We unveil the profiles of the top 10 Indonesian sportsmen who have carved their path with sweat, passion, and an unrelenting commitment to excellence.
1. Rudy Hartono
Badminton player
Born:  August 18, 1949
From: Surabaya, East Java
Height: 182 cm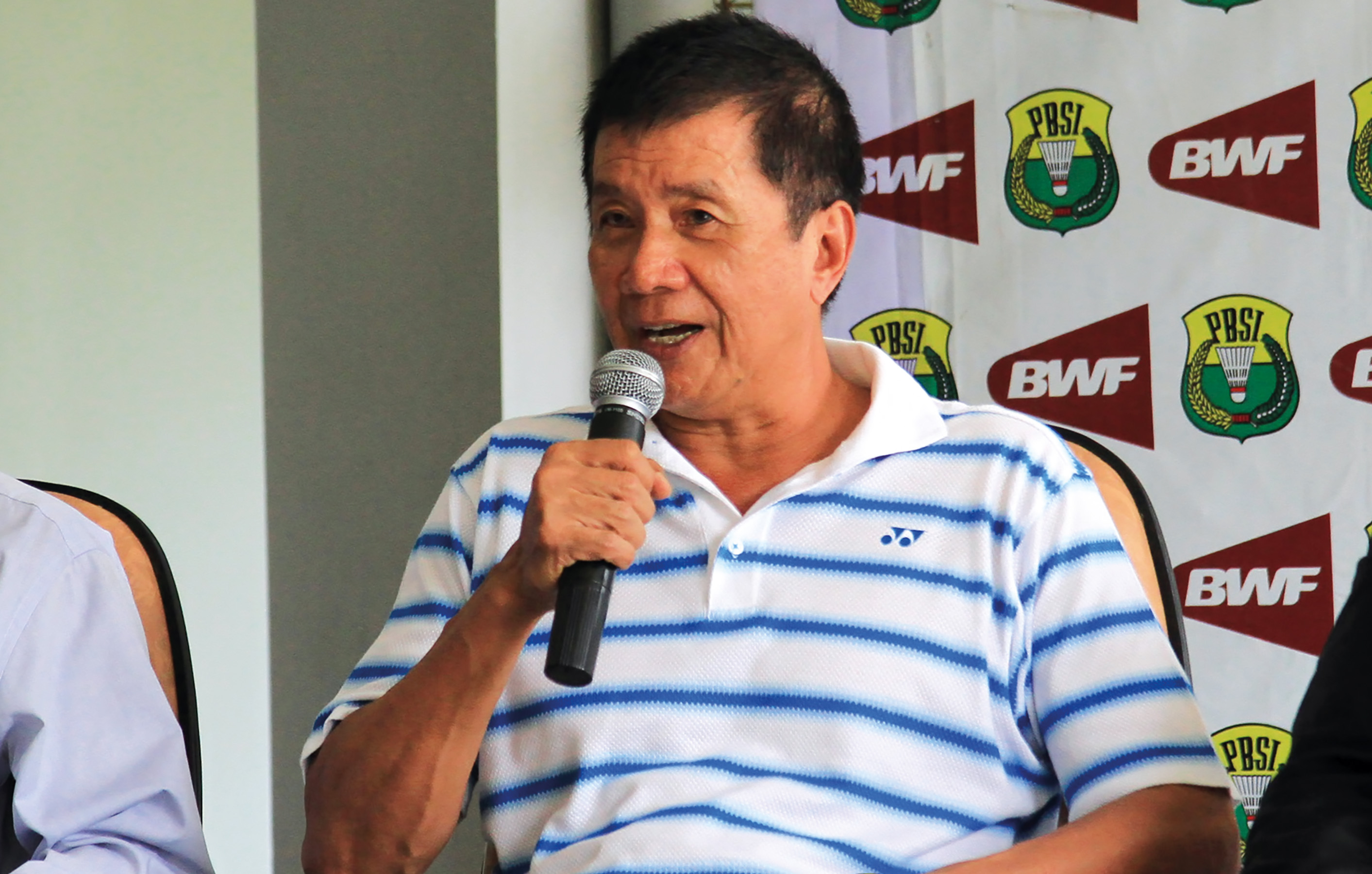 Sports buffs know that Indonesia's first Olympic gold medallists were shuttlers Susi Susanti and Alan Budikusuma in Barcelona in 1992. And before them, Indonesia's first ever Olympic medal was a silver in women's archery in Seoul in 1988. But let's recheck the history books. Badminton was a demonstration sport at the 1972 Olympics in Munich. Indonesia dominated and no one was more dominant than Rudy Hartono Kurniawan, who won Indonesia's first Olympic gold medal by thrashing his Scandinavian opponents in the finals of the men's singles. Unfortunately, medals for demonstration sports are never included in the official count. Rudy won the men's singles at the All-England Championship eight times, seven times consecutively (1968-74). He also won the World Championship in 1980 in his only attempt at the title. One of the greatest players in the history of the game, Rudy later served as an administrator in national and international badminton federations. He was also a UN Goodwill Ambassador for Indonesia.
2. Chris John
Boxer
Born: September 14, 1979
From: Banjarnegara, Central Java
Height: 169 cm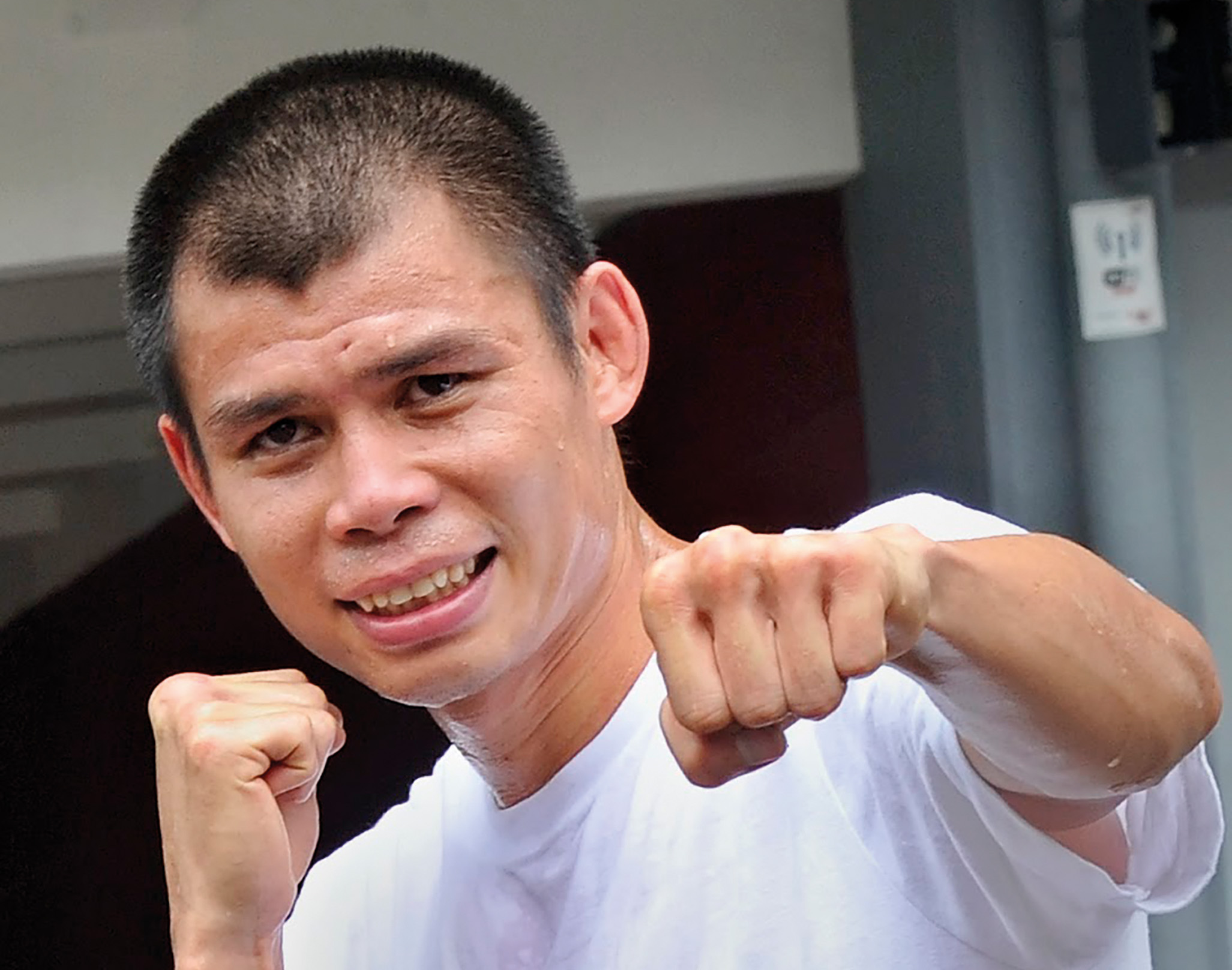 Yohannes Christian John started boxing at the age of five, coached by his father, a former amateur boxer. After turning professional in 1997, Chris was the World Boxing Association (WBA) super featherweight titleholder from 2004 to 2013. This almost ten-year reign is the second longest in the division's history. He had 18 successful title defences and retired after his only career defeat. His professional record was 48 wins (22 by knockout), one loss and three draws. He also represented Indonesia in wushu, winning a gold medal at the 1997 Southeast Asia (SEA) Games in Jakarta. In February 2018, he joined the Democrat Party, receiving his membership card from former president Susilo Bambang Yudhoyono. However, he felt the party was ignoring his aspirations, so in July he jumped ship to media tycoon Surya Paloh's NasDem Party and will stand for parliament in 2019.
3. Maulwi Saelan
Football goalkeeper
Born: August 8, 1926
Died: October 10, 2016
From: Makassar, South Sulawesi
Height: 169 cm
Maulwi was a guerrilla fighter in Sulawesi and Java during Indonesia's independence war. He later became a personal aide to founding president Sukarno. But he was best known as the goalkeeper and sometimes captain of Indonesia's national football squad from 1951-58, when the team enjoyed international success. His greatest match was at the 1956 Olympic Games in Melbourne, where his acrobatic skills held the Soviet Union to a 0-0 draw. The Soviets, at that time one of the world's top teams, won a rematch and went on to win the gold medal. After Sukarno was ousted by Suharto in the mid-1960s, Maulwi was imprisoned for five years and eight months without trial. Upon release at age 45, he was cleared of any involvement in the Indonesian Communist Party. He later opened a school and set up an education foundation. He was an avid reader and a gifted raconteur with memorable tales of football and of Sukarno's foibles.
4. Eko Yuli Irawan
Weightlifter
Born: July 24, 1989
From: Lampung
Height: 154 cm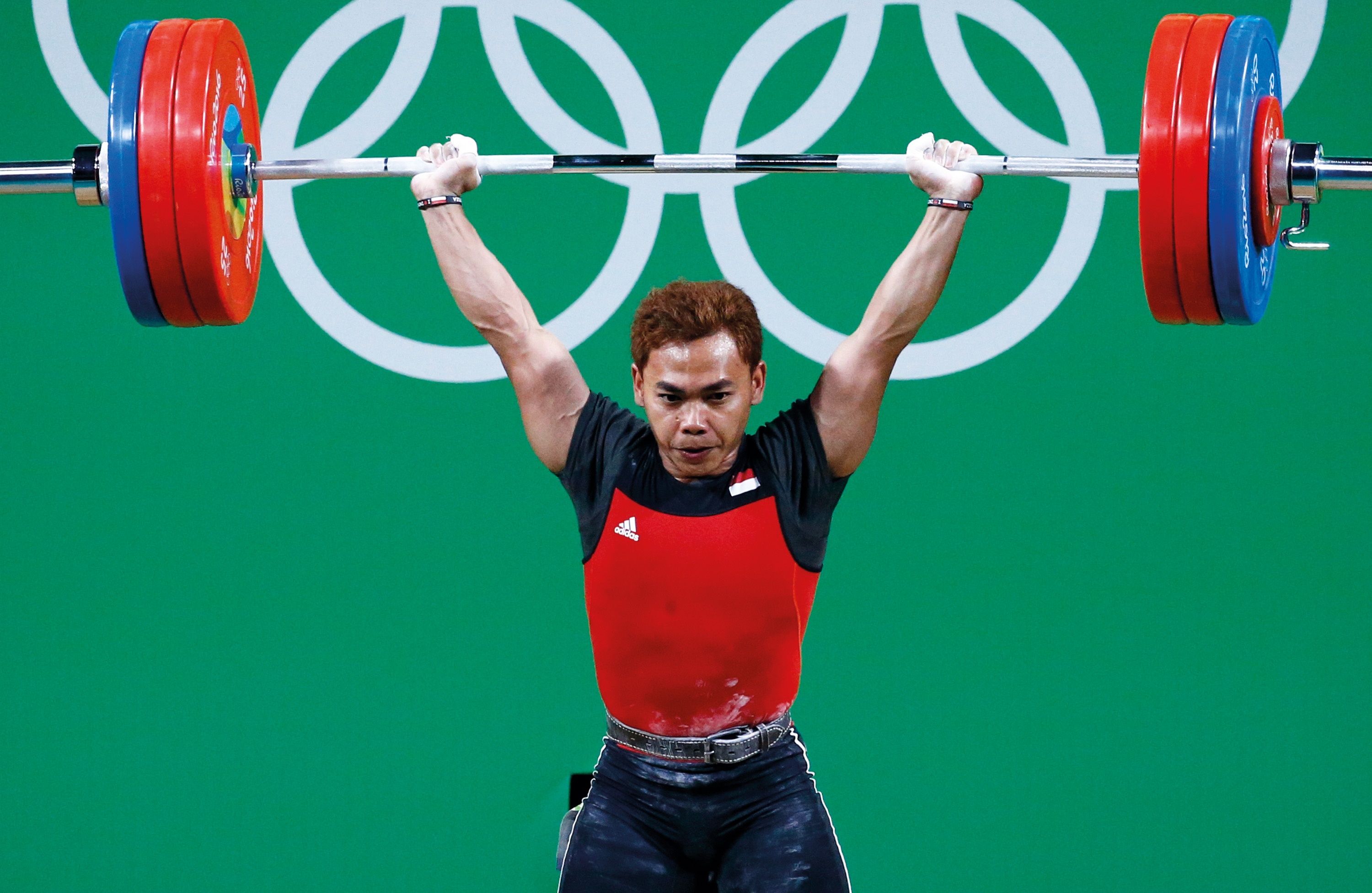 A medallist in three consecutive Olympic Games, Eko is Indonesia's most successful male weightlifter. At age 16, he won the silver medal in the 56kg category at the 2006 Junior World Championships. In 2007, he again won gold at the Junior World Championships and also won a bronze at the open World Championships. He won bronze in the 56kg category at the 2008 Beijing Olympics, then bronze in the 62kg category at the 2012 London Olympics, followed by silver in the 62kg category at the 2016 Olympics in Rio de Janeiro. Eko has won gold at four SEA Games but only managed to win bronze at the Asian Games in 2010 and 2014. He is aiming to win gold at the 2018 Asian Games and also at the 2020 Olympics. Now 29, he would like to start coaching but laments Indonesia does not yet have a young generation of lifters to replace him.
5. Lalu Zohri
Sprinter
Born: July 1, 2000
From: Lombok
Height: 170 cm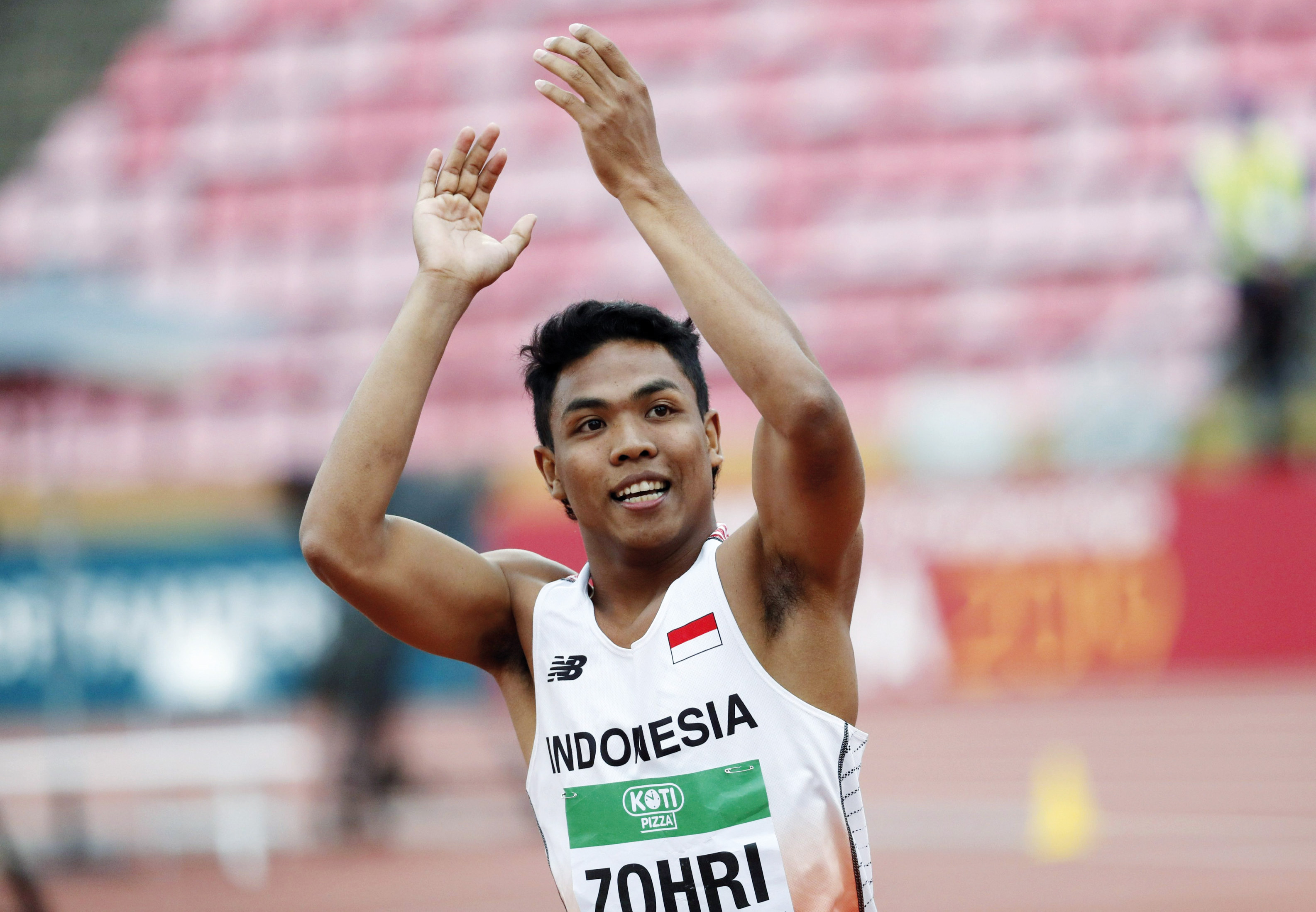 It was ten seconds that changed the way the athletics world looks at Indonesia. On July 11, 2018, Lalu Muhammad Zohri (18) won the men's 100m at the World Under-20 Championships at Tampere in Finland. Starting in lane eight, he took gold in a time of 10.18 seconds, finishing ahead of American rivals Anthony Schwartz and Eric Harrison. It was the first time an Indonesian had won any medal in the 32-year history of the championships. Zohri lost both of his parents while still in elementary school and was raised by his siblings. His athletic talent was spotted only in early 2017 and he had to borrow Rp400,000 from his sister to buy a pair of shoes before moving to Jakarta. Following Zohri's victory, President Joko Widodo ordered the family's simple house of timber and woven bamboo be rebuilt, but Zohri requested it remain as a reminder of his tough childhood. Following two recent deadly earthquakes in Lombok, Zohri donated much of his newfound money for the repair of water supplies. At the 2018 Asian Games, Zohri can expect tough competition from Chinese athletes in the 100m and the 4 x 100m relay.
6. Ellyas Pical
Boxer
Born: March 24, 1960
From: Saparua Island, Maluku
Height: 165 cm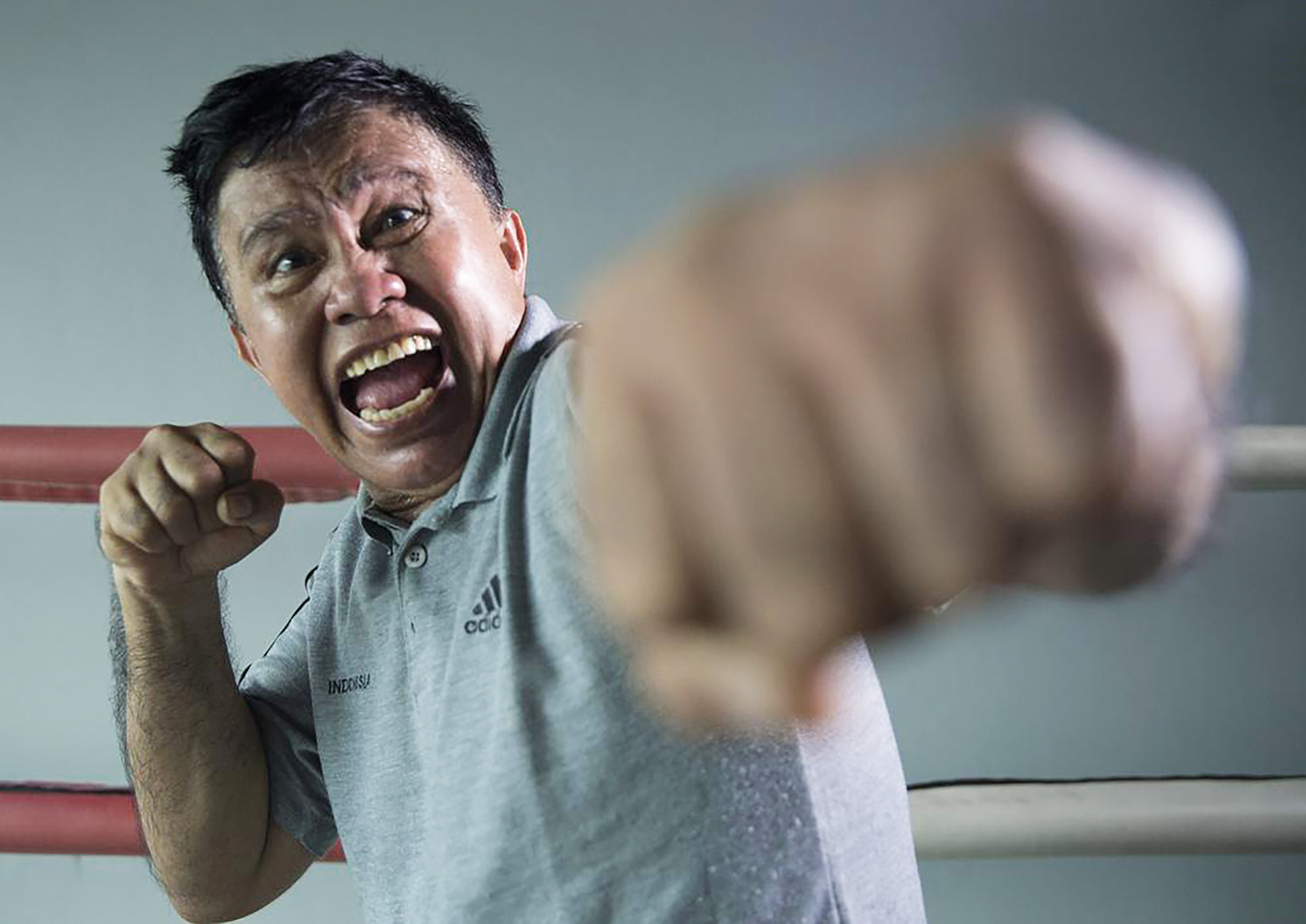 Indonesia's first international boxing champion. He was three times the International Boxing Federation (IBF) super flyweight champion (1985-89). As a child, he was a pearl diver, diving without equipment. He became a professional boxer in 1982 and three years later knocked out China's Ju Do Chun to win Indonesia's first international title. He was nicknamed the Exocet – a French-made missile – as his left-hand punch produced knock-out blows. Elly successfully defended his title, but then lost in a split decision to Cesar Polaco in 1986. He regained the title in a rematch. He lost the title again, before regaining it in 1988. He made three successful defences before a loss in 1989. His professional record was 20 wins (11 by knockout), five losses and one draw. In 2005, he was arrested at Milles nightclub in Jakarta for selling ecstasy to an undercover policeman and spent seven months in jail. In 2016, he made a minor comeback at age 55, competing in a two-round exhibition bout.
7. Bambang Pamungkas
Footballer
Born:  June 10, 1980
From: Semarang, Central Java
Height:  170 cm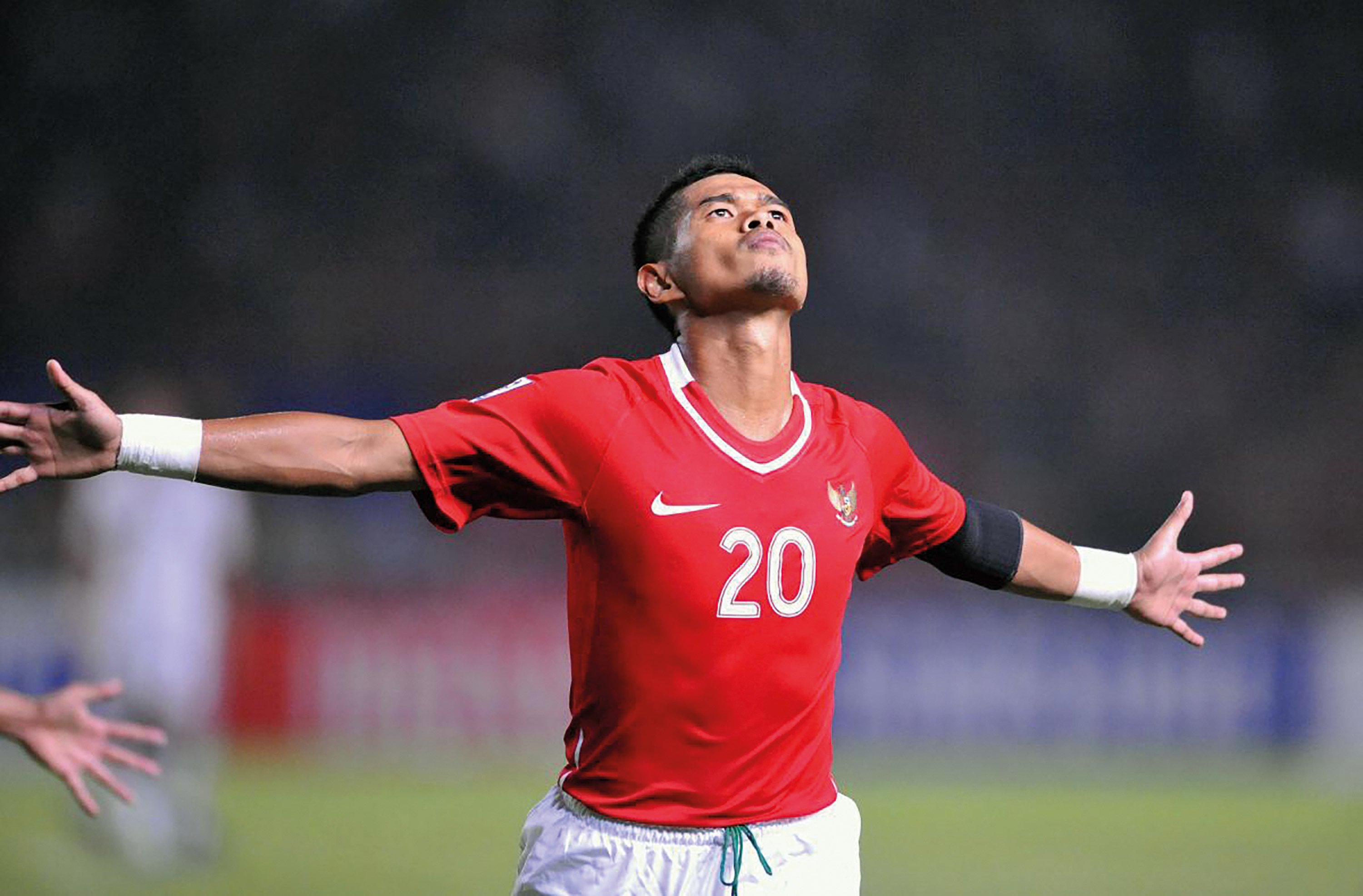 Still playing in the Indonesian Super League in 2018 at age 38, Bambang has enjoyed one of the most enduring and successful careers in Indonesian football. He made a record 86 international appearances for Indonesia and scored a record 38 goals for his country. Nicknamed Bepe, the striker joined local club Persija Jakarta in 1999 and then transferred to Dutch third division club EHC Norad, before returning to Jakarta in 2000. He was the top scorer in the 2002 South East Asian Championship with eight goals. From 2005 to 2007, he played for Malaysian team Selangor FA. In 2008, he resisted overtures from Derby County and returned to Persija Jakarta. An outstanding header of the ball, he has hinted he may retire this year.
8. Richard Sam Bera
Swimmer
Born: December 19, 1971
From: Jakarta
Height: 183 cm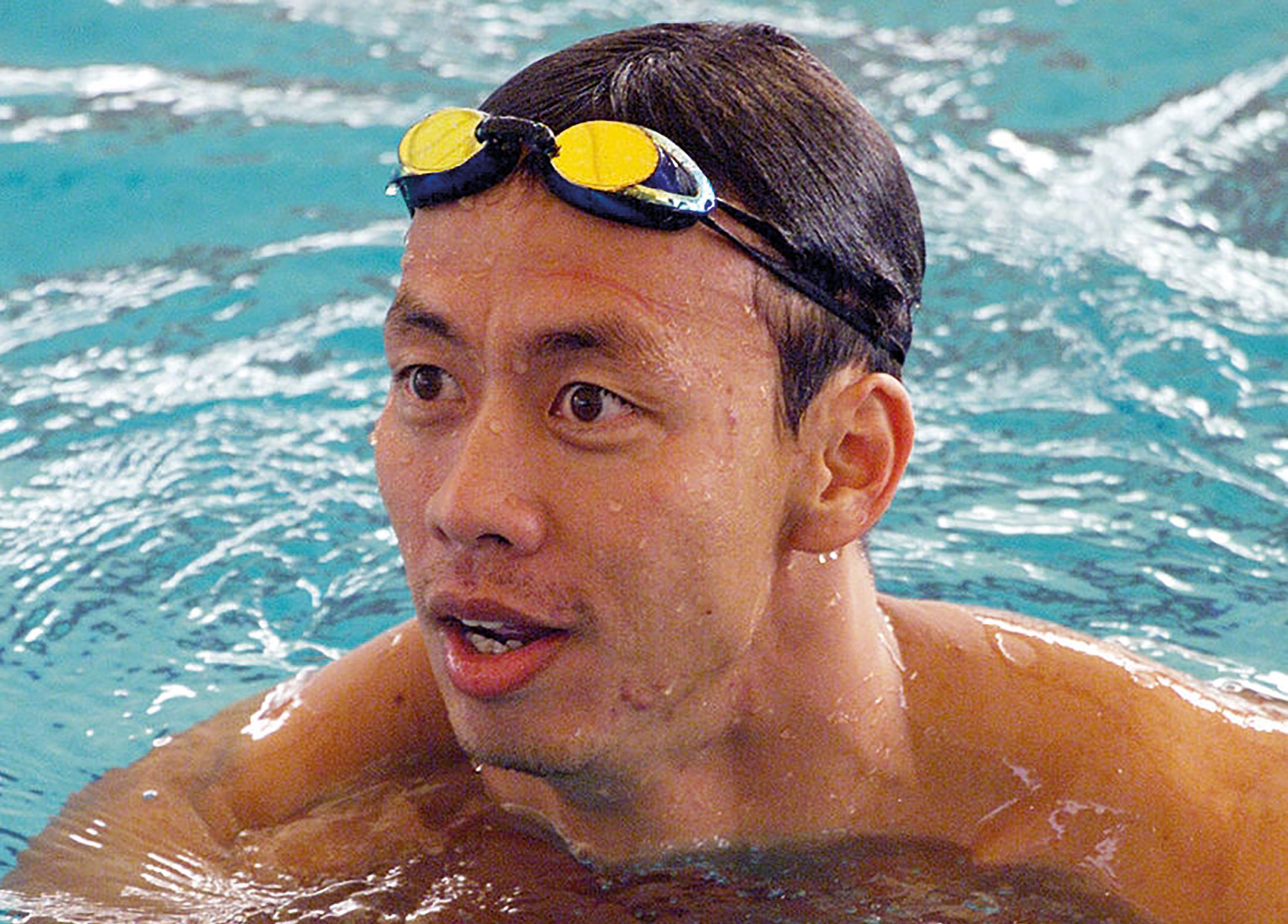 Despite being the world's largest archipelago, Indonesia does not have the world's greatest swimmers. The nation's most successful swimmer of all-time is Richard Sam Bera, who bagged an impressive 23 gold medals at the SEA Games from 1989 to 2005. Studying in the US, he was a college champion and US junior record holder. When just 16, he qualified for the 1988 Olympics in Seoul, competing in five freestyle and medley events. At age 17, he won his first gold medal, victorious in the 100 m freestyle at the 1989 SEA Games in Kuala Lumpur. He went on to represent Indonesia at the 1996 Olympics in Atlanta and the 2000 Olympics in Sydney. Eighteen years after his debut, he made his final SEA Games appearance in 2005 at age 34 and managed to win two golds, two silvers and a bronze. After retiring, he became a triathlete and a sports commentator. His nearest successor in the pool is Bali's Siman Sudartawa.
9. Umar Syarief
Karate
Born: April 15, 1977
From: Sidoarjo, East Java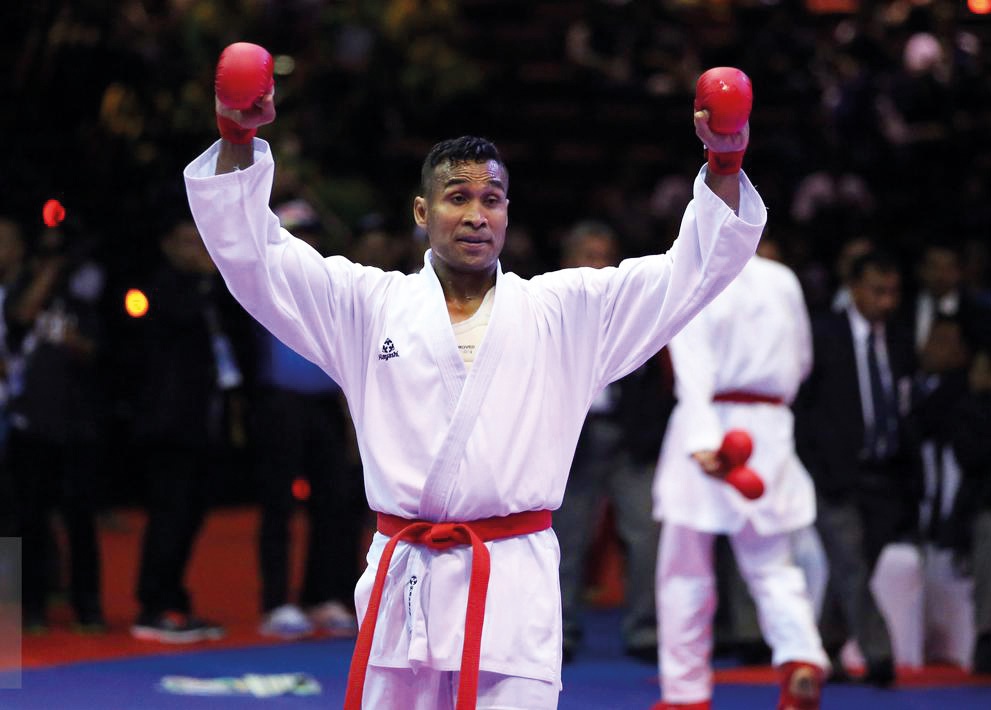 Indonesia's best ever karate practitioner, Umar won ten gold medals at the SEA Games from 1997 to 2013 and a silver medal at the 2010 Asian Games. In 2005, he moved to Europe with the aim of furthering his skills and participating in regular competitions. He ended up opening a dojo (martial arts school) in St. Gallen, Switzerland, where he now lives with his wife and children. In recent years, he has been urged to return to Indonesia to help develop the country's talent in martial arts. He has provided some training but is reluctant to get involved in the politics of sport in Indonesia. On a recent visit to Bali, he criticized police for failing to stop pickpockets and suggested karate practitioners would be more effective. Umar retired from competitive karate after competing for East Java in Indonesia's National Games in 2016. He now coaches karate and zumba at his Swiss dojo.
10. Ade Rai
Bodybuilder
Born: May 6, 1970
From: Jakarta
Height: 183 cm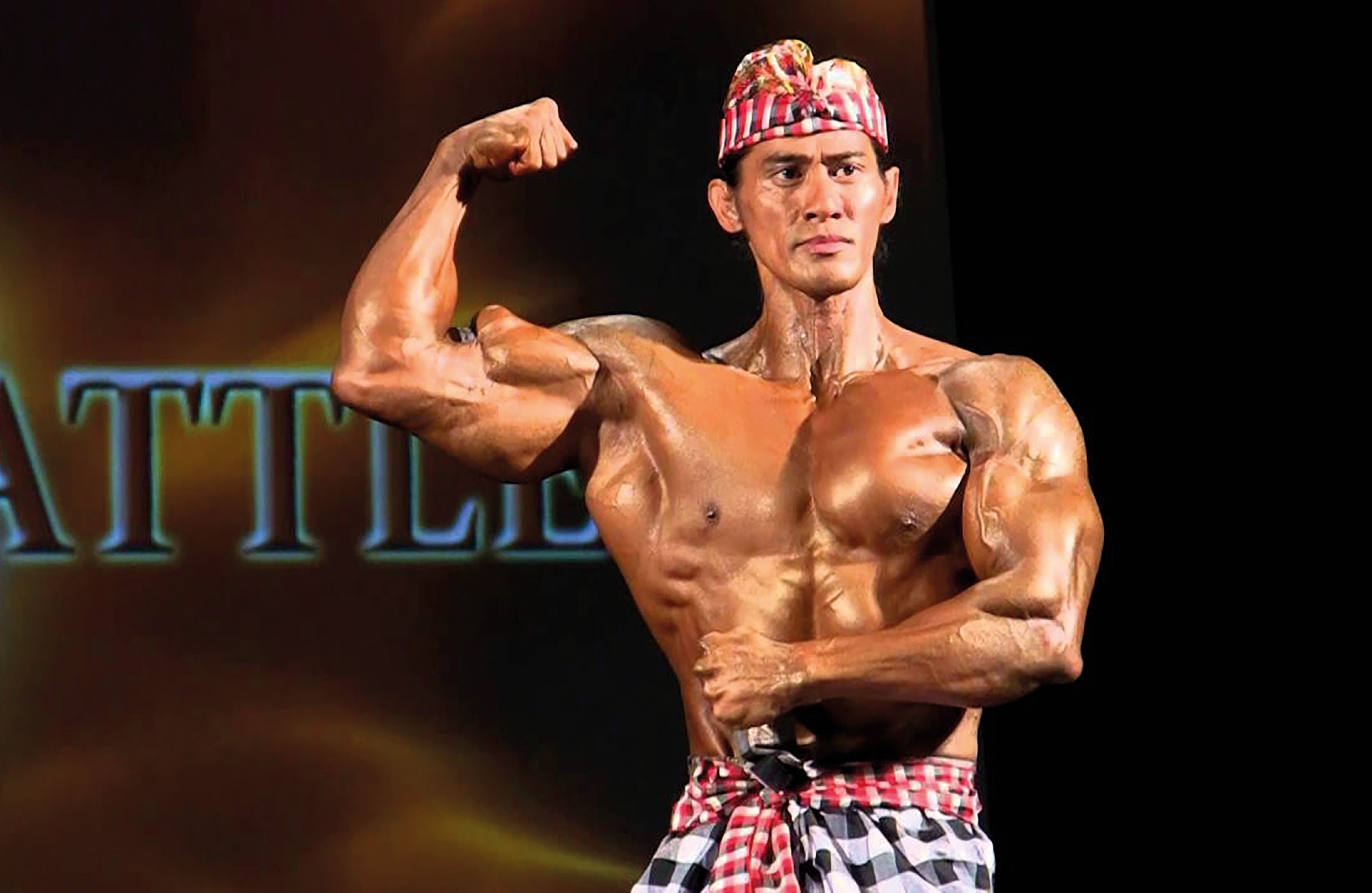 One of Indonesia's most recognisable athletes, not least because of his endorsements of various health products, supplements and his chain of gyms. As a ten-year-old, Ade was a scrawny 25kg. As lanky teenager, he weighed only 55kg and was a competitive badminton player. A knee injury prompted him to turn to bodybuilding. By 1994, his weight was up to 80kg and he won the title of Indonesia's Best Bodybuilder. His numerous titles in the International Federation of Body Building & Fitness include: Mr Asia (1995 and 1998), Mr ASEAN (1995) and Musclemania World Professional Overall Winner (2000). He also won a gold medal at the 1997 SEA Games. Known for his humble and friendly disposition, his advice to Indonesia's aspiring bodybuilders is: cut out the sugared drinks and rice, and don't sleep straight after eating. Now retired from competitive bodybuilding, he has often spoken out against steroid use.