A sea of electronic dance music (EDM) fans from Indonesia and across the globe skedaddled to JiExpo Kemayoran, Jakarta, once again to dance and sing their souls away into the grandiose futuristic stages, technicolour light shows, dazzling fireworks, and flavourful bites of Djakarta Warehouse Project (DWP) 2022.
A three-day-long party was well overdue since the COVID-19 pandemic struck. Indeed, DWP continued the party throughout the tough times with a couple of virtual streams from 2020 onwards, but let's be real – it wasn't the same. Many have been itching to cheer on and sway along to their favourite musicians live. To not have the crowd enthusiastically shouting to the songs' lyrics and tempo, showing their pure amazement of the visual arts displayed, and most of all, connecting through a night – or three – of good music were lacking these past years.
Music festivals made their comeback and even debuted with Indonesia's normalcy intact. Unfortunately, several were reported with the tragic news of injuries and even deaths, which prompted concerns. DWP, on the contrary, kept their word to ensure a fun and safe party zone. This music festival never fails to successfully blend music, art, and social ideals of peace, love, unity, tolerance, and happiness. Lots of familiar mega international and local DJ names exuded addictive energy during this celebration of EDM on 9-11th December. Most of them are no strangers to DWP, hence, it brought old fond memories to festival-goers.
Day One, 9th December 2022
Friday nights are always a good start to a spectacular weekend. It wouldn't be DWP's first day without honouring Bhinneka Tunggal Ika (Diversity in Unity), DWP's core value. The festival strongly sustains a diversity of sub-genres from the dance music spectrum every year. This time, various traditional Indonesian dances, such as the Janger Dance, awed the crowd.
It may have continuously drizzled, yet day one's lineup deflected Jakarta's gloomy weather. The latest edition to DWP is The Darker Side stage, held indoors. Its dark and heavy reliance on vibrant art and lasers transports house and techno music lovers into another dimension. DJs Devarra and Shiba San managed to get everyone's dancing feet awake from a long hiatus. Furthermore, Gareth Emery rocked the Cosmic Station stage with, yes, more fascinating lasers.
At DWP's famed vast Garuda-shaped main stage positioned outdoors, Garuda Land featured Indonesian act Dipha Barus among others. As the night got deeper, fans got into their best stances to party along with Hardwell, followed by DJ Snake who closed off the first night. Festival-goers went hysterical as Hardwell played remixes of Lana Del Rey, Kid Cudi, and other artists' songs. He proudly projected his impressive Bahasa Indonesia that the crowd couldn't get enough of. As soon as the opening beats of DJ Snake's classic "Lean On" was heard, the Garuda Land was magically and instantly swarmed by more festival-goers arriving from DWP's other stages who couldn't miss out.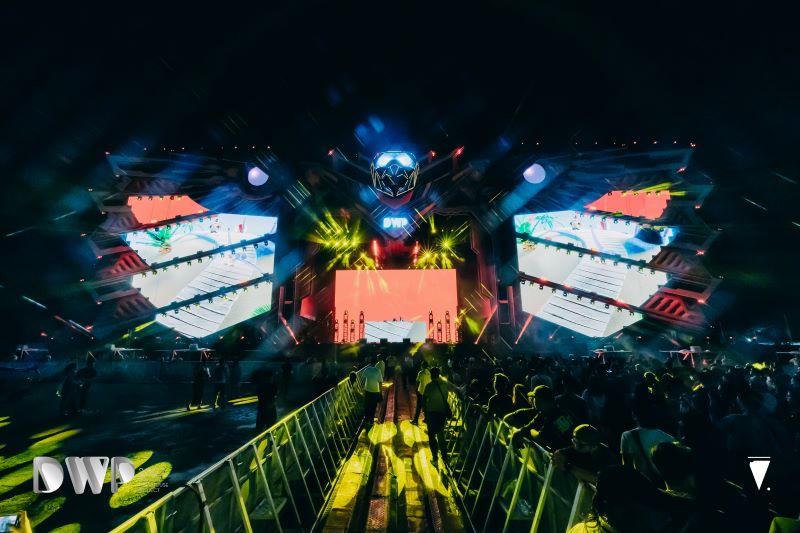 Day Two, 10th December 2022
The festival area was even more packed with thousands of fans hailing from across Indonesia and neighbouring countries. Wide grins and chuckles between sips of Heneiken and spirits, as well as Ismaya's irresistible food and beverage outlets, adorned Southeast Asia's biggest dance festival.
Two buddies from Manila, the Philippines are Damon and Vince. This wasn't their first DWP adventure – it was the fourth and second rounds respectively. "We're looking forward to the rave scene back in Asia and some of the artists playing," they said, flaunting their national flag.
The Barong music label family and DWP brought forth an unforgettable collaboration by creating the one-of-a-kind Barong stage on the second day of DWP 2022. Here was the exclusive centre for names from Jengi and Sky Sky, to first-timers performing in Indonesia, €URO TRA$H. Meanwhile, the NeonGarden stage was rocked by Atsy X Taner and Slushii, who represented the trap music genre with eye-catching visuals.
DWP veteran Armin van Buuren took Garuda Land by storm as the last act of the night. Positioning oneself to get a clear view of the legendary DJ was rather challenging – the left and right sides of the stage had no empty spots at all. It was undeniably a humid night, but that was no issue. Van Buuren's red visuals at the beginning of his set prompted high energy as he remixed adored songs that got everyone moving until late.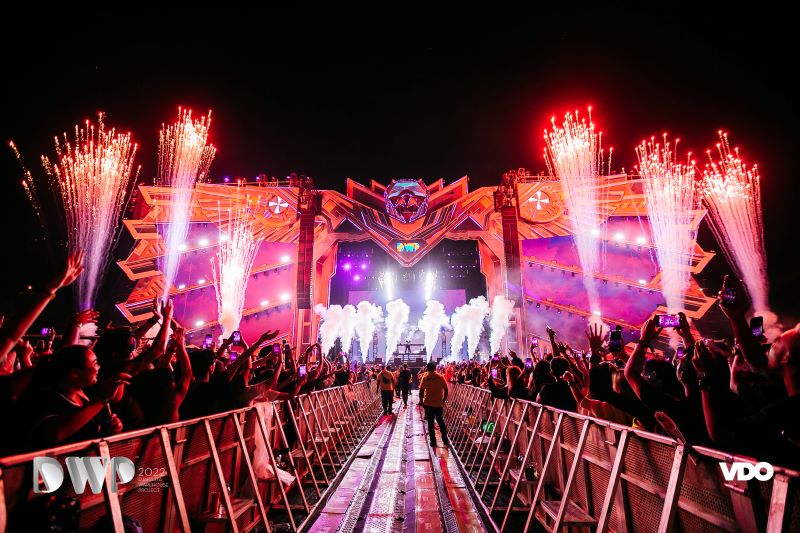 Day Three, 11th December 2022
Despite being a Sunday, which meant back to the daily grind starting within a few hours, the third and final day of DWP 2022 was a bang from the increasingly unstoppable enthusiasm of both fans and performers.
Australian native Frank came alone to Jakarta to see his favourite DJs Martin Garrix and Zedd. Also a first-timer to the festival, he was captivated by the venue. "This venue is very big, it could accommodate heaps of people. You have a lot of freedom and stuff to do here, it's great!" he exclaimed. According to him, Australia merely has venues but doesn't cater to different activities. "There's a women's vanity centre, an electronics hub, and more than one food corner here."
This DWP truly feels nostalgic with the returns of Yellow Claw, Zedd, and Martin Garrix at Garuda Land. The last time they performed was in DWP 2019. Surely, they couldn't get enough of partying together with Jakarta's crowd?
Each of their sets was phenomenal, spoiling the crowd with various surprises aside from the spectacular fireworks displays. Yellow Claw collaborated with Indonesian artists RAMENGVRL and Novia Bachmid, thus it only made sense for the ladies to sing live. After a 15-minute break, it was Zedd's turn. His beloved "Clarity" had those nearest to him up to the further back and the VIP sections on each side of the stage belting to the lyrics and jumping vigorously. That wasn't Zedd's last appearance, though. Martin Garrix seemingly wore a batik top and called Zedd to stand alongside on the decks mid-set. The clock was nearing 2am – time for the most extravagant fireworks display of the festival to honour DWP as Garrix played his last tune.
Alka from Indonesia and another Australian named James were thrilled to attend the three days and let loose to all the international DJs' performances, similar to 2017 and 2019. They noticed fewer people were seen frolicking around, compared to 2019 though. "It makes sense because not all countries have looser travel restrictions, like China. Hopefully, things change for the better and more people will return to the next one," said James. All in all, DWP 2022 was a sweetener comeback, noting that profound excitement is unquestionably coming in 2023.
This WP marks the 12th edition of an in-person music festival which previously presented names such as Calvin Harris, Steve Aoki, The Weeknd, Skrillex, Tiesto, Diplo, Major Lazer, David Guetta, Kaskade, Marshmello, and more. DWP was originally named Blowfish Warehouse Project, first held in 2008 at Jakarta's Blowfish Club. In 2010, the annual one-day event was then transformed into two days in 2014 and three days in 2019, attracting thousands of music lovers.