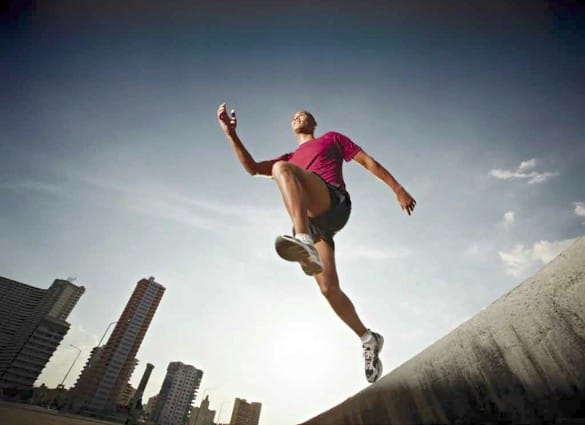 You know that feeling you have when you decide what you really need to do is shed those excess kilograms that have slowly added themselves to your girth. You are sitting there, perhaps in a traffic jam, perhaps a coffee shop or the office, and you get that eureka moment. I will exercise!
Of course after a few moments of joy, reality kicks in. This is, after all, Jakarta and everyone knows well – everyone who has an online presence it seems – there is absolutely nothing to do in Indonesia's capital city. Yes, there is an active football scene with a local league but that often involves sweating gallons on the pitch only to put it back on, plus some more, in the nearest pub. Or there is the Hash House Harriers; the ubiquitous hash with its double entendres, public school sing-alongs and yes, even more beer.
It can seem that even if you can find some healthy activity, the expat lifestyle will nearly always throw alcohol into the mix and the best intentions become subsumed by another kilogram or two onto that bloated waistline. There is, at least, one alternative, an activity where the focus is actually on the activity itself and not the post activity imbibing session.
The hash likes to boast it is a drinking club with a running problem and that seems a pretty apt description. Jakarta Free Spirit, on the other hand, has no duel identity. Its focus is on the run, the whole run and nothing but the run. In fact, so dedicated are they to the run that on the recent election day in Jakarta, when the streets were quiet and most local residents were enjoying a day off, they were up at the crack of dawn meeting at a location in SCBD for their own election run. The 10-15 kilometre run took in a number of polling stations as well as hotfooting it past the DPR/MPR parliament building on Jalan Gatot Subroto.
Early starts are per for the course for the enthusiasts at Jakarta Free Spirit and it makes sense. The city is noticeably cooler in the early hours for a start. So cool in fact, joining the club on one of their weekly zoo runs is probably the best time to catch the animals, long before the crowds turn up with their picnics. Every Saturday is zoo run day, at 6.30am, completing a gentle 5 km run round the facility, bumping into the cleaning staff and saying good morning to the animals and birds as they face another day of being someone else's entertainment.
Jakarta Free Spirit was founded by Barbara Oravetz in 2001, and when you read on their website they have a focus on social fitness, running and competitive training, you just know these guys take what they do seriously. And why not? Keeping fit is not about joining the local gym and latching on to the latest fitness trends, a gentle stroll around the zoo or pacing a treadmill in an air-conditioned facility hoping to impress people with your latest Nikes.
If the zoo dash is not hardcore enough for you, then why not join the Sunday run? This starts at 6am in SCBD and can cover anywhere between 16 and 25 kilometres. And, says the website, runners are advised to be able to keep to a running pace of 5.30 to 6 minutes a kilometre! Which, let's face it, is quicker than a flooded Jalan Kemang Raya!
The merry month of May sees JFS busier than usual with a couple of special events going on. The 17th of May sees the latest Jakarta Highland Gathering in Lippo Karawaci, one of the largest expat events on the calendar, and of course an opportunity for JFSers to strut their stuff in front of burly, log-tossing, skirt-wearing men from around the world.
The 25th of the month sees them joining the Wine and Cheese Expo run. This event gets people dressed up in fancy costumes and go on 5 or 10 kilometre runs, while for the young ones there is a 1.2 kilometre kids run. Part of the Jakarta Fashion and Food Festival, the run takes place at La Piazza in Kelapa Gading, North Jakarta, and organizers are encouraging runners to dress up in carnival related costumes from countries around the world. And this being World Cup year in Brazil, it's not hard to imagine many people going for the Rio look!
Jakarta Free Spirit is about having fun, meeting people, and of course, running. So, why not give it a go? Who knows, you could end up losing a few kilograms and gaining a few friends!
Contact details: