Indonesia is set to become a food destination as the government promotes its cuisine abroad. May Tien reveals the best places to eat regional Indonesian cuisine in and around the capital.
Mention Thailand or Vietnam and most people who have visited instantly respond with an exclamation of how much they enjoyed the cuisine. Mention Indonesia and there is a diverse range of responses; usually none of them involving food.
Admittedly, I am guilty of being a naysayer initially. In a fit of overly optimistic culture shock frenzy, I sampled various Indonesian dishes, only to be disappointed by the surprisingly bland and clumsy preparations. Everything came across as pedestrian and dull. I complained to my family and friends relentlessly.
However, it was with an intoxicating bowl of kuah asam ikan Manado (Manado-style sour fish soup) that I began my journey with the real cuisine of Indonesia. The sour high notes from lime, lemongrass and young tomatoes were tempered by fresh Thai basil and pandan leaves. It was the most unique and fragrant soup I had encountered in a while; reminiscent of a good tom yam (Thai hot and sour soup), but with a gorgeously clear and brighter tasting broth. I was floored. This bowl of soup embodied all that I longed for in Indonesia: flavour, good technique and fresh ingredients.
And although the Indonesian Ministry of Tourism and Creative Economy has published a list of 30 iconic Indonesian dishes from which I encourage visitors to try, I find the suggestions Java-centric and leaning on the sweet side – as befitting the Javanese palate.
There is so much more nuance in flavours in this beautiful archipelago; and with a bit of adventure and exploration, there are delicacies to enjoy.
North Sulawesi (Manado/Minahasan Cuisine)
Famous for its heavy use of spices (and outrageous bush meat like fruit bat, wild boar and field rats), North Sulawesi cuisine is a fine example of tradition and influence intertwined. Fresh seafood is represented in abundance. Chinese, Dutch and Portuguese influences can be found especially in baked goods, stews and soups. Be forewarned, though. These rate among the spiciest cuisines in the region, so those with a sensitive palate might want to steer clear of the rica-rica.
Rumah Makan Raja Oci
Jalan Jenderal Sudirman No. 85, Manado, North Sulawesi
Tel: 0431 86 3946
Fresh seafood is king here; don't miss the ikan oci bakar with sambal dabu-dabu. A row of juicy mackerel scad that is chargrilled and served with a tart sambal consisting of miniature sliced green tomatoes, chillies and plenty of lime juice. It is quite the feast with some lightly sautéed water spinach (kangkung tumis), steamed rice and an icy cold beverage.
Beautika
Jalan Jenderal Sudirman Kav. 52-53, Jakarta, Java
This is the restaurant that started it all for me. Do not leave here without a bowl of their kuah asam ikan Manado and tumis bunga pepaya khas Manado, which is stir-fried papaya flower and shoots with flash-fried dried anchovies and aromatics. There is a wonderful array of Dutch-influenced desserts, and most of the food is served cafeteria-style, where the food is on display, so each diner can walk up and pick and choose according to their preference. Freshness is never a concern as the lunch and dinner hour hordes keep the kitchen busy restocking.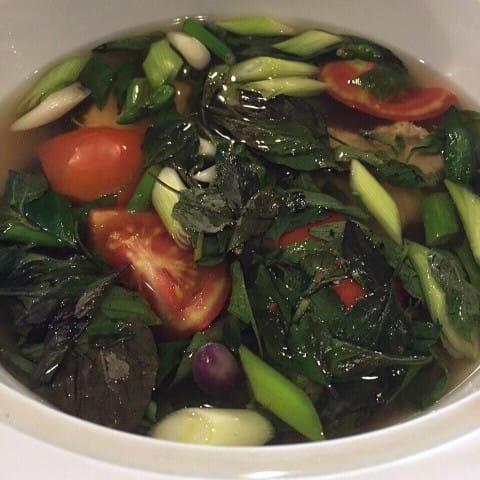 Bali
Although the most recognized cuisine outside of Indonesia via the constant flow of international tourists and travel programmes filmed here, Balinese cuisine is quite underrated. Pork and duck are consumed in abundance on this predominantly Hindu island and the specialities reflect these local delights. As a spiritual epicentre for many travellers, one can also find modern Balinese takes on vegetarian and specialty restaurants, particularly in Ubud.
Babi Guling Chandra
Jalan Teuku Umar, Denpasar, Bali
Tel: 0361 22 1278
There are more famous warungs (roadside vendors) located in much more tourist-heavy towns in Bali, but for taste and relative dining comfort, I prefer the babi guling spesial at Chandra. One portion is big enough for two people and the crackling is divine with its glass-like crispiness, with just a bit of fat underneath. It is a complete meal with vegetables, pork, sate skewers, rice and served with a bowl of soup on the side.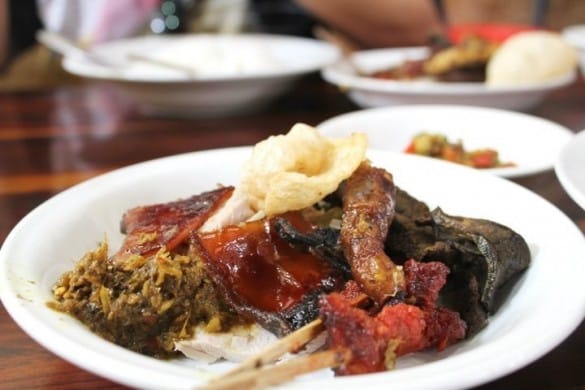 Bebek Bengil
Jalan Hanoman, Ubud, Bali
Tel: 0361 361 975489 / 977675
A restaurant set around a large rice paddy, Bebek Bengil serves a fine version of the famed bebek betutu, a whole roasted duck that is steam-roasted in spices. Diners have to order it in advance as it is not on the daily menu, but their special version called the bebek bengil is a very good alternative. It is first steamed in spices and then deep-fried for texture and extra flavour.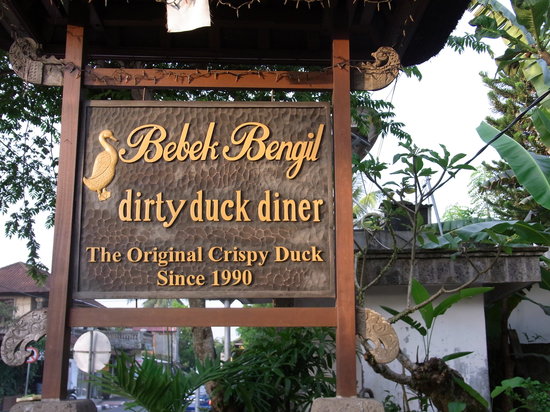 Sumatra (Minangkabau cuisine or Masakan Padang)
Possibly the most popular regional form of Indonesian cuisine served throughout the country, one can find Padang restaurants in every province. In Western Sumatra, there is a heavy cultural nod towards Middle Eastern and Indian flavours and the curries are laden with rich coconut milk and spices. Everything is mixed together on the plate and eaten by hand, but spoons and forks are available for those who don't feel like struggling over bits of rice and staining their fingers with thick sauces. Eastern parts of the island share more Malay and Chinese influences.
Lamun Ombak
Jalan Khatib Sulaiman, Padang, Indonesia
Tel: 0751 715426
Come early or during peak hours for a real taste of Padang as you rub elbows with the locals. There is no official menu as such with this kind of establishment so be prepared to point and eat. You can order special dishes and beverages from uniformed servers. Try the chilli prawns, rendang, cassava leaves and the special fried chicken.
Serbaraso
Jalan Batu Tulis Raya No. 41, Jakarta
Tel: 021 3890 1794
Even though its Jakarta branch is relatively new on the dining scene, Serbaraso has been a well-known rumah makan in Riau for many years. The ingredients are fresh with a slant towards seafood on the à la carte menu. They serve pakis, which is a tender fern cooked gently in a mild curry. For the advanced epicure, the grilled beef tongue and fish head curry are delectable; and the two-flavoured grilled fish is also a highlight.