Expats around town understand how difficult it is to find decent Western cuisine that doesn't either slant heavily towards local palates (buttermilk fried chicken and waffles with sambal, anyone?) or pander to the Instagram crowd where style is heavily favoured over substance. We have all been there and done that, and many people I know have given up on finding the perfect union of these sorts; a place to park ourselves to enjoy not only the drinks and ambience, but the kind of food that speaks to our palates and souls.
Yet, lo and behold, The Dutch!
Since opening earlier this year, The Dutch has remained a hidden gem amongst expat epicures. Situated nondescriptly on the ground floor of an office building in Jakarta's SCBD, the restaurant itself is somewhat of a reflection of the few people from Holland I know: a little understated, but always incredibly astute. Even the name 'The Dutch' suggests an elegant restraint, making one wonder whether it is a reference to the menu or to the talented young chef behind the scenes at one of the best gastropubs this city has to offer. Maybe a little bit of both?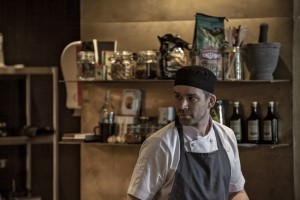 Dutch cuisine is indeed most popular when actualized as comfort food: rustic and hearty in style, and always perfect with a pint of icy-cold beer. Chef Chris Moes, whose kitchen career started at age 16 and where he perfected his trade at the critically acclaimed restaurant De Kas in Amsterdam, has created a wonderfully modern Dutch menu where charcuterie is king and showcased in all of its glory. Chef Moes uses his menu as a sounding board to display his talent for cured and smoked meats, from rustic terrines to traditional smoky rookwurst. Moes is infinitely protective of his serpentine masterpieces and still takes charge in hand-making them in the kitchen.
The remainder of the menu is also a delight. At one point, I looked across the spread of vessels and platters on the dining table, and recalled Dutch still life painters Clara Peeters and Pieter Claesz, whose paintings of fruit, cheese, bread and meat bask in a gorgeously warm and diffused light; a testament to food and drink before the age of social media.
Chef Moes' inventiveness is evident in each course; the food is at once sentimental and modern yet down-to-earth, exciting and gratifying.
The Braised Lamb in Puff Pastry is a tribute to the humble meat pie with textures balanced by the muted crunch of edamame and savouriness deftly enhanced with a slightly smoky bed of mashed potatoes and bright, fresh mint. A nod to Spanish cuisine was evident in the Parmesan Churros served with a soft-as-clouds goat cheese cream. The goat cheese, usually strong and tangy in the foreground, was redolent and well paired against the sharpness of the Parmesan. And, although erwtensoep (split pea soup) is usually served thick enough to stand a fork or spoon in the bowl, Moes' modern version is satisfying and better suited for the Jakarta climate, paired outstandingly with a fresh pretzel roll and smoked butter.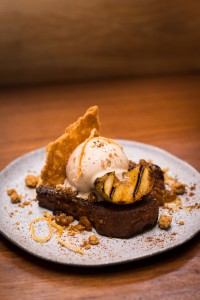 Perhaps a unique dessert embodies the spirit of The Dutch best. The Speculaas Toast takes the humble Northern European shortbread biscuit and transforms it into a luxurious, spice-enhanced, clafoutis-style custard cake. Flanked by grilled apple wedges and candied oranges and spotted with rum-soaked raisins, the toast is served with a generous scoop of homemade cinnamon ice cream. The spices conjure the joys of Christmas in the northern hemisphere where nutmeg, cinnamon and cloves reign. It's also a lovely nod to the islands from where the spices were first cultivated.
What's a gastropub without good beer and drinks? At The Dutch, you can expect a proper pint poured from the tap with a solid list of international beers. The Guinness is especially tasty, perhaps because it is imported straight from Ireland. The beers-by-the-bottle list is also superbly complementary to the food menu with most labels from Western Europe. Light lagers and ales dominate, with a few darker and hoppier brews available. The cocktails are on par with other restaurants from the Union Group and refreshing creations from the talented mixology team. A hefty wine list is also available for those who prefer the grape over barley, wheat or rye.
Although intimate, the dining room is hardly stuffy with a stylishly relaxed and jovial ambience that allows diners to eat, drink and unwind. The open kitchen is flanked by a chef's table style seating arrangement where diners can look into what is being prepared and perhaps learn a few tricks from the cooks behind the line. Live bands and special events are often scheduled to round out the evenings for those interested in late night shenanigans.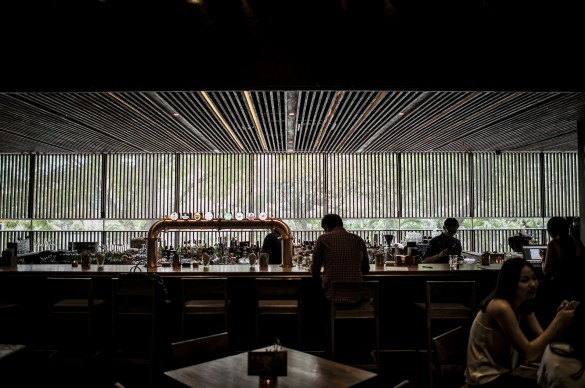 Finally, if you want to satisfy your craving for smoked and cured meats at home, there is the Dutch Butcher Shop where you can order and either pick up, take away or have it delivered to your home. Considering the dearth of good cured pork products in Jakarta, this is something of a godsend to those of us who miss walking down to a local butcher shop for artisan charcuterie. Yours truly walked away with a rustic pork and chicken terrine, which was extremely well received at home.
The Dutch
18 Parc Place Tower E, Ground Floor
SCBD, Jalan Jenderal Sudirman Kav. 52-53 Jakarta 12190
Website: www.thedutchjakarta.com
Telephone: 021 515 2828
Reservations recommended