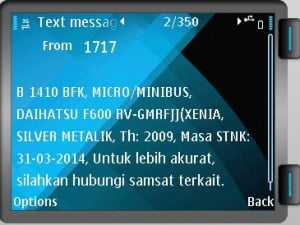 Living in a country that is not really ready to go green yet makes it a bit difficult to say or write something smart about IT and going green.
Waiting at a traffic light I suddenly notice that the car in front of me has opened the back passenger door window and bang, two hand fulls of garbage end up on the street. I guess this is something we have all witnessed at least once.
Now let's see what we have available to nail this guy (or girl). First I took a
snap-shot of the license plate, than I took a picture of the garbage that had been
dumped into the street using my camera on my hand phone. Then I used my GPS to pin-point my exact location, and last but not least, I sent an sms to Vehicle Registration Information 1717.
Ok what next? I have all the information, but I cannot do anything so although the technology is there, it cannot be put to use in Indonesia to make Jakarta a bit cleaner, as there are no Eco and/or Milieu Police.
Sure smarts phones are taking over the cellular market very fast, and provide us with a lot of applications. Blackberries, Androids and iPhones are here to stay. Let's see how these phones can contribute to make the world greener?
Taking into account the story above, I also recognise that most of the applications that have a positive impact on the ecosystem will not work in Indonesia.
I started to use my Phone to write down the parking level, and other relevant information into my mobile to find my way back when parked in a shopping mall instead of using a pen and paper or even worse writing it on my hand. For sure this is a small contribution, but you have to start somewhere. Nowadays you have applications running on your smart hand phone which will do the same.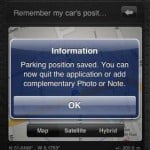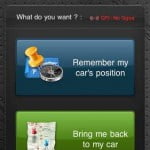 For example the iPhone has an app called iPark. This iPark application will find your car using the iPhone's GPS locator and Google maps to mark the location of your parked car and then plots a route back to the location to save you spending your energy figuring out where you parked.
There are two options, the first of which is to remember the current
Location, while the second will plan you a route to the previously
saved location.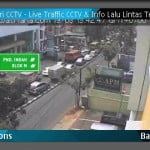 As said this is just a small contribution as you only save a small piece of paper, but if we can save on gasoline that will be a huge contribution for reducing the greenhouse effect.
Living in a city that has traffic jams almost around the clock we can save a lot of gasoline by knowing upfront where those hot spots are. Websites like lewatmana.com and macatlagi.com will give us information about the road condition so that we can alter our route and start saving on gasoline and reducing air pollution. These apps will work on any mobile device that has an internet connection.
On top of that you can set out the fasted route by using your GPS route planner, or find your way from A to B without getting lost.
A much bigger project is green roofs. Although perhaps you do not see the
relation with the smart phone, let me explain. A green roof is a roof of a building that is partially or completely covered with vegetation. This vegetation will keep the building cooler and therefore the electricity bill will be lower as we can set the AC lower. It will also collect rain water which could be used for flushing toilets.
Companies that are interested in executing this idea can sell a piece of their green roof garden to individuals. Those who buy a piece of the garden can see the progress of the growth by using their smart phone and this will work on any phone that has a internet connection.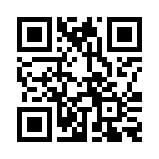 Another very useful application is electronic ticketing that aims to reduce paper consumption. If you want to go green 100%, you order your ticket for a concert or airplane ticket by using your smart phone, make the payment by using a mobile payment portal and receive your e–ticket on your phone(by incorporating a bar code stored on the user's phone to secure entrance admission). At the gate you just present your barcode and you're done. No paper involved whatsoever.
You will also find the 2D Barcode in news papers and magazines to add more information. Other programs are also possible like sweepstake, lucky draw, and many more.  All with the main objectives are to reduce paper and this will work on any phone with camera, internet connection and that has a barcode scanner.
Eco-Apps for Your Smart Phone
At last count, there were more than 100,000 applications for smart phones. The vast majority are useless time suckers, and as explained in the beginning most of them are not applicable in Indonesia, nevertheless  here are ones that are worth checking out: (works only on Blackberries, iPhones and Androids except LinkedIn, Facebook and Twitter):
There are some that can be useful here in Indonesia like traffic jam information, route planning, finding street names and how to get there. Without a doubt, LinkedIn, Facebook & Twitter has become top online networking sites, so although these aren't green apps per se, it is a great way to connect with other green-minded people and or companies.
I would like to close with a final statement: It is not about what IT can do for the ecosystem, it is what you can do for the ecosystem by using IT as an instrument.