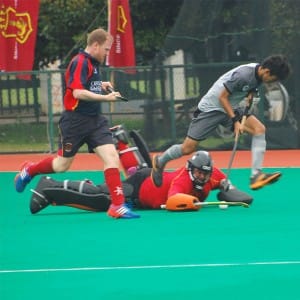 Every time I told people I was off to an international hockey event on the weekend I was greeted with the same reaction. "I didn't know they played hockey in Indonesia." And nope, nor did I until not so long ago. But there is a thriving hockey scene in the country. There are clubs in Jakarta, note the plural, as well as Balikpapan and even a pesantren in Indramayu, West Java. In Senayan, there is an Astroturf pitch where the Jakarta-based clubs practice on a regular basis. And when they are not practising, they are competing.
The weekend of 23/24 May saw teams from across Indonesia, as well as Singapore, Malaysia and Hong Kong converge on Jakarta for the prestigious ISCI Hockey International 8s and much merriment. For someone unfamiliar with the game and its finer points, it was a fascinating experience. In recent weeks, Jakarta has hosted the BuGils International Football 6s and the Rugby 10s. Both tournaments attracted teams from around the region and both were great days out with plenty of passion on the field and laughs off it.
The hockey may not have attracted as many spectators, but there was passion and skill by the bucketload and plenty of ribaldry and banter off it. Speaking of skill, have you ever seen a hockey player doing step-overs? Imagine Christiano Ronaldo with a beer gut, two day growth and a hockey stick. There was even one guy who scored a goal which can best be described as an overhead kick, except of course he used his stick to steer the ball home. I saw it and I am still not sure what exactly I saw.
While the skill was appreciated by the spectators, "You lucky b*stard" was one of the more polite comments, woe betide anyone who slipped up. Literally. The comments and beer-fuelled abuse was unrelenting, and of course on a hockey pitch there is nowhere to hide!
It was interesting walking among the teams as they sought shelter from the rays in their tents. One team talk seemed to revolve around "Get that b*stard" while another coach tried to inspire his pirates by announcing a change of formation ahead of a big game. Between games, waitresses from one of the sponsors were kept busy replenishing the thirst of a cosmopolitan bunch in various stages of undress as the players psyched themselves for their next game with a cigarette.
There were a couple of new teams making their debut at this year's event. Trisakti University entered as did MAS Aircrew who would occasionally stop playing and start asking their opponents if they would like the chicken or the beef. One team that caught my eye were Alzaytun. Based in a pesantren of the same name in Indramayu, these guys knew no fear. I watched them play the Usual Suspects, a large, well-built team of wizened, aged expats who looked like they had been around the block. And indeed, the Blok.
The teens from the boonies ran rings around them. On one occasion, the smallest player on the pitch went toe-to-toe with one moan mountain, and won the ball only for the ref to stop play for a foul!
It ended 0-0 but the Usual Suspects knew they had been in a game and only some wayward control in the final third deprived the pesantren kids a victory.
Organiser Ken Allen told me Alzaytun have a pretty impressive setup on their campus, but while they often win trophies on their trips to the Big Durian, the only team to have beaten them on their own turf was ISCI! At least Alzaytun did their talking on the field. Some of the visiting teams used to programme for the field to big up their chances. For example, there were two teams from Valley, which I guess is in Hong Kong – the Veterans and the Valley RFC – and according to their bio, their sole purpose in coming to Jakarta was to drink the bars dry. Oh, and play some hockey!
Another side based in Hong Kong is the Pirates and they have the distinction of having competed in all 15 years of the ISCI International Hockey 8s. In fact eight of the 10 players in the squad that came to Jakarta had featured in the first event all those years ago. Despite the years being against them, the Pirates strongly believe they are as fit as they were back in the inaugural event.
The final featured the hosts, ISCI, and Alzaytun. This time, the old heads prevailed, two goals from Sam Levik guiding ISCI to a victory and the title. From there, everyone headed off into the night to celebrate but that will have to remain another story!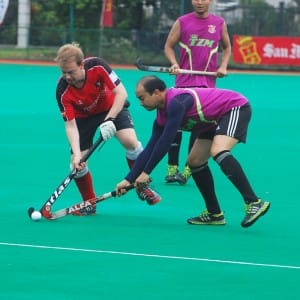 More about hockey in Jakarta
ISCI Hockey Jakarta has been active for around 25 years and is a very socially inclined club which allows many people (a mixture of locals, expatriates, blow-ins and heavy drinkers) to play field hockey in Jakarta. Training and games are held at Gelora Bung Karno's (Senayan) water-based artificial turf pitch every Wednesday night (from 8pm) and Saturday afternoon (from 4pm), mostly by way of organized or scratch games which are usually full pitch, but can be five-a-side, depending on who turns up to fill the void called 'opposition'.
Frequent overseas tours and visitors, and participation in an organization of local competitions, ensure a wide variety of games, locations, opponents and standards, with the emphasis on fun rather than very serious competition. All are welcome, beginners included. There is no membership fee, just pay when you play at Rp.100,000 per game (towards pitch rental).
Later this year, ISCI hockey will be competing in Bali, Malaysia and Thailand at more international events, so if you want to get involved why not drop them a line?