Our expert epicure continues an undercover operation to bring you the truth about Indonesia's dining scene. No spoon is left unturned in the quest for honest, balanced reviews, from long-established favourites to the hottest new tables in town. 
This month, the latest Japanese joint in the capital: Fujin.
Teppanyaki. It brings to mind images of red-toqued, red-faced, sweaty, Cheshire-cat-grinning chefs; flipping shrimp into shirt pockets and flame-spewing onion towers. It also reminds me of my impoverished university days when dining at a Benihana was the closest thing to a night at The French Laundry; and I would celebrate whatever occasion by inhaling sake bombs with random strangers at the table. That Bizarro food world in which I dwelled is, thankfully, long past now; and Benihana this is not.
Fujin offers teppanyaki with a solid Japanese-centric drinks list, and builds ambiance through the playfulness and good humour of their staff to create a lively backdrop for the establishment.
Strip the silly food acrobatics and awkward gimmicks of the American teppanyaki restaurants we are accustomed to, and one can find a type of Japanese cooking that goes well with a night of rabble-rousing and merry-making.
There is much to be said about a small but focused menu. Fujin doesn't stray far from dishes cooked on the teppan griddle, but the few appetizers and small bites we had were delightful. One aside, restaurants in Jakarta need to stop calling them 'tapas'. It is an overused and incorrect descriptor for any cuisine outside of Spain. In Japanese cuisine, small dishes served in primarily drinking establishments are more accurately defined as izakaya style food.
The beef tataki consisted of tender, thinly-sliced and lightly-seared raw beef over a bed of marinated bell peppers. Tataki sauce is a slightly tangier version of the popular ponzu citrus-soy dipping sauce, and goes quite well with raw proteins such as beef, tuna or salmon. The pork and cabbage gyozas were wonderful little dumplings, steam-fried on the grill to form a crisped skin on the underside that crackled as you bit into them. They were enjoyed with the Hitachino Red Rice Ale from the Japanese craft beer menu.
As for beverages, I was feeling nostalgic for the good times of the early years and ordered the house sake. A server rolled a little trolley up to the table with a massive sake bottle and its accoutrements. He filled a 120ml carafe, which was then placed into a miniature wine bucket on the table. We were set with adorable mismatched sake cups, and our first drink received a spirited "Kampai!" from the staff. Yes, at Fujin, the entire restaurant encourages you to drink. Although the house sake is not meant to be sipped and savoured, a little more refinement and less gullet-shooting can be found in the delicate and floral ginjo sake selection. Just make sure to ask for fresh ice to keep it well-chilled in the wine bucket.
Whisky is king here, with an emphasis on Japanese brands. You can do your best Bill-Murray-doing-Dean-Martin with an old-fashioned glass of Suntory in hand. Or, for whisky connoisseurs, the award-winning Nikka blended malt may satisfy. The popularity of Japanese whisky has been growing worldwide, with makers acquiring international awards and recognition in recent years.
On the two occasions we visited Fujin, we found the teppanyaki to be decent yet inconsistently prepared. The meltique steak dish on the first visit was excellent, with pieces of lean beef cut into cube-sized bites and cooked medium rare on the griddle accompanied with three sauces of which two were soy-based and one fresh tomato relish. The beef was tender and juicy; artificial marbling of beef sometimes does have its place. However, on our second visit, we asked for medium rare again and it arrived blue. The interior was raw and each bite was cut inconsistently so that larger pieces were especially difficult to chew. No knife or fork was offered, so biting off smaller pieces proved impossible.
The 200 gram live lobster, one of the more expensive dishes on the menu, was a disappointment. The lobster meat must have been removed and cooked separately from the shell and then placed back inside in smaller pieces. I understand this method might help with consistency in cooking, but there is a tendency for small pieces of lobster meat to seize up in high heat and overcook very quickly. The other unfortunate aspect of the dish was that the tomalley found in the shell was raw, effectively rendering it inedible. For seafood lovers, this is a travesty of incredible proportions. The rich and creamy lobster tomalley is comprised of the liver and pancreas, and for those who appreciate it, provides one of the greatest pleasures in gastronomy.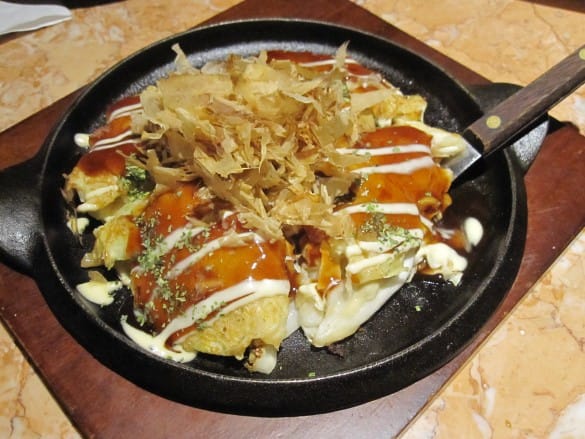 The seafood okonomiyaki (a Japanese version of a savoury pancake cooked on the griddle) is worth a mention. Fresh pieces of octopus and prawns sautéed with udon noodles, cabbage and onions is then layered with egg and flour batter, and finally moulded into the shape of a pizza and topped with Japanese mayonnaise and a thick soy-based sauce. Flakes of dried shaved tuna are then gently placed on top of the pancake and 'dance' in the warm steam that wafts upward from the cooked portion underneath. It's a joy to eat and quintessential Japanese comfort food. At Fujin, they proclaim theirs to be Hiroshima-style, but I found it no different from the Osaka version I usually make at home, and we could hardly make out the distinct layers for which Hiroshima versions are known. Also, expert chefs shred the cabbage finely so that it cooks thoroughly and quickly on the grill. Ours consisted of rough, large chopped bits of undercooked cabbage.
In fact, the vegetables accompanying many of the meat dishes were treated in similar manner, quickly seared and for the most part semi-cooked or close to raw and placed like an after-thought on the plate. Strange that to be the case as vegetables served off teppan griddles in Japan are closer to stir-fries, and can be eaten as mains with seasoning and flavouring added.
All in all, it was an enjoyable evening with very little disappointment in terms of ambiance and service. From arrival to departure, the staff were lively and helpful. An issue I have, though, is when reservations are made in advance for a particular number of diners and the table isn't set for that exact number. We were two with a table set for six all evening. However, other little details like a personalized, handwritten postcard set upon the table before our arrival was a nice touch.
Verdict?
3 stars out of 5 – Bottoms up, Japanese style!
Fujin Teppanyaki & Japanese Whisky
Phone:  +62 (021) 2751 3030 or +62 (021) 2751 3838
Jl. Gunawarman No. 21
Senopati, Jakarta Selatan
Hours: Monday-Sunday. Lunch 11.30-15.00. Dinner 18.00-late.
Cheque please!
Drinks: Rp.265,000
Food: Rp.865,000
Service: 10%
PBI Restaurant Tax: 10%
Total: Rp.1,367,300