Celebrating a wedding anniversary is only as good as the steak upon which the couple dines. At Ruth's Chris Steakhouse in Jakarta, the Clandestine Critic seals a momentous occasion – the first five years of marital bliss – with classical American food and excellent steaks.
Someone once famously asked, "What's in a name? That which we call a rose by any other name would smell as sweet." People oftentimes misinterpret this little appeal by quickly making the assumption that a rose is a rose, no matter what name it is given. However, I propose we all just appreciate for a moment the conclusion to this romantically linked couple's affairs. I am quite sure someone out there thinks a name does matter.
And as it goes for classical Elizabethan literature, so it goes for a decent steak. With the taste for high quality beef growing at an exponential rate locally, and the proliferation of Western style steak and chop houses a clear indication that people are willing to throw good money at it; one needs to fully comprehend all the details about what makes a steak stand out in order to truly appreciate it.
First, we have to consider the cuts. The filet mignons and tenderloins rule supreme in terms of tenderness and texture, but they are quite lean with little to no marbling (unless you order Kobe or wagyu). Next down the scale, we have the ribeye. A good ribeye is well marbled with thin layers of fat for tenderness, beefiness and richness in flavour.
Rounding out the mid-range we have the strip steak, which is commonly referred to as the New York strip or contre–filet. It is leaner and firmer than the ribeye and filet mignon or tenderloins, but it still has quite a fair bit of marbling and flavour. The porterhouse (or T-bone steak as it is sometimes called) is actually two-steaks-in-one: a small piece of tenderloin and a larger piece of strip steak connected by a T-shaped bone. This is the best deal for any meat lover but also quite tricky to master on the grill (and perhaps one also requires a hearty appetite). Those wanting to order steak at a good chophouse should consider these particular cuts before any others.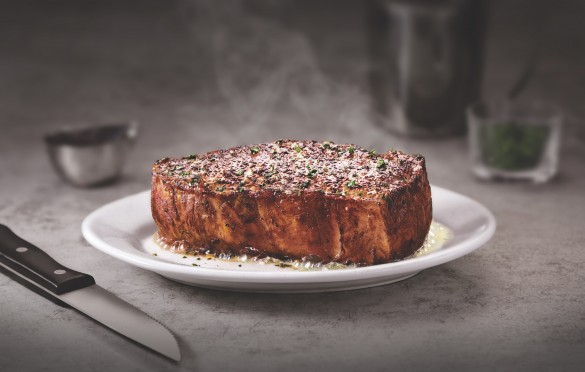 Second, consider the origin and diet of the cattle. American, prime, USDA-certified, corn-fed beef. These words are music to many people's ears and whet the appetites of so many foodies I know. If I feel nostalgic, as I did on my anniversary, then I refer back to my American roots. There's a sweetness and richness to corn-fed beef that is remarkably identifiable. That the steaks are well marbled is also a plus. Add Angus as a breed and it's a done deal.
The best steaks are, currently, imported into Indonesia. However, there have been great glimmers of hope in the local industry (check out D'Biff in Thamrin) where effort has been put into development of local cattle to match quality and taste of the imported ones, and where meat is cut to order by highly skilled butchers. I am also a big proponent of grass-fed beef and usually buy this type at home to cook or order it for a non-fancy, non-anniversary steak dinner or BBQ.
Third. And this is most important. Listen closely.
Never, ever order your steak cooked more than medium.
Save yourself the expense and just order chicken if you like your meat cooked all the way through. Half the enjoyment of eating such a sublime piece of meat is the bloody juices, the textures and fatty goodness. My sweet spot lies somewhere between rare and medium rare.
So with all of these things to consider, which restaurants make a good steak these days in Jakarta?
Ruth's Chris Steakhouse makes a damn fine one, and one of the best I've had in a while outside of my home. The prices are staggering considering this old stalwart chain but well worth it. There is beautifully cut meat and excellently prepared sides and starters.
They have an extremely limited menu, which I applaud because every single item we ordered was plated with care and attention to detail. There is no need to even think about any other main than the steaks here. The side dishes such as the potatoes au gratin, macaroni and cheese and chopped salad also deserve a slight nod.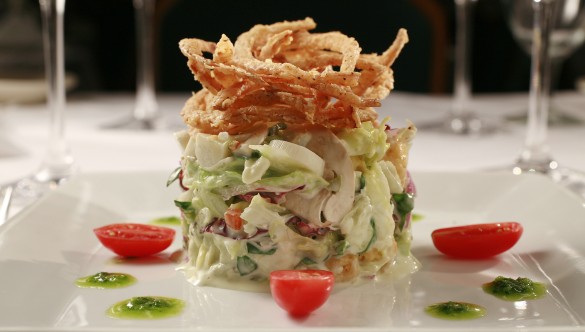 Come hungry and ready for American portions. The Petite Filet (230 grams) and New York Strip (340 grams) we ordered came out to the table placed on 500-degree plates and sizzling in butter. As with any good steak, there was only salt and pepper for seasoning and a light sprinkle of parsley for show. The aroma from the plate as you wait for the sizzle to subside is divine. You want to dive into that first bite, but you will get burned, which coincidentally, sounds eerily like relationship advice. Both are perfectly grilled to medium rare and still cooking on the plate, so time is of the essence when eating such fine American beef.
The restaurant itself sits on the ground floor of an apartment block with the Lotte Shopping Avenue and Raffles hotel directly opposite.
Although it initially seemed like a strange place to house such an eating establishment, the gilded brass décor and pressed, white linens speak to a simpler moment in time (ah, the 1990's) when stark elegance was de rigueur.
Service was prompt, with a nod to American-style attentiveness. The wine list was short and slightly dull, but there is also a cocktail menu to consider. For the cost of a glass of wine, you might as well bring your own bottle and pay the corkage fee. Still, Ruth's Chris was a perfect fit for our fifth anniversary as dessert – a complementary mini cheesecake and vanilla crème pot with fresh berries and a photograph documenting our celebratory evening enclosed in a nice card – rounded out the evening.
This old rose still smells sweet after all this time.
4 Stars
Dinner for Two
Drinks: Corkage Rp. 250,000 and sparkling water Rp. 75,000
Food: Rp. 1,770,000
Service charge: Rp. 209,500
Tax: Rp. 230,450
Total: Rp. 2,535,000
Ruth's Chris Steakhouse
Jalan Prof. Dr. Satrio Kav 1, Jakarta Selatan, 12940
(Ground floor of the Somerset Grand Citra building)
Telephone: 021 522 1178
Website: www.ruthschris.com/restaurant-locations/jakarta
Open Every Day
Lunch: 11:30am-3pm
Dinner: 5:30pm-11pm