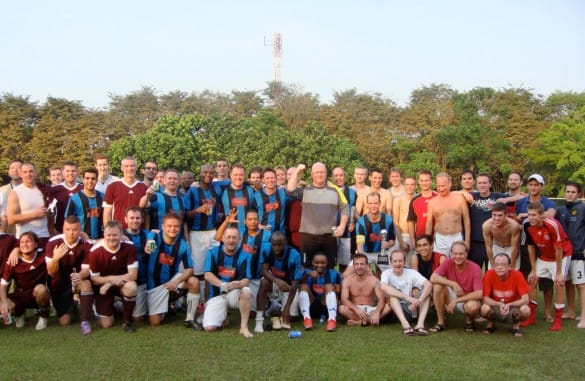 Inspired by the FC Knudde Sixes tournament that ceased to exist many years ago, the friendly family titled BuGils FC found that Jakarta had been without a yearly six-a-side tournament for too long. Four volunteers rolled up their sleeves et voila, on Saturday 3 May 2014 the already second edition of the BuGils FC Soccer Sixes will take place.
After last year's great success, it did not take long to fill up the 20 spots for this second 'soccer party' and with generous support from many sponsors, around 200 expatriate players from in and outside of Indonesia will meet up for all-day soccer playing at the grounds of ISCI (International Sports Club of Indonesia) in South Jakarta.
Opening up this year's tournament to teams from outside of Indonesia makes the competition an excellent opportunity for many to compete, as well as to strengthen the ties among the soccer community in Southeast Asia. Teams compete in six to eight twelve-minute matches and after a group stage, the teams advance to separate plate, bowl and cup competitions. Finals are played late in the afternoon.
Jakarta International Football League  (JIFL) icon Dale Mulholland is putting on a free Super Skills clinic for kids, and with many other children activities organized, and all of ISCI's facilities open to players and supporters, the tournament offers a great mix of competition, friendship and quality family time.
Established in 2002, BuGils FC is one of the 10 teams in the JIFL and the team originates from the once famous and now closed expat hangout, BuGils in Taman Ria Senayan, and is now based at Eastern Promise Pub and Restaurant in Kemang.
The team lives up to its roots as a pub teamweek in and week out, and tactics are normally discussed over beers until the late hours of the night before a game. It must be said that FC BuGils is not the most successful team in the league but as said, all players stand their own in the third half in the pub.
Noteworthy BuGils FC facts:
Players are normally recruited in the bar and sign 'contracts' on beer coasters
The current squad of 25 or so regular players consists of 12 nationalities!
Having such a large squad, Frequent BuGils vs. BuGils matches are organized to up the number of wins
The team was established in 2002 and forgot to celebrate its tenth anniversary in 2012, so did it a year later in 2013
Some years ago, the two oldest players, both fullbacks, had at the time over 100 years of football experience between them
One player insists that watching football instruction videos on YouTube qualifies as training!
Some illustrious team members listen to names like Eddy the Eagle, Marc the Blade, Willy von Blisterboy and Fake Rod
The team's social spirit also dominates the character of the tournament with a bar and terrace right on the pitch's centre spot! Overseas teams are given a treat of Jakarta's nightlife through a chartered Kopaja pub-crawl and a tournament after-party in Eastern Promise. The Kopaja tour should give the overseas participants something to talk about, and if the second edition of the tournament is as much fun as the first one, then next year the committee aims at getting even more overseas teams than the five that have already registered for 2014.
BuGils FC Soccer Sixes
Saturday May 3rd 2014
9am-5pm
ISCI Sportsclub Jakarta (free entrance for the whole family with access to all sports facilities; squash, tennis, swimming pool, gym, etc.)
For more information, please visit www.jkt-soccersixes.com or email [email protected]