Leonardo Da Vinci, Galileo, and Copernicus may be the first names that come to your mind at the mention of "Renaissance man" or "polymath". Add Asians to the list and you'll probably think of Avicenna, Su Song, and Rabindranath Tagore. If any currently living Indonesians deserve to be on that list, I would immediately name Harry Darsono.
It was only 9 o'clock on a Saturday morning. A party of 15 had already assembled in the foyer of this three-story house with a manicured garden in Cilandak, eager to see a fine collection of haute couture and art-to-wear – as well as paintings, china, homeware, and artisan pianos – in the company of their maker.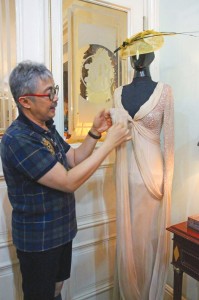 Harry Darsono is not your typical fashion designer. Not only has this spry Surabaya-born 63-year-old dressed Princess Diana and Queen Rania – being an equally talented and passionate musician, painter, sculptor, architect, academic professor, business consultant, multi-linguist and philanthropist, it is hard to put a label on Darsono.
But long before Darsono was recognized as an esteemed genius, young Harry had to overcome his share of adversities. "I had to be aborted because my mother conceived me right after having my sister, and mother was physically weak," said Darsono, the fifth out of eight children. "It was 1950, after the war. The abortion failed, so my father interfered and said, 'please stop'. So I was born prematurely at seven months."
As a child, Darsono had frequent seizures, but was physically very active. Due to high alkaline levels in his body, he sleeps two-and-a-half hours a night. Hypersensitive sensory neurotransmitters constantly caused Darsono a mental overload that caused him speaking difficulties well into his thirties.
At home, he vandalised things and drew storyboards with sadistic storylines. People back then did not know what ADHD (Attention Deficit Hyperactivity Disorder) was and simply dismissed Darsono as a troubled and perverted child.
Because of his aggressive and destructive tendencies, Darsono's parents sent him to live with his grandmother in Mojokerto and attend the local Seventh Day Adventist School. At nine years of age, Darsono got expelled from six schools and ended up in a special school for the deaf and mute.
At the end of the year, psychiatrist uncle, Dr. R.M. Soedjono asked if he could take young Harry to France, where he was conducting a research on ADHD therapy. In the outskirts of Paris, Soedjono rented a house that he used as a laboratory for homeschooling seven children with ADHD.
In this home laboratory, Darsono learned to play the piano, the harp, and gamelan. But only one thing can calm Darsono's hyperactivity; pulling the soft, long, blonde hair of his French therapist. One day, the therapist gave Darsono silk cocoons instead.
"My eyes did not blink for four minutes," recalled Darsono. "She taught me to pull them and I was amazed that the soft fibres did not break." Since then, hand-spinning silk cocoons into thread became Darsono's therapy for attaining focus.
The threads were then dyed into many colours and connected to needles. Darsono embroidered them into large three-dimensional images. The first bird embroidery nine-year-old Harry made is now framed in the museum, rich in colour and texture, as if made by a seasoned artist.
Later, Darsono learned to make hand-painted silk fabrics and haute couture. With the encouragement of his mother, who wanted her children to appreciate wealth and learn "adversity quotient", Darsono secretly sold his works.
As a young adult, Darsono was admitted to the École Supérieure des Beaux-Arts in Paris, where he studied six majors to channel his excessive energy: painting, sculpting, relief carving, haute couture, textile arts, and stage costumes. Darsono graduated in 1979 and moved to Geneva to work for the World Gold Council.
He also spent much of the 1970s and 1980s making costumes for Shakespearean productions in the UK, France, Greece, and the Soviet Union, including Hamlet, Julius Caesar, Othello, A Midsummer Night's Dream, and a contemporary kabuki version of Romeo and Juliet.
"Theatre producers would tell me, why do fine handmade stage costumes if the audience can't see the details from the house? But handmade is therapy for me," said Darsono, whose haute couture costumes are worn mostly by leading actors for a period of 16 to 18 years.
Darsono met Diana Spencer in the late 1970s before she became a kindergarten teacher. Darsono's British godmother, Jane Phillipson, is the sister-in-law of Dame Barbara Cartland, the novelist and step-grandmother of the would-be-Princess. After Diana's marriage into the British Royal Family, Darsono started making her silk dresses inspired by Javanese wayang. The Princess has since put some of her dresses up for auction to raise money for her AIDS charity program, which Darsono had to buy back "for a fortune."
A sapphire crown Darsono made for the Princess of Wales is on display in the museum during tours. Handling them carefully with latex gloves – an insurance requirement – he actually lets visitors wear them.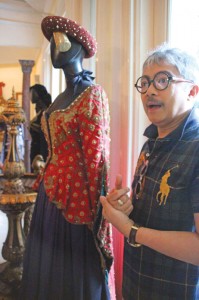 Another royal Darsono has dressed is Rania of Jordan, for whom he made a low-necklined, hand-stitched red dress with gold sequins and a long black skirt. On the occasion when this dress was worn, Darsono performed a Balinese dance before the royal family, wearing a traditional leather costume he hand-carved himself.
Darsono spent the mid 1980s pursuing a PhD in Psychology at Christchurch College, Oxford. For his dissertation, he researched humanistic philosophy in classical literature from various cultures, including the Mahabharata and the works of Shakespeare.
"My father wanted one of his children to become a teacher, like his brother, Professor Suyunus," said Darsono. This uncle is a professor of neurology in Universitas Airlangga, Surabaya. "None of my siblings were willing to go that path because they were more interested in becoming businesspeople. So I studied till I got my PhD. I still used sign language back then."
Before he learned to speak in his early thirties, Darsono used to communicate using quick sketches, sign language, and unintelligible sounds. And yet by this time, Darsono already understands Dutch, Chinese, English, French, Javanese, and Indonesian. Darsono started learning how to speak when an uncle who observed his musical talent suggested that he should learn how to sing.
More recently, Darsono has been a fashion and business consultant for various clients and making costumes for Miss World contestants, including those from Turkey, Norway, the UK, and China.
To give other children with special needs the opportunity to explore their inborn gifts, the Harry Darsono Foundation holds special training programs, fundraisers, and awareness campaigns. Darsono also has an apprenticeship program for adolescents with special needs. The Foundation recently teamed up with Lions Club Jakarta Nusantara and Siloam Hospitals in a musical fashion show to raise funds for patients in need of cornea surgery.
"Do not judge your children based on what they are like now, because they will be very different people thirty years from now," said Darsono. "Be grateful if you have a child with special needs, because that child comes with special gifts and God will give you what it takes to unearth them."
Harry Darsono Couture Museum
Jl Cilandak Tengah No. 71
(around the corner from CITOS)
Cilandak Barat – Jakarta Selatan
Tel 021 766 8553 or 0815 999 3499
Museum open only by appointment, for groups of 12 to 15.
Entrance donations Rp.185,000.