Bonjour Thierry Le Queau! The French Executive Chef at Mandarin Oriental who began his career at 16 and enjoys bringing a new twist to traditional dishes.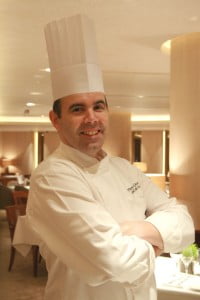 Thierry, where do you come from?
Pays Bigouden, Finistère, Brittany, France
What brought you to Indonesia, and how long have you been living here?
I have lived in Indonesia since I joined Mandarin Oriental, Jakarta back in June 2009. I've been working in the business for 19 years now and Mandarin Oriental has always been a reference point in terms of luxury hospitality. I feel privileged to work for a company of that reputation and I have always wanted to live in Asia and discover its rich heritage of food and culture.
When and why did you start cooking? What inspired you to become a professional Chef?
Being around food inspired me to become a chef and I began my career at the age of 16 by becoming an apprentice in 1991. The freedom of creativity, it has an excitement through different experiences or sensations with respect to the product. With cooking I'm constantly in contact with nature every changing season.
There were many people who have inspired me along the way and continue to inspire. My mother and grandmothers were my first idols. Through them I learnt my values, my strong work ethic and desire, the desire to do a good job and do a little better every day. My father was a fisherman, and this gave me access to the freshest seafood one can have and as a grandson of a Farmer, I was always in touch with the reality of growing vegetables based on seasons and helping during harvest time. This built my understanding and fundamental base for the importance of the product until the final plating. I give credit to the three ladies for engraving these beliefs in me.
On the professional side, Andre Doll, my apprenticeship's chef mentor, gave me a solid introduction to the kitchen. He taught me almost everything I know today.
Who have been your major influences?
I worked with Adolphe Bosser, an inventor of nouvelle cuisine, at Bosser's restaurant at Relais & Châteaux in Audierne. He was Sous Chef de Cuisine. Having trained under French masters Chefs Adolphe Bosser and Eric Scuiller, I have refined my techniques by working with Michelin-starred Chef Raphaël Rolland.
Could you describe or define your style of cooking?
My cooking style is more related to my country and region. I really like the classic way of cooking. We take care of our tradition in France, it's very important. In my career I have worked with very classical and conservative chefs. I use some new techniques and products of course, but the food I cook has the same old spirit. The new style of cooking is not my style, however if necessary I am flexible. I like reinventing traditional dishes. It is in the local produce of Brittany that I draw my inspiration to create. Simplicity and elegance are the reflections of my creativity. Preciseness and simplicity is the hardest thing to achieve when creating dishes.
Generally, when I go back home at night it's very quiet. Over one or two hours I start to think about the seasons or moments of the day and I create a dish. You have to find the right coupling between best quality ingredients and well-cooked food. I want to find my own personal style and cook what is in my heart.
You are known for your unwavering demand for fresh produce, is it difficult to source fresh ingredients in Indonesia for French cuisine?
At the moments yes, there are difficulties. But this is out of our control and I am maximising on the best local produce and product. For example, seasonal and local live fish or seafood guarantees the best quality. We also have to pay more attention to what ingredients we can get in our kitchens, so we have a role to play in regards to sustainability. We have to bring in a more sustainable manner and cook more contemporary cuisine to meet customer demands. It is not progress to be able to eat asparagus and strawberries all year round, biodiversity has to be preserved.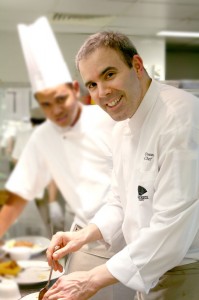 You've worked with many Chefs in your career, what is your most memorable collaboration?
I enjoyed all my collaborations! It gives you the opportunity to share, learn, and contribute from every level of the brigade, it's not only one person. You must enjoy and be passionate about what you do; learn from and listen to every team member and contribute your strength to the team. Another element is patience. You need to stay with a team long enough to really learn and there is no fast track. Those moments have built my personality and professional career relationships.
I want my team to learn from me to help them do their jobs better, because at the end of the day we define our success by how we did collectively as a group. I want to impart what's important to me: respect for the food, commitment to our guests as well as building relationships with our suppliers.
Working in the kitchen in fast paced, hard work and little room for error, how do you wind down after a busy shift?
I usually swim or snorkel in my free time since I do not have an ocean close by. I like working out, exercising, and also spending time reading.
What are your views on Indonesian cuisine, do you have a favourite dish?
The famous beef rendang. I like classic food and Indonesian cuisine keeps their traditional dishes at their best by using quality ingredients and fantastic spices. As long as you respect the product, the food will be always at its best. Our cooks can see the individual, they can identify a personality behind it, and therefore understand the beef, how the beef is raised, who's slaughtering it, the whole purpose behind it and all these different things that really make that full connection – that responsibility and respect for the food.
What advice would you give to aspiring young chefs?
3 words:
Patience.  Be ready at every moment; prepare yourself for tomorrow.  Chefs always want to be moving faster. I think it's important to enjoy the moment; to accept and embrace the repetition of the job and perfect what you're doing each day so you can bring it forward and use it as a solid foundation for building your career.
Desire.  You have to have desire. People say that you have to have passion in order to do something well but I don't completely agree with that. Passion is important but passion ebbs and flows. We can be passionate about something one day but not the next. Desire equals success. Having a desire for something means striving for it on a daily basis. Determination and ambition are also important qualities in any field.
Belief. A Chef also needs to take ownership of what they do, and never give up!  It's all about determination. Go in everyday and do a little bit better than the day before.