A new coat of paint and a change of colour can make a big difference in people's lives. SNA Media Club members visited three villages in Malang where residents have got a new lease of life due to the community's efforts to attract more visitors and tourists.
KAMPUNG WARNA WARNI (THE MULTI-COLOURED VILLAGE)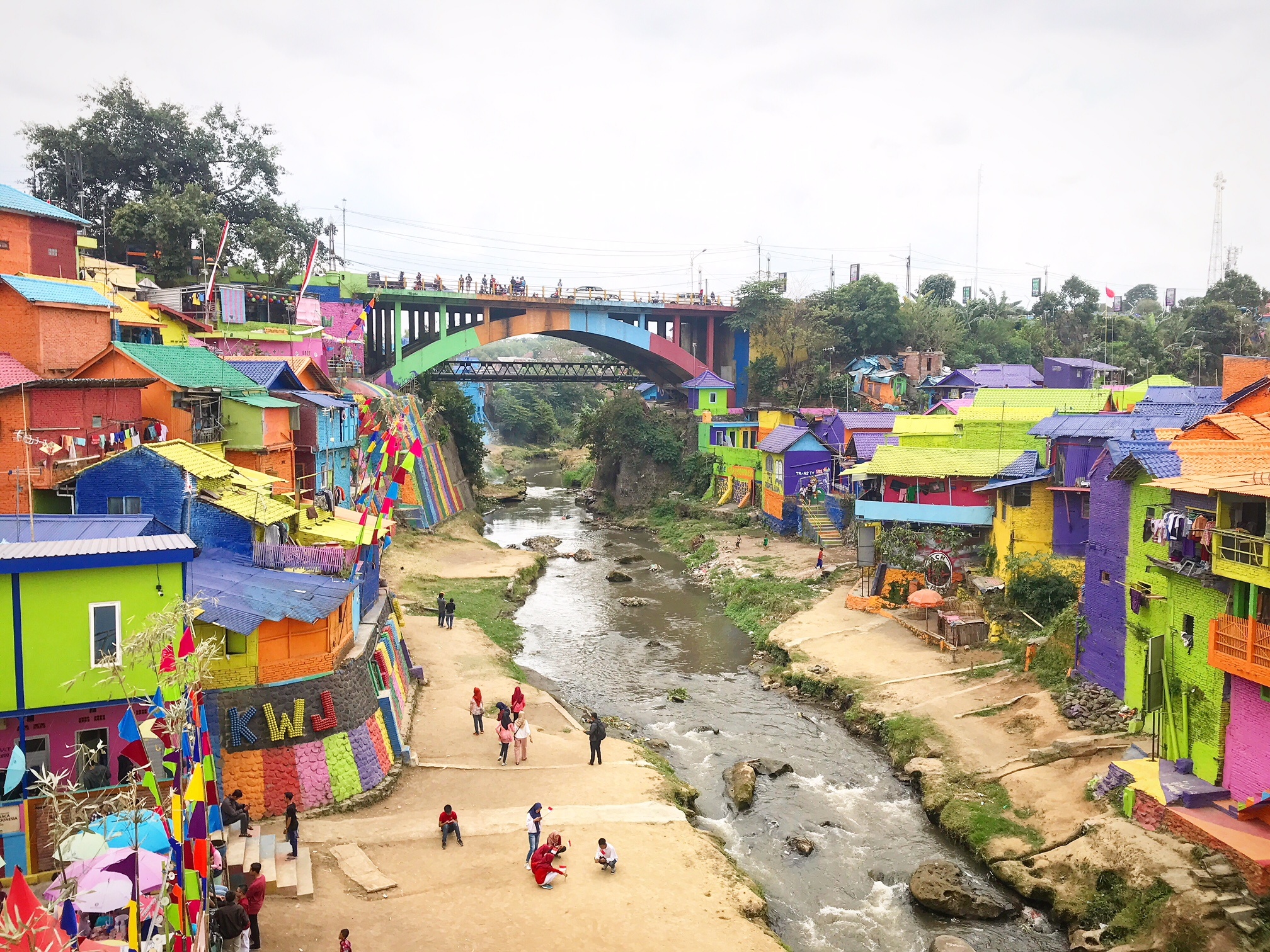 Located in the heart of Malang City, Kampung Warna Warni is without a doubt a place worth adding to your bucket list. This eye-catching village first came about when a few students from Muhammadiyah Malang University proposed an idea that not only beautified this place, but also provided the locals with an opportunity to boost their economy – all they needed was creativity and some paint. Just a month after proposing their idea, the residents had a meeting and soon enough a neighborhood with vibrant splashes of bright, lively colours was born. The painters of this village were helped along by paint sponsor PT. Indana. Other than supplying high-quality paint, PT. Indana also gave a hand painting the houses. To further amplify their originality, local aspiring teenage artists also expressed their creativity by adding artwork in the form of cartoon designs, graffiti and murals. On top of that, they have brand-new designs every three months or so, to attract returning guests and to maintain the village's "freshness".
Aside from being pleasing to the eye, this innovation also led to increased income for the residents. Roughly 1,000 visitors on the weekends and 200 on weekdays give village women, who are generally uneducated, an opportunity to make a living out of selling food, drinks and souvenirs. On top of that, teenagers are also given jobs to manage the parking spots, and the Rp3,000 entry fee is saved and used to buy rice and cooking oil for the residents during Christmas and Hari Raya.
KAMPUNG BIRU AREMA (AREMA BLUE VILLAGE)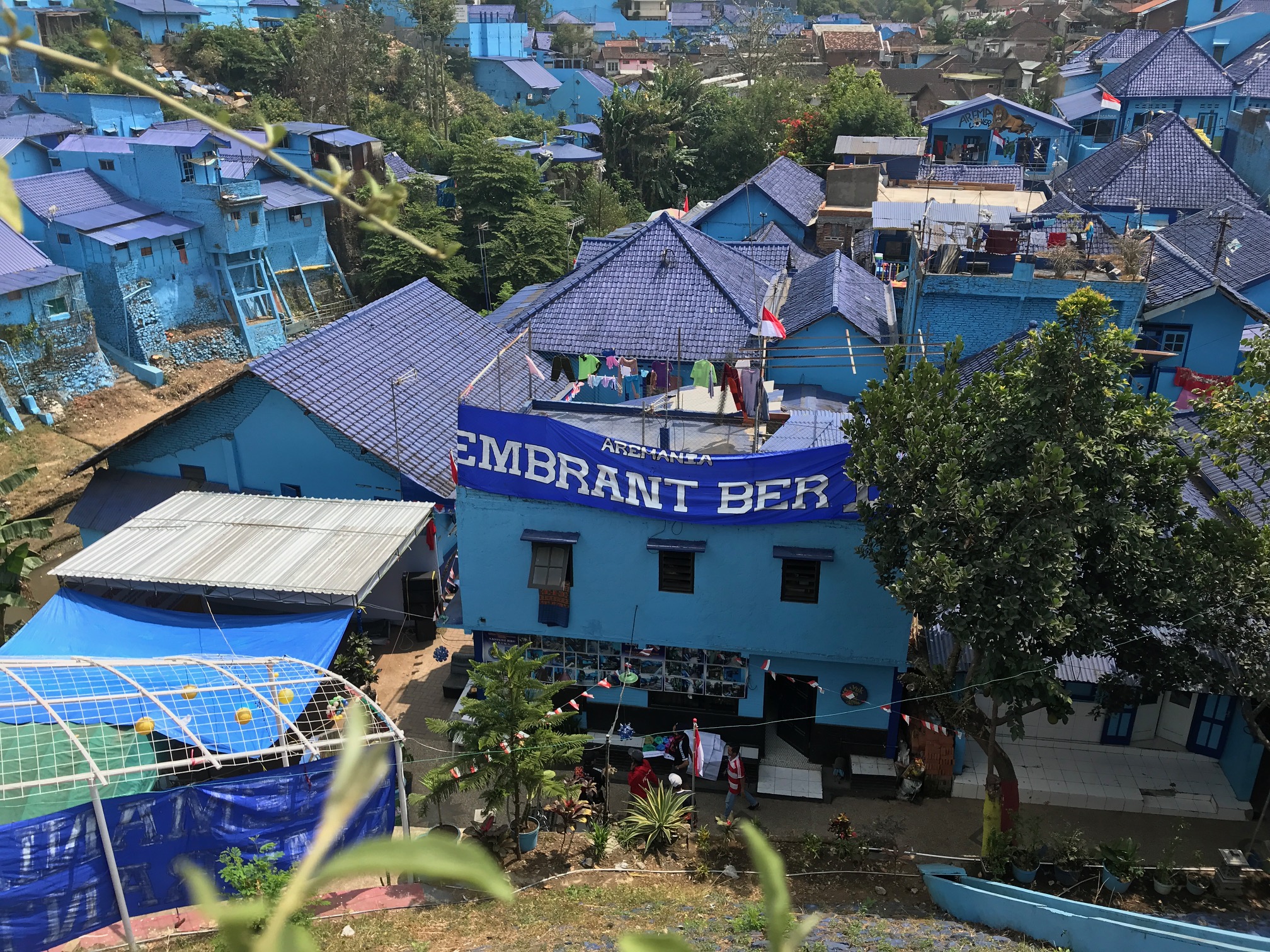 Named after its thematic colour and the hugely popular Malang football team (Arema Malang), and located just across from Kampung Warna Warni, Kampung Tridi (3D village), and the bridge, Kampung Biru Arema comprises 500 densely packed azure houses. Following the popularity of Kampung Warna Warni, Malang Mayor Mochammad Anton issued an instruction to repaint and revitalise Kampung Biru Arema in the hope of increasing the village's appearance and improving its economy. After a tremendous effort to convince the sceptical residents to commence the project, and after supplying them with the funding necessary to paint the entire village, on February 6, 2018 Mayor Anton inaugurated Kampung Biru Arema. Various Arema-related murals are found throughout the village.
You can clearly see the iconic mascot of the Arema football team, which is the lion, painted nearly everywhere. Arema FC is nicknamed Singo Edan (Crazy Lion).
KAMPUNG TRIDI (3D VILLAGE)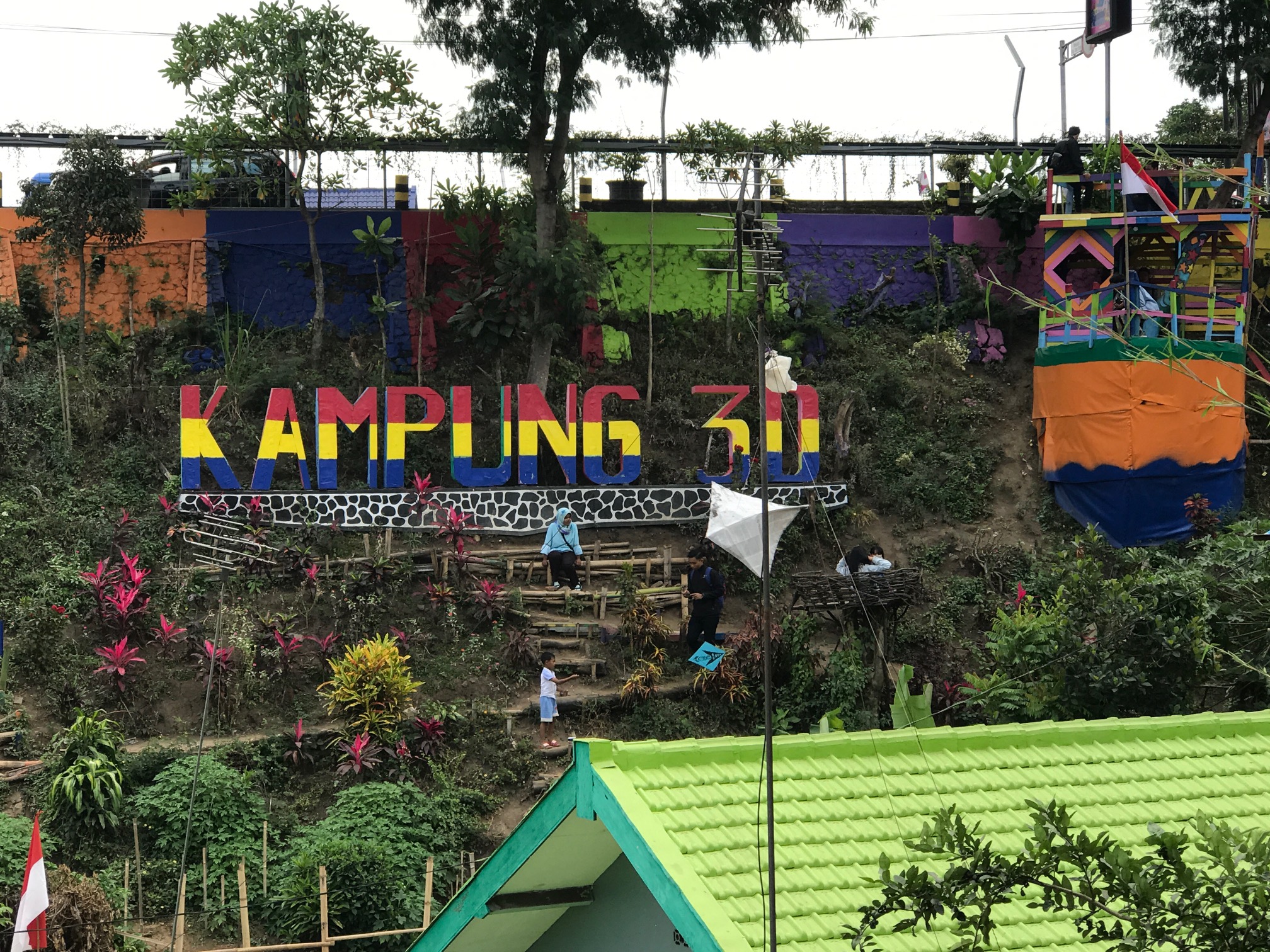 Kampung TriDi is a village right across from Kampung Warna Warni connected by a towering, lemon yellow bridge. The name TriDi originated from the paintings and graffiti on the walls that have a 3D-like effect. These are the main attractions of the village, and are constantly changing in order to continue attracting tourists, thus making each visit unique. The paintings and graffiti are mostly inspired by predatory animals such as sharks and famous characters like Spiderman. It's fun to take Instagram worthy photos here! The tickets to enter the village cost Rp3,000 and another Rp3,000 to cross the bridge to enter Kampung Warna Warni and vice versa. The money that the residents earn from selling the tickets and snacks such as pentol (meatballs) and tahu (tofu), has helped improve the village's economy.