Looking for an exciting new sport? Before you go and buy new equipment, take a course at Rip Curl School of Surf at the Sanur Beach Hotel, where the elements meet to make perfect conditions for two new sports; stand up paddle and kite surfing. Both these sports have been popular in Hawaii for some years and now these easy lessons are available to acquaint you with them.
I went on a windy Sunday after being told by staff at the surf school that conditions were not good for classes all week. I decided to go anyway and arrived at the Sanur Beach Hotel ready to learn a new sport! I spoke with Luca Soulos, an instructor at the school, who told me, "The winds have kicked in", so kite surfing is the sport to do.
Kite surfing, or kite boarding, is a surface water sport, combining aspects of wakeboarding, windsurfing, surfing, paragliding and gymnastics, all into one extreme sport. In the 1800s George Pocock used kites of increased size to propel carts on land and ships on water, so both could turn and sail upwind using kite power as an alternative to horsepower. It is used in skiing, waterskiing and buggying. In 1996 Laird Hamilton and Manu Bentin were instrumental in demonstrating and popularizing kite surfing off the Hawiian coast of Maui.
The first lesson is two hours and covers the basics in a classroom. One learns to understand wind patterns and the handling skills required in a thorough introductory session, including a step-by-step video. Once you understand wind patterns and ocean conditions, you are ready to set up your kite. After a basic understanding of the apparatus, its safety systems and how they work, you are ready to do the final step of this session — kite flying!
In the next session you will learn about body dragging and the wind. You and the wind are partners. Then you are shown postures such as the superman posture. Learning kite control, especially while turning, is next and you are taught how to move with the kite to generate power. Then you actually learn to put the kite on and make starts on both sides to start riding. Taking to the water and getting wet with the kite, you will learn how to launch and position yourself for optimum power and control. The third session, and most advanced of all the IKO certifications, takes you out and you learn all about riding and being consistent on both sides. You are taught how to generate speed and move up and down wind as well as how to change direction and grab some air with basic jumps and aerial manoeuvres.
Now you are ready to harness the power of the wind as you slide across the ocean in this exciting new sport! The latest in Airush kiting equipment is used. International standard tuition is essential in this adventure sport and IKO certified courses are offered up to level three. For fast track intensive learning, private kite tuition is offered.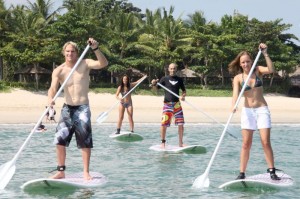 Next try your hand at Paddle Board, or, in Bali, Stand Up Paddle Board. In Hawaii surfers also use the boards to travel, such as from Lahaina to Lanai in Maui County. Some of the paddling is done lying down just like when you are paddling out to surf. Paddle boarding is done in the Hawaiian Islands standing up, sitting or prone. This is the latest aquatic fitness craze. It can be a relaxing, easy sport or a challenging, exciting sport the whole family can do. After just one lesson, you can be paddle boarding across the Sanur or Jimbaran coastline, or try rolling with the waves in the early morning with a friend or one of the professionally trained guides.
The first session will be learning about your equipment and basic paddling skills. You will master the essentials and practice paddling across flat water. That is a challenge with the weather we have been having of late! After you learn to stay upright, which some do at once and others keep learning, you will practice making turns. The second session you move on up and learn to ride the little waves, switch feet and keep your balance as you paddle onto waves and learn to make smooth exits, a fabulous skill for all! You will learn to control the board with your paddle and with the movements of your weight. In the final third session you will pick up some more advanced skills, moving up to larger waves. Using the power of the paddle, you learn how to rotate on your fins and move into and float off sections as you power into breaking waves with ease. Privates and rentals are available and recommended for surfers wanting to try something new.
Thomas Edward Blake is credited as the pioneer in paddleboard construction in the early 1930s. While restoring boards for the Bishop museum, Blake built a replica of the previously ignored olo surfboard, ridden by ancient Hawaiian kings and queens. He lightened his redwood replica by drilling it full of holes, which he then covered. Blake created the first hollowboard, which lead to the creation of the modern paddleboard. Two years later using the same 16 foot, 120 lbs board, Blake won the Pacific Coast Surfriding Championship.
Blake then returned to Hawaii, breaking virtually every established paddling record available. He would tirelessly promote his boards for lifeguarding. In 1932, in his drastically modified chambered hollowboard (now weighing 60 lbs), Blake outpaddled top California watermen, Pete Peterson and Wally Burton in the first mainland to Catalina crossing race (29 miles in 5 hours, 53 minutes). Blake-influenced hollow boards would be used in equivalent proportions to that of solid plank boards for both paddling and surfing until the new Hot Curl boards led wave riding in a new direction.
The Rip Curl Surf School has lessons in all the sports that have grown from the ancient sport of the Ali'i of Hawaii, from surfing and windsail, to kite sailing and paddleboarding. Enjoy them all here in the bliss of Sanur, Bali.
Rip Curl Surf School
Sanur Beach Hotel
Phone: (+62) 361 737 048
www.ripcurlschoolofsurf.com