Indonesia Expat sat down with Ms. Sylvia Effendi, Marketing Director of Houbii Urban Adventure Park and Mr. Jimmy Jagapati, Head of Houbii Sports Academy to talk about the park and their new sports academy:
When was Houbii established and why?
Houbii was established in December 2016 with the purpose of getting children to have a healthy lifestyle. Kids these days tend to sit at home and watch TV, play with their computer or even their tablet, and when they do go out, especially in Jakarta, they usually only go to malls. This also applies to parents or any person living here, no matter what age. We don't have a lot of space here to run around and stay active. We wanted to provide a place especially for that.
What types of activities do you provide?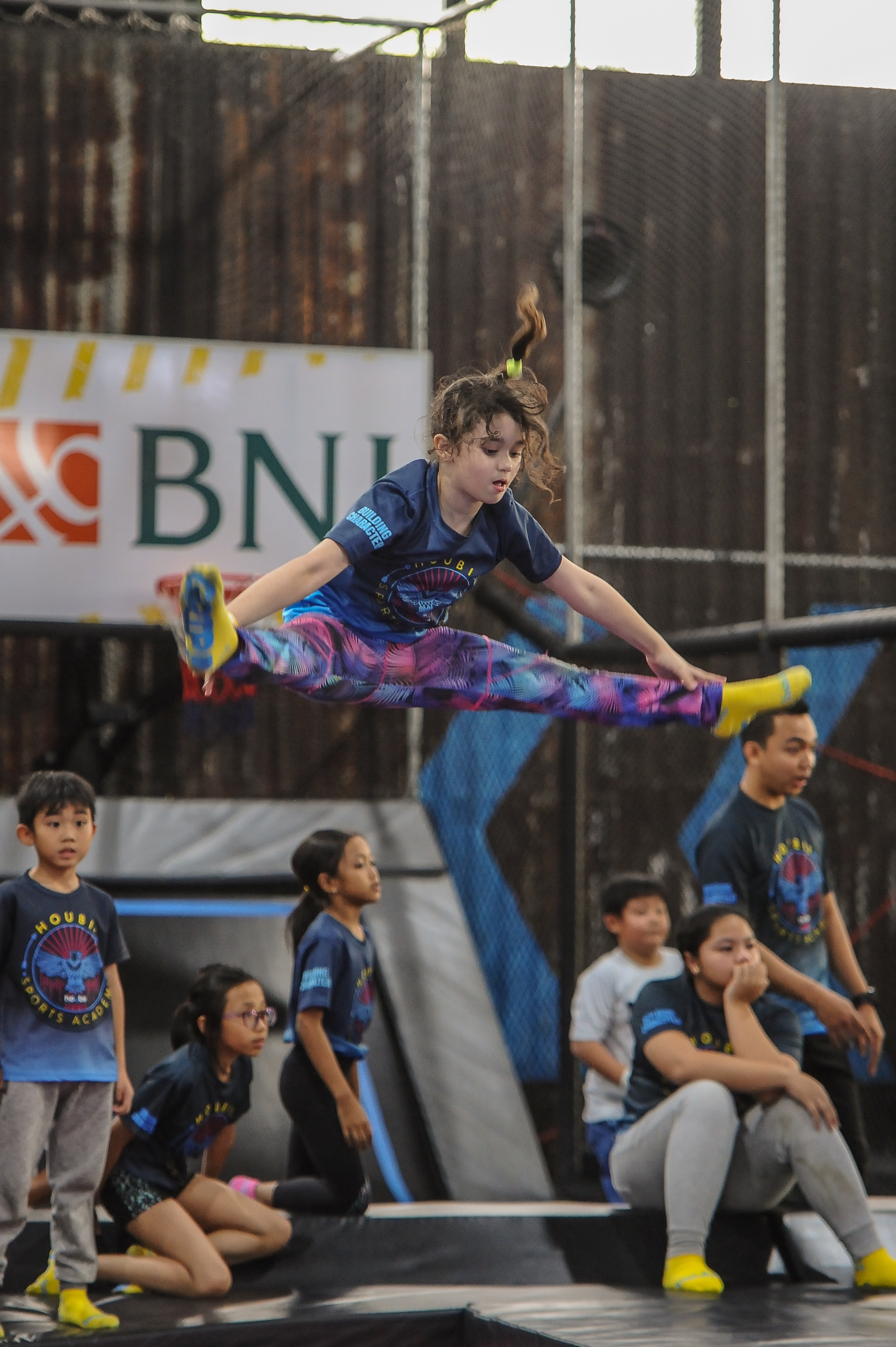 Of course we have the free style arena with the trampolines, but in this park we have so many other unique activities that people can play. In this 3000m² space we have an "Ultimate Dodgeball" court, a Slam Dunk area, a rock climbing wall with a foam pit, a 90° slide called the X-Slide, we even have a "Ninja" obstacle course, and the high rope course. Our activities offer high performance, and it takes skill to get through some of them . It's a very active environment.
We also offer corporate gatherings involving all the activities in the park. We've had big companies have gatherings here such as LG, Tokopedia, Traveloka, Coca Cola, and lots more. On top of that we sometimes bring in motivators and guest speakers, and also hold birthday parties. Now we have the Houbii Sports Academy as well to give more opportunities for people to stay active.
Who are your clientele?
We have people from all ages visit Houbii, but on average, most of our customers are children between the ages six and 12. Sometimes we have babies and toddlers with their parents come by as well! The whole arena has captains who watch over everyone and ensure their safety.
I see that you're an official training venue for Indonesian athletes. Can you tell us more about that?
This year was the first time Indonesia has ever sent a trampoline athlete to the Asian Games. We organised a trampoline championship back in April this year, and we spoke with Persani, which is the national gymnastics association in Indonesia. At the championship, Persani was there and scouted athletes who were the winners of the championship. We sponsored these athletes and trained them here using Persani's Olympic trampoline set and equipment, and we even had Greg Roe, a gold olympic medalist from Canada to train these athletes.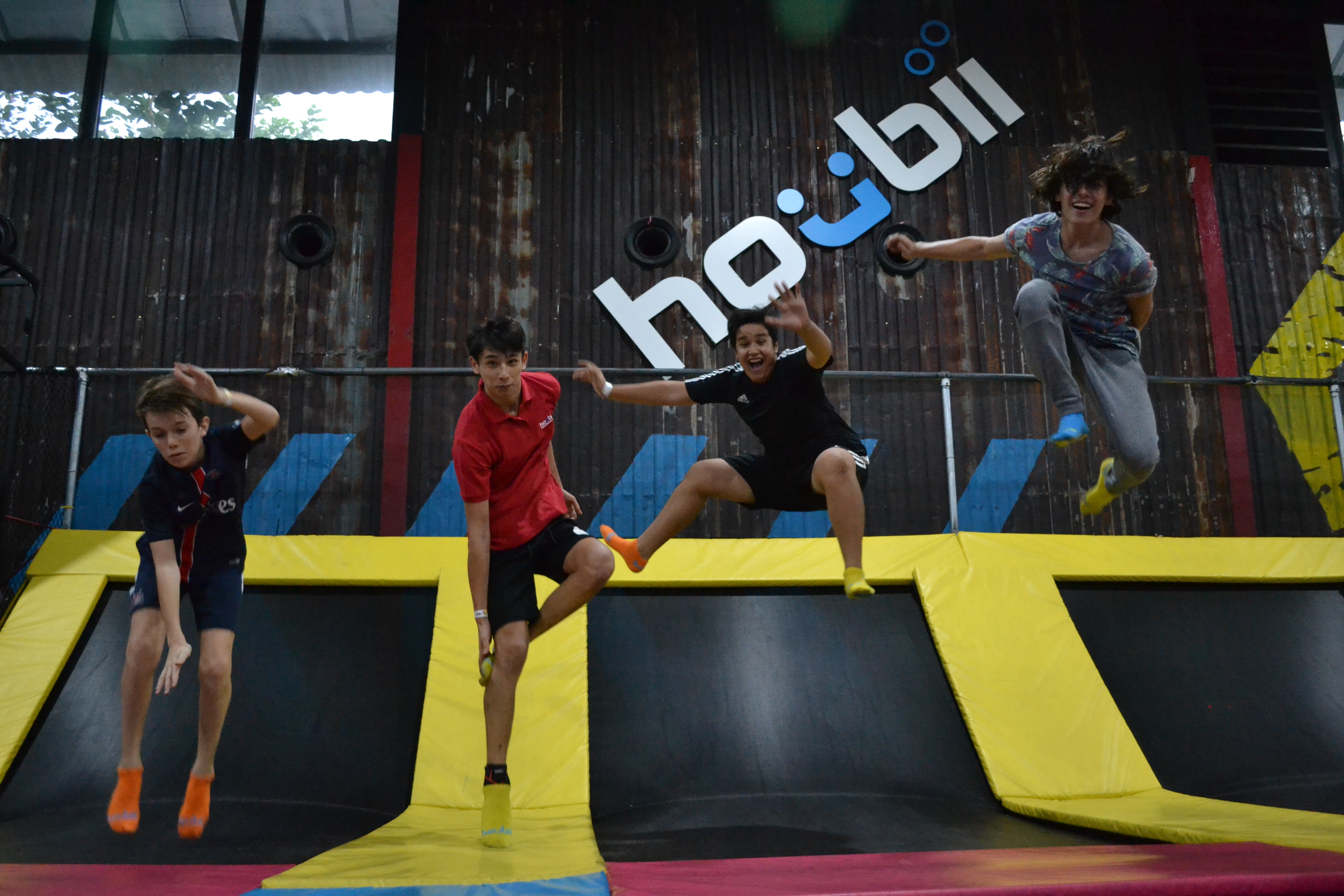 What is the Houbii Sports Academy?
Houbii Sports Academy is designed with extracurricular activities in mind. It provides structured gymnastic and trampoline training. The curriculum encourage learning, exploring and pushing limits led by professionals to guarantee a safe, fun and active experience while learning. Starting next year we will introduce new classes. This will be the baby & parent program, and the gymnastics and trampoline program, developed by the Indonesian gymnastic national coach. The baby program is up to age four, and the rest are for ages four and above. The groups are separated into junior and senior jumper classes. The registration starts from December 20, 2018 until January 8, 2019.
What are the benefits of joining the Houbii Sports Academy?
First things first; we help build children's characters through sports. We also believe in caring through sharing. At HSA we don't just learn about the fun in trampolines, but also its safety and its benefit to your body. Ten minutes on the trampoline is equivalent to a 30-minute walk on the treadmill, which is 420kcal.
Trampolines are also beneficial to people with disabilities as physical therapy. Special needs kids also benefit from our sports academy.
More physical benefits that can be achieved through our program is of course building strength, stability, balance, and can even help with vertigo.  Trampolines can also help strengthen your bones, which can help with osteoporosis. The effects will not be immediate, but through constant practice and training you will definitely see the change in your body.
What makes the trampoline class better than other extracurricular activities for kids?
Because the trampoline uses so much energy and uses a lot of major muscles, it doesn't take as much time to get fit using the trampoline as it does with other sports. As I mentioned, it only takes ten minutes on the trampoline to burn 420 calories. It's hard to get that with other activities. In our fast-paced world today, people want to save as much time as possible. This is the best option for that.
What are the prices for the Houbii Sports Academy?
Depending on how many classes students take per-week, it ranges between Rp3,375,000 – Rp5,400,000 per term (6 months). This also gives you free access to the whole park at any time for the whole six months. At the end of each term, we will have a showcase and graduation ceremony to finish the ten sessions and show what the students have learned, and the best of these students will have the opportunity to become professional athletes and train professionally if they choose to do so.
As for the baby & parent program, the costs are Rp225,000 per session or Rp1,800,000 per term.
To learn more about Houbii Urban Adventure Park, visit https://www.houbii.com/
Houbii Urban Adventure Park
Jl. Metro Pondok Indah Blok BB No.3, RT.1/RW.16, Pd. Pinang, Kby. Lama, Kota Jakarta Selatan, Daerah Khusus Ibukota Jakarta 12310