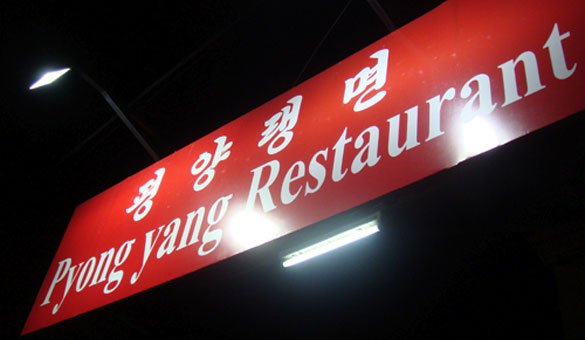 Pyongyang is the capital of North Korea and the name of a restaurant chain operating outside of the fatherland. I had no idea what to expect from a restaurant run by the infamous North Koreans complete with North Korean staff.  I've always wondered why there were North Korean embassies and Ambassadors when emigration is forbidden and travel of its citizens are restrictive, but they do in fact have real live North Koreans living abroad. Some work for the Pyongyang restaurants, and we have one right here in Jakarta!
A big red sign with "Pyongyang" written in white lets you know you are at the right place. Inside a pink rumah makan on Jl. Gandria rests a piece of North Korea. It's no surprise that there was a lack of windows and when windows existed so did the metal bars diagonally welted on. There is room for three parked cars outside with one car parked leading me to believe that Rolf and I were not the only curious-Georges today, or maybe the food is just good. We walked in and two ladies welcomed us in Korean, we spoke back in Bahasa as English was not an option based on the conversation we had making the reservation. One of the ladies wore polished and conservative office wear whilst the other wore a casual jean and shirt combo. They were polite, friendly and spoke in whispers. We looked around but we were the only customers there, the car must be owned by a staff member.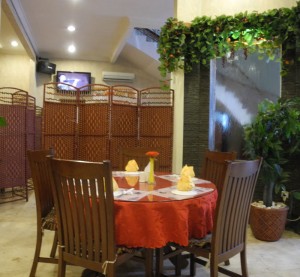 We were ushered to our table, trying to contain our excitement, looking around at what North Korea wants us to see or more aptly allows us to see. The decor was dated. There was a lot less red than I expected, just accents in the form of table clothes and knickknacks amongst beige wall paper and marble floors. There was a water curtain that was decorated with plastic shrubbery, a pleasant sight and a clever way to relax customers when they are in a room with no widows and flat screen televisions playing the Arirang Mass Games, with flashes of Dear Leader every so often, being watched by the staff at all times. The air of awkward prompted conversations of human rights and prejudice amongst Rolf and I.
We looked through the menu with great big pictures subtitled in English and Bahasa. We ordered a Mixed Mushroom, Roast Pork and Bibimbap. Then came four plates of something we hadn't ordered. Our host told us these are our appetizers and named each dish, in Korean, as she laid them down.  I tried a diamond shaped pancake that had strings of scallion and carrots which tasted great, much like Bakwan with extra batter, but far too oily. The radish Kim chi was julienned and had sesame oil with plenty of garlic. The soy beans stewed in soy sauce was delicious, my favourite dish of the day. We could hear our host running to serve our food when she knew we couldn't see her, though running in heels is never a silent affair. She was back bearing more gifts of food and removing our empty plates. The Noktumuk was enjoyed by Rolf though I found it slimy, bland and did not want to try to like it after my third attempt had failed. Coleslaw was a weird surprise as it originates from The Netherlands/Germany and has famously planted roots in American cuisine, but apparently it is an international favourite and part of North Korean cuisine. A plate with what looked like twigs tasted lovely, I asked our host what is was and she said "North Korean", then I asked what vegetable it was, she then said, "Ubi"; tapioca stems presumably. The starters were generally flavourful, a good start.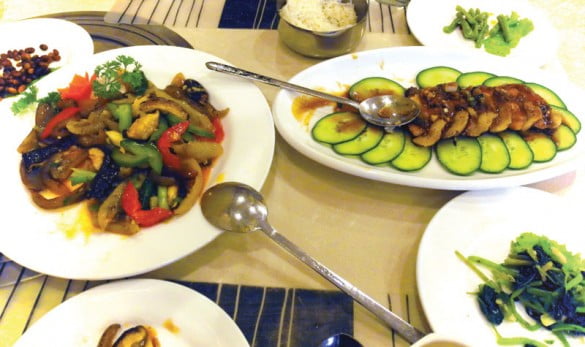 The mains were hit and miss. The mixed mushrooms were a disappointment. The shitake mushrooms were a delight but the rest of 'mushrooms' had a resemblance to animal fat in texture and taste. It was inedible. The Roast Pork had a strong gamey flavour and the accompanying kecap was tasty. The Bibimbap was not very good. There was too much black bean paste which pronounced the pickled vegetables and clashed with the egg. A salty and sour mess.
Being so quiet, I do wonder if the rumours on foul play are true. It is pricey, amounting to Rp. 466.000,- for three dishes and two small Aquas, but to get income you need people to come in; paying customers. It does beg questions of legitimacy and motive. But overall it was an interesting experience that I appreciate though I would not come back.
Pyongyang Restaurant
Jl. Gandaria 58
Open daily for lunch (11 a.m. – 3 p.m.) and dinner (6 – 10 p.m.)
Phone: +62 21 72800889