Our expert epicure continues an undercover operation to bring you the truth about Jakarta's dining scene. No spoon is left unturned in the quest for honest, balanced reviews, from long-established favourites to the hottest new tables in town.
This month, Jakarta's first celebrity-chef establishment, Salt Grill.
Ever been told too much salt is bad for you? Serial dieters will, from their high horses, have you believe it is the very devil. Eternal damnation is in store for those who dare use it – God forbid your repast should have any flavour; flavour makes you fat, you know. Truly I pity those who don't understand the real enemy is processed goods, fast food, ready meals, and anything resembling plastic more than animal, vegetable or mineral. Disappointingly, dinner at the dubiously-titled Salt Grill suggested the chef here is a paid-up member of the bland brigade.
Salt Grill opened in April 2013 to much fanfare. Luke Mangan, doyenne of Mod Oz cooking (that's modern Australian to you and me) has eleven salty establishments from Sydney to Tokyo to Bali, and is to date the sole, bona fide celebrity expat chef to venture into Indonesia's capital. Perched on the 46th floor at Altitude the Plaza, the restaurant also boasts that coveted customer-magnet: a view. This one's a doozy for macet masochists. The Jakaterati flock here for the flattering lighting and the chance to be seen whilst seeing Bundaran HI crawl to a standstill.
We had a good table, so celebrated with a glass of Nicolas Feuillatte champagne – a fairly ordinary bubbly, but not unreasonable at Rp.190,000 per glass. Regardless of price, a place like this should pour at the table, not bring out full glasses. How do customers know they're getting the vintage they've paid for when it is unceremoniously plonked down as if from the air hostess' trolley?
Our other wine choices—an underwhelming Bourgogne Chardonnay, a decent Barossa Valley Shiraz, and a passable pinot noir from New Zealand—ranged from Rp.140,000 to 210,000 per glass. All were simply OK; nothing special. The cellar apparently has over 1,200 bottles, with Australian naturally a strength. Still, I continue my challenge to restaurateurs to improve their by-the-glass game.
When reserving almost two weeks in advance, we informed the restaurant one diner was gluten-intolerant. Was there any gluten-free bread to go with Luke's cold-pressed olive oil? No. Did the waiters have a clue what 'gluten-free' was, in order to advise on menu choices? No. It's a specialised request but small details matter at this level, and some of Salt Grill's competitors manage here without notice.
The menu includes tapas and 'sharing' dishes, in keeping with Mod Oz's relaxed, barbie-in-the-backyard style. So, first, some tapas: whipped feta cheese 'cigar' with beetroot relish and prune puree. The puree was good, and it's always nice to do something interesting with feta, but the pastry casing was chewy and pale rather than crisp.
The lobster bisque starter was easily the standout dish of the evening in terms of flavour. Its whiff of truffle was not unwelcome and the prawn tortellini were a nice touch, though somehow the shimeji mushrooms felt out of place. Unfortunately though, the large bowl it came in was cold, so the soup lost its heat quickly. My companion was unimpressed with the 'signature' starter, Sydney crab omelette with enoki mushroom, herb salad and miso mustard broth. The omelette and crab were painstakingly delicate in flavour, to the point of blandness. Chilli and Vietnamese-minty salad saved the dish—just—from abject mediocrity.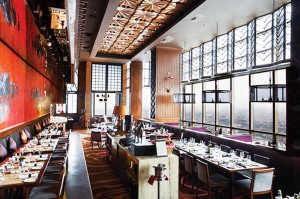 Mains arrived seconds after the removal of the first course, before our cutlery had been replaced and the table properly cleared. Service so far was disjointed and somewhat insincere, and when asked whether there was a second sitting on our table, the waiter went to check and never returned with a reply.
This is a grill, so we chose Scotch (rib-eye to northern-hemisphere folk) and lamb cutlets. The steak was so completely devoid of flavour, it was a black hole for taste buds. How is it possible to grill an Australian steak and have it taste neither meaty nor smoky? The béarnaise sauce was OK (though cold), and the green beans were fine, but a little lazy. You are obliged to order sides and pleasingly the parmesan-truffle fries were well-seasoned and not overpowering. A pear, sweet walnut, blue cheese and rocket salad was a good idea but messily executed with the salad undressed.
Lamb cutlets were better: soft, herby and more charcoal-grilled in flavour. But the red wine sauce was—and I'm sorry here—almost nasty; so bitter it must have been burned. They make a fuss of offering you a selection of Luke's mustards. The tarragon one was unpleasantly vinegary and the Dijon wasn't Dijon, but honeyed.We were rushed to order dessert. It's hard to botch a chocolate assiette and this one was fine (though the 'bar' was a bit chewy). Embracing the restaurant's roots we also chose a fusion option: coconut and kaffir-lime panna cotta. It was not set and swiftly disintegrated into a sad dribble. The strips of lime leaf were also a little too intense for the other ingredients.
It's not just the dining room that is elevated here, but the prices too – this is one of the most expensive restaurants in Jakarta.
At this level, it's just not good enough. I expect Mr. Mangan rarely cooks here but I hope he keeps an eye on things because the kitchen and staff are underperforming. Interestingly, Salt Grill has some of the most consistently positive word-of-mouth I've heard. I think part of the problem is that diners can also be guilty of confusing atmosphere and all-round hipness with quality. So, please. Learn the difference, and take your money elsewhere for the time being, where you will not feel quite so ripped off.
Cheque please!
Food: Rp.2,755,250
Drinks: Rp.905,000
Service: 10%
Total: Rp.3,660,250 (inc. taxes) for two

Salt Grill by Luke Mangan
Jl M.H. Thamrin No.28 – 30, The Plaza lt. 46, Jakarta Pusat, Jakarta 10350,
Phone: +62 (0) 21 2992 2448