The award-winning oceanfront restaurant, Starfish Bloo at W Bali – Seminyak, is excited to welcome the co-owner chef of Three Blue Ducks, Mark La Brooy.
Flying from the land down under in Sydney, Australia, Chef Mark La Brooy together with W Bali's Director of Culinary, Norberto Palacios will plate up fresh inspiring creations with a unique story behind each dish throughout the weekend starting from Friday, 30th June to Sunday, 2nd July 2023.
The exclusive dining experience is specially created for those who want to indulge their tastebuds with the same comforts as a homecooked meal.
This exceptional collaboration will kick off on Friday, 30th June 2023 at 5:30 PM, with sunset cocktails and canapés hosted by the legendary Chef Mark La Brooy and Chef Norberto. While witnessing the magical sunset, both chefs will explain the upcoming dinner and Sunday brunch offerings. Priced at Rp500,000++ guests can enjoy two-hour free-flow cocktails and canapés.
On the following day, Saturday, 1st July 2023, from 6 PM onwards, Chef Mark and Chef Norberto designed menus inspired by their passion for world travel to share great food with a sustainable approach to living.
During this dining experience, both chefs will be presenting an array of flavours that will ignite guests' palates with an elevated menu that inspires experiences and brings together an epic spread to be shared with family and friends. The food offerings will highlight all the island's fresh ingredients and produce, including freshly-caught seafood and hand-picked vegetables – all cooked using the finest local spices.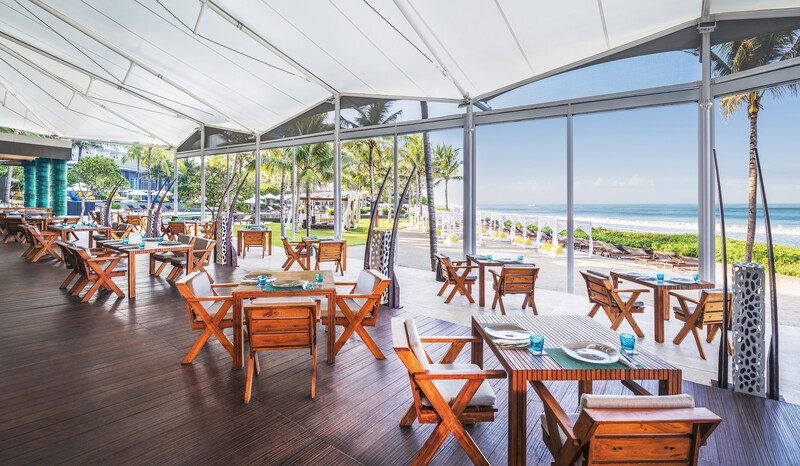 To wrap it up, Bali's best Sunday brunch will be completed with a specially curated pop-up with a live cooking station by Chef Mark himself presenting creations using the freshest ingredients. This limited edition Sunday brunch will be held on Sunday, 2nd July 2023, from 12 PM – 3:30 PM.
Mark La Brooy is the Chef and Co-Owner of the renowned Australian restaurant, Three Blue Ducks, along with his talented chef partners. Established in 2010, the restaurant was born out of the desire to offer a more sustainable and ethical approach to Australian dining.
"I am so excited to collaborate with Chef Mark to present a delectable special dinner for guests highlighting and presenting all fresh ingredients that will make blow you away as the local spices meet the freshly-caught seafood and vegetable," said Norberto Palacios, Director of Culinary, W Bali – Seminyak.
The dinner is priced at Rp900,000++ per person for food and non-alcohol package and an additional Rp600,000++ per person for alcoholic beverages. While the limited edition Sunday brunch is priced at Rp850,000++ per person for the food and non-alcohol package, Rp1,620,000++ for the food and alcohol package, and Rp2,550,000++ for the food and champagne package.
For more information or to make a reservation, call +62 361-3000-106 or email [email protected].