Non-smokers don't have it easy in Jakarta. How many times have you asked to be seated in the non-smoking section only to notice the table next to yours was the beginning of the smoking area?
When I started to work on this article, people laughed at me when I asked if they knew a good non-smoking restaurant or at least a place with a real non-smoking section. It turns out such places exist!
Pizza Barboni – Casual and tasty
Pizza Barboni is a brand new place in Kemang where fresh air is not the only great feature! This small pizzeria of about 20 seats with an open-kitchen concept is, wait for it, completely non-smoking! It also has, in my humble opinion, one of the best wood oven pizzas in Jakarta. The sauce is made of fresh tomatoes, the mozzarella cheese melts in the mouth and the dough is made on the spot every day. The wood oven is the central piece of the main and only room of Pizzéria Barboni and fills the space with a nice savoury smell of fresh dough as the tattooed cooks make the pizza in front of you. This is not a place where you cut your pizza with a knife because there is none! Plates are made of cardboard and you drink out of the bottle.
Price: Rp.45,000 for a pizza
Jl. Kemang 1 No. 72, Kemang, Jakarta
Visit the Facebook page: https://www.facebook.com/PizzaBarboni
Emilie – Refined and chic
Emilie has a reputation in Jakarta and for a cause. This fine-dining French Restaurant located in Senopati offers something hard to come by; a focus on flavour rather than design. It is indeed one of the best tables in town, where you can be blown away by classic yet renewed French cuisine by awarded Chef Mikaël Robin. The ambiance is chic and simple, the service is attentive and silent, the food delicious and researched, and in this city where good wine is so hard to find, they have everything to make wine lovers and connoisseurs happy.
Price starts at: Rp.300,000 for three course menu
Jl. Senopati 39, Kebayoran Baru, Jakarta
www.emilierestaurant.com
Authentique – French delicacies
This coquet hole-in-the-wall near Hero Kemang really is what you expect when an establishment claims to have 'authentic' food and it is totally smoke free. This tiny little café of a maximum of fifteen seats has a real feel of Paris to it, which is exactly what the owner Sophie Boyer was aiming for. Some people pass by Authentique simply to get their fresh baguettes, as Parisians do, and others like to linger around sipping on a good coffee and homemade pastries. I particularly recommend the croque-monsieur and the chocolat fondant. Authentique is open for weekend brunch and closed on Mondays. Watch out for their new address in Cipete.
Price starts at: Rp.75,000 for a meal with dessert and coffee
Jl. Kemang Selatan I no. 2C, Kemang, Jakarta
The Nest Grill – Puzzling yet surprisingly good
I must say, I was perplexed when I first walked in. The Nest Grill is the more formal section of The Nest Food Court, located at the Mezzanine floor of an apartment building tower near Epicentrum. In this city where you're used to glamorous designs, The Nest Grill doesn't look like much; white table cloth and walls, bright lighting, AC at full blast and noisy kitchen in background. This said, the food is surprisingly good. The modern Australian Cuisine menu is short, which I have learned to appreciate here in Jakarta. The grilled prawn salad with pomelo and young mango is particularly fresh and the ribs with homemade BBQ sauce melts in the mouth. No beer but a short wine list. Good place for a business lunch if you work in the area.
Price starts at: Rp.75,000 for main course
The Kuningan Place, Mezzanine Level, Lumina Tower
Jl. Kuningan Utama lot 15
www.nestgrill.com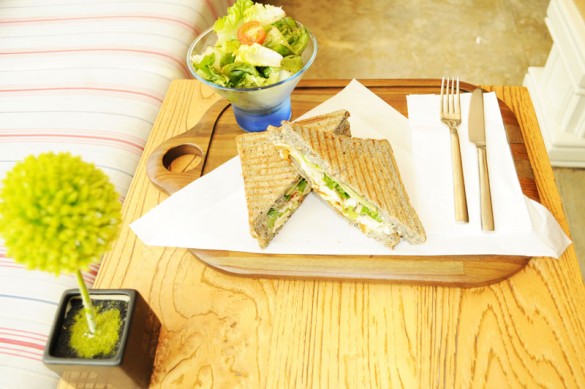 The Cafe at Pistos – Relaxing and refreshing
Sharing space with a jewellery shop, The Café at Pistos is, pardon the pun, a real gem hidden in the Senopati area. It might seem odd, but the concept actually works quite well as the nicely presented designs yet affordable jewellery gives this minimalist space a bit of a Paris feel. What you can find here is one of the best sandwiches in town. Named after different precious stones, the sandwiches on the menu are anything but dull. Tempt yourself with the Aquamarine grilled chicken sandwich on black sesame bread with caramelized pineapple, coriander and cheddar, or the Onyx with sambal Goa, mayonnaise and baby romaine.
Price starts at: Rp.105,000 for a sandwich served with salad and a coffee
Jl.Gunawarman No. 67, Senopati, Jakarta
Visit the Facebook page:
https://www.facebook.com/TheCafeAtPistos
Waha Kitchen – Young and trendy
Waha Kitchen is the newest kid on the block and definitely happening among the young crowd. Located in the city centre between H.I. roundabout and Monas, this trendy yet without pretention restaurant, is on the first floor of the also new Kosenda Boutique Hotel and is smoke free! The décor is very artsy and urban with wooden mosaics covering the ceiling, and the walls covered by murals painted by local artists. The menu is Asian, mainly peranakan, which is a mix of Chinese, Malaysian and Indonesian cuisine. The signature dishes are the fish and duck laksa. I particularly enjoyed the crispy eggplant chips served with homemade chilli lime mayo and the nyonya lamb shank vindaloo slowly cooked in yoghurt red curry. Open 24 hours.
Price starts at: Rp. 50,000 for main course
Jl. Wahid Hasym No. 127
www.wahakitchen.com
Convivium – Family friendly
Convivium is a friendly Italian restaurant with a real trattoria feeling to it, and since it is completely non-smoking, it is a great place to bring your kids. For an authentic Italian taste, try one of the pizzas or the bruschetta made with fresh organic tomatoes, garlic and basil. It is full of fresh and tasty flavours. Pastas are either homemade or imported from Italy. The wine list, although very short, offers some good options, including an honest Pinot Grigio at a reasonable price. The adventurous among you will want to try the sample of ten flavours of homemade gelato, including bacon, chilli and squid ink. Pastries are mouth-watering. You can also stock up on Italian imported cheese and charcuterie at a very reasonable price.
Price starts at: Rp.50,000 for main course
Jl. Panglima Polim IX No. 1, Jakarta
Visit the Facebook page: https://www.facebook.com/conviviumdeli
A quick turnoff when visiting a new restaurant is being surprised! Imagine if you thought a restaurant was a family-style seafood place when it was actually an upscale ethnic restaurant? This can automatically make your meal less enjoyable since it clashes with your expectations. Check out the restaurants' review at BR Guide