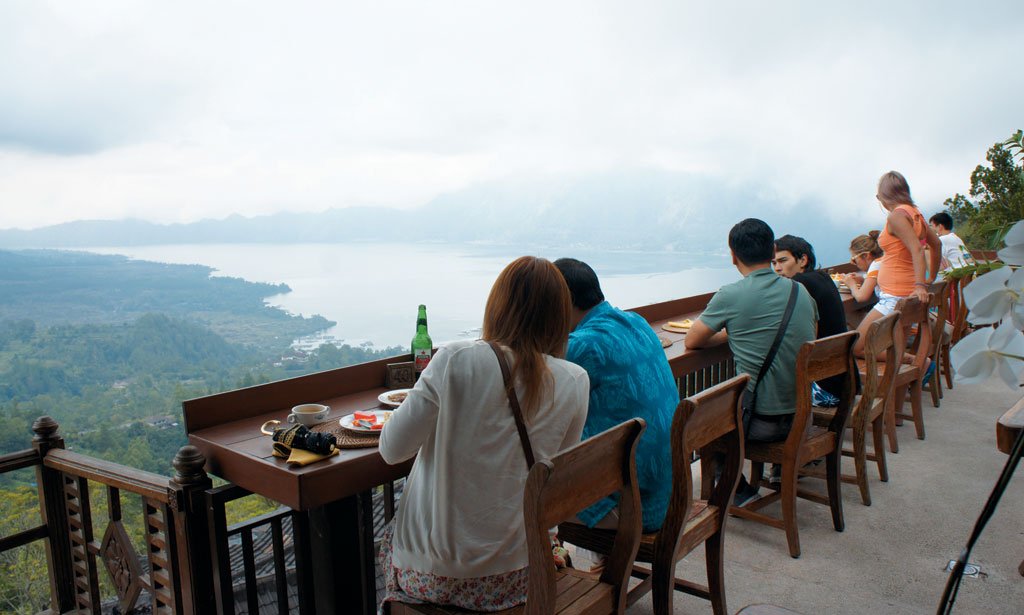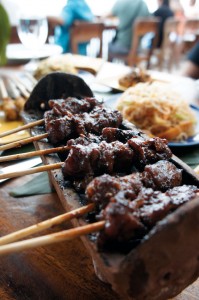 I often tell people that you can't experience the true Bali unless you travel north a bit… in this case north meant jumping in an Avanza and driving an hour and a half uphill from Sanur on windy roads to Lakeview Hotel and Restaurant situated in Penelokan village on the crater-rim of the Mount Batur caldera. Mount Batur is technically the whole ancient volcano, but today refers to the smaller volcano emerging out of the ancient caldera. An hour and a half may seem a distance to travel for lunch, but I can assure you it is worth it.
Halfway into the journey, the AC was switched off and windows wound down and when we reached our destination our wobbly legs were thrilled to meet with the cool mountain air. Welcomed warmly by the restaurant staff, we walked through the main hall where a huge buffet spread was laid out and made our way to the outside seating area where we were hit with by the scenery – a breathtaking 1,215 metre above sea level panoramic view of Lake Danu with Gunung Batur towering above her. The view brings you back in touch with Mother Nature – a feeling we sometimes lose in our hectic modern lives.
We sat at a long wooden table decorated with banana leaves overlooking the view below and I watched as tourists enjoyed their boozey lunches whilst taking in the magnificent landscape – this is definitely somewhere to romance that special someone. Lakeview was founded in 1964 by Mangku Darta and has since developed from its humble beginnings as a homestay to a hotel with 20 rooms (two deluxe, eight superior and ten standard), a restaurant for lunch with 200+ capacity and Danu Lounge which is a more private and exclusive restaurant area for breakfast and dinner, featuring WiFi and a real fireplace to snuggle up next to during the chilly evenings. Our host, the beautiful and warm Melati joined us and after a heart-warming wedang jahe (warm ginger tea) and a chit-chat, the rijstaffel banquet began, and what a banquet it was.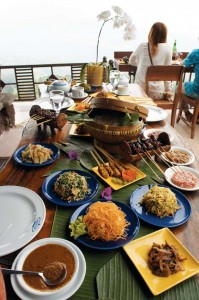 We started with Organic Pumpkin soup, which was also ginger-infused and this was accompanied by garnishes of Acar (fresh pickled carrots, cucumber and pineapple with shallots and chilli), Tempe Kacang Manis (Sweet tempe stir-fry) and Serundeng kelapa (fried coconut garnish). As we helped ourselves to seconds, the clouds rolled in and enveloped us, turning the view into a whitey-grey canvas. This is when the jumper came in very handy.
Bebek Betutu (slow-cooked duck in Balinese spices) was presented to us next and was one of the favourites among our four-strong group. This was followed by Pork Satay and Satay Lilit Ikan (fish satay), Urab (steamed vegatables with roasted coconut dressing) and vegetable stir-fry accompanied by white rice and Bakmi Goreng (stir-fried egg noodles). Each dish was fresh and extremely tasty.
Dessert was a selection of fried banana, bubuh injin (black rice pudding), fruit salad and carrot cake. This sounds like a lot for sweets, but the portions are a couple of bite sizes for each, making it the perfect treat. This Deluxe Banquet costs Rp.225,000 net/pax and are made up of local ingredients, very important to Lakeview – bread is freshly made on the premises, as are the jams and I was told, soon the yoghurts.
After lunch, the rains started falling and although we were dampened, the atmosphere certainly was not. Legend has it that Bhatari Batur, Goddess of the mountain, gave birth to Dewi Danu, the Lady of the lake, and is extremely protective of her, which is understandable considering her beauty. The modern name Kintamani refers to the district and derives from Sanskrit meaning 'peaceful place', and peaceful it is. Lakeview holds several retreats, including a Writer's Retreat and an Art Hideaway where one can paint and do batik surrounded by inspiration. You can also enjoy mountain walks and trek the two-hour climb up Mount Batur if you're so inclined. Otherwise come up for a romantic getaway or to gather yourselves through meditation, just make sure you pack some warm clothes and are ready to welcome in the peace.
Lakeview Hotel and Restaurant
Jalan Raya Penelokan
Kintamani, Bali
Tel +62 366 52525
www.lakeviewbali.com