Our expert epicure continues an undercover operation to bring you the truth about Indonesia's dining scene. No spoon is left unturned in the quest for honest, balanced reviews, from long-established favourites to the hottest new tables in town. 
This month, authentic and hearty Spanish tapas restaurant: Basque.
The term 'tapas' is overused in the restaurant sector these days; it has become quite high on my list of pet peeves when I see it on menus where it is misappropriated. Every dining culture has its own name to describe small bites or bar snacks, from France (hors d'oeuvres) to Korea (anju) to Mexico (botanas) to Greece (meze) to China (dim sum). To disregard the etymology of great dining cultures is to create a great disservice to each of them, as well as to the Spanish tradition.
In the Basque region of northern Spain, the terms tapas and pintxos are interchangeable with native northerners' preferences for the latter, and they are wondrous little bites of savoury heaven. In the restaurant Basque, it is a delight the moment you step through the front door.
It is a magical moment, walking in, where one step is like a leap through a wormhole stealing the diner away from the big city life of Jakarta to a rustic, cavernous Spanish tavern one would encounter on the Camino de Santiago. The sterile and metallic buzz of the office building in which the restaurant inhabits disappears, and the warm glow of incandescent lights and rusty rich reds from laid bricks and dark wood strong beams provide more than ample suggestion of where we were being taken for the evening. The glass-roofed patio seating area did not detract from this feeling in the dark of night either.
The wrap around bar near the entrance allows for plenty of thirsty patrons to stand elbow-to-elbow to drink and eat as the Spanish intended. A good selection of traditional pintxos is displayed for good measure, complete with a slice of bread tucked neatly underneath, and toothpicks. It reminded me of one of my favourite meals in Spain: standing and merrily conversing over the course of an extended evening with a belly full of miscellaneous marinated seafood straight from tins with plates of cured meats, glasses upon glasses of Rioja and discarded toothpicks piled into a little fortress in front of me.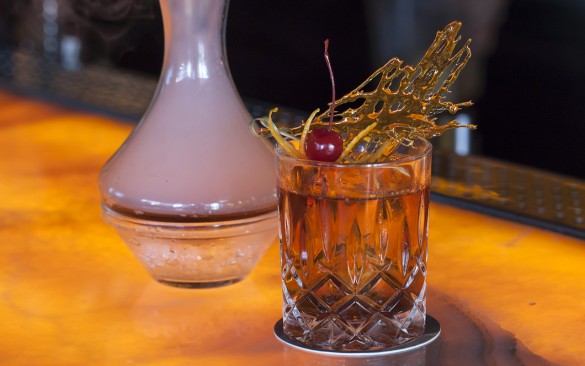 The wine list is extensive, and crafted to complement the food. A good selection of Spanish wine is available, although be ready to fork over a hefty amount compared to Spain, where a few spare Euros in your change pocket can easily buy a decent bottle. A current favourite, the Marqués de Riscal Reserva 2011, is available by the bottle and exhibits wonderfully when decanted. It is a full-bodied Tempranillo, and carries with it strong vanilla and oak aromas that are the perfect companions to the dishes served here.
Seafood is showcased at Basque, and is highly recommended should one be at a loss for what to order. Also, what better way to sample the menu than through tapas? The Pulpo a la Gallega was tender and moist, albeit somewhat lost without some more salt to lure the flavours from the octopus and few key ingredients. The technique was there, though, and it was a pleasant surprise to find Galician-style octopus on the menu, as it is something eaten quite commonly in Spain and not on Java.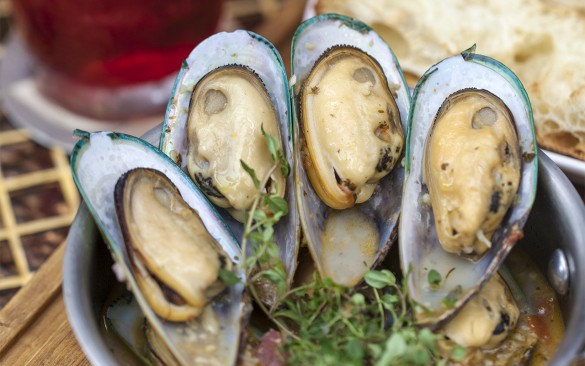 We also ordered the Jamón Ibérico de Bellota, which was a plate full of the famous Iberican ham shavings served with Catalan toast topped with a fresh tomato sauce (pan con tomate). It's one of the simplest, yet most delicious tapas available, and created true to form here. Unfortunately for the ham, it had probably seen better days as the shavings we encountered were dry, unevenly sliced and consisting of odd scraps and bits. Most of the rich, nutty, unctuous flavours of the ham were gone; perhaps as a result of age and too much exposure to air in storage. At best, it was about as good as gas station jerky.
The Tortilla Alioli with Brava Sauce, which we endearingly nicknamed 'The Hockey Puck' because of the striking resemblance, was as tasty as a Spanish tortilla could be. Aside from its rather unfortunate shape, the potatoes were tender and the accompanying brava sauce was lick-off-the-plate good. This particular dish can be served warm or cold, dry or moist (with the egg cooked especially well done or somewhat runny), browned or not…the list goes on and on; but it is a mainstay at any decent tapas bar in Spain. The Chipirones (fried baby squid) were delicately fried and served with small green chilli peppers, aioli and a fresh squeeze of lime. Our Pâté de Campagne was presented somewhat on the chilly side. It could have used a few more minutes to warm up to room temperature to allow for full diffusion of flavours from the pâté.
However, without hesitation, the Sopa de Mariscos is one of the best dishes I have had the pleasure to discover in 2016. It is a gorgeous seafood stew, exhibiting everything that is good and holy in food. Though the kitchen decided to add broccoli florets and baby corn, which would have made a less than average sopa veer closer akin to the horror that is a tuna-and-sweetcorn-Asian-pizza disaster, every additional ingredient lent itself to balance the rich and heady flavours of the stew.
Nothing can be more satisfying in Jakarta at the moment than a large bowl full of this sopa and the soft and crusty ciabatta bread served here. My dining partner and I had no qualms battling over the last drop.
In regards to the service – which has become the bane of my existence after dining in fine establishments in Indonesia for a few years only to experience ignorant service personnel and unresponsive management – it was surprisingly good. From the time I made the reservation to when we were presented with the bill, there was never a moment that made me regret my decision to review the establishment (and this regret, I've had quite a few in Jakarta). Our server understood enough English to communicate effectively, anticipated items and took initiative on requests. It gives me some hope that perhaps restaurant management around Jakarta is actually starting to pay particular attention to this area, as it can either make or break an establishment.
The Critic's Verdict: 4 out of 5 stars
Restaurant Details:
Basque
8th Floor, Noble House Building
Mega Kuningan, Jakarta 10270
Telephone: 021 2978 3111
Cheque please! (Dinner for two)
Food: Rp.470,000
Drinks: Rp.375,000 (based on half a bottle of wine)
Service charge 10%: Rp.84,500
PB 1 10%: Rp.92,950
Grand Total: Rp.1,022,450