"If you have to ask what jazz is, you'll never know." ? Louis Armstrong
En route to the eleventh annual Java Jazz Festival, the macet was particularly cruel. Stuck on a fume-riddled planet ruled by strange machines called Kijang and Avanza, we could only whimper quietly, clutching our tickets to probably the most exciting musical event in Indonesia, wondering if we'll actually miss the whole thing at this rate. Eventually, we walked the last mile to the Jakarta International Expo. Access and parking at the festival seems to worsen each year, and organisers desperately need to do something about it.
Nonetheless, Java Jazz purportedly attracts upwards of 120,000 visitors, 100 artists and 1,000 musicians from home and abroad annually. 2015's headliners were about as far from jazz as you can get (certainly farther than previous years), in the shape of Jessie J, a big-lunged Londoner, and Christina Perri, a nondescript American singer-songwriter – both of whom are best described by that convenient catch-all, 'pop'. Clearly this year, organisers were trying to appeal to a wider, younger audience.
Avoiding these, I made a beeline for the number-one act on my list, a soul sensation relatively new to the jazz scene: Jarrod Lawson.
Lawson was a few minutes into his set, but we hadn't missed the best tracks and nabbed a spot right in front. Immediately it was clear the monitors were giving him trouble; and when I spoke to Lawson after the show it transpired he couldn't hear his piano the entire time – but that didn't stop him putting on a consummate performance.
Lawson's brand of soulful jazz is at once 'now' and timeless. His wide-ranging influences are easily identifiable, but through funked-up beats and spiritual lyrics, he makes it his own. His vocals have the nuance, depth and curve of (one of) his hero's, Stevie Wonder, and live, this was spine-tingling to witness. My favourites were a sneak preview of a track called 'Soul Symphony' from his upcoming new album, and the lead track from 2014's debut, Jarrod Lawson, 'Music and Its Magical Way'.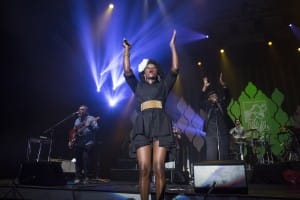 I asked Lawson about his experience of the festival and Indonesia in general. The answer was full of the same thoughtful, humanitarian goodwill as his lyrics: "It's hard for me to separate being in this bubble [the festival] with the poverty you see outside on the streets." Talking about the crowd, he seemed unfazed by the habit (which really bothers me) of audiences here to sit down, even right on the floor, when there's an electrifying live performance going on. Instead he was pleased with the turnout and expressed gratitude at being a part of Java Jazz. I'll bet he's back with an even bigger following in future.
Other international acts included Chris Botti, a smooth jazz saxophonist; Bobbi McFerrin, a veteran of the festival; and irrepressible Brooklyn collective, Snarky Puppy. Local talents outnumbered foreign and highlights such as the renowned Naturally 7, and Idang Rasjidi (who scats in Indonesian, to a George Benson vibe) lit the stage up for many. Festivalgoer Dewi Hermanto told me "we come every year, it's a source of national pride."
Onwards to Saturday's headliner, Chaka Khan featuring Incognito. The festival's mad crushes masquerading as queues are another issue organisers need to address. Teenage 'security' staff had zero control over the crowds, and a glass door was shaking from the accumulating pressure. Once inside it was still mayhem – surely caused by a very strange decision to have rows of seating rather than standing space. Not so for headliner Jamie Cullum last year in the same room, and although he suffered a few patches of kumbaya groups sitting on the floor, at least his fans could get close to the stage and create some atmosphere. In contrast, it was three-quarters of the way through this show before security lifted a barrier, allowing fans to get up and dance rather than sitting like bored schoolchildren on their phones, filming the performance instead of living it.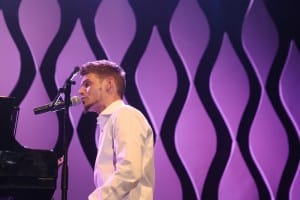 But – Chaka's still got it. At 61, she looks stunning, hitting those high wails like it was 1984. Opening on a cracker, 'I Feel For You' was terrific and she kept the pace with 'Ain't Nobody'. 'Tell Me Something Good' gave Khan the chance to play with the crowd, getting guys and girls to sing the famous refrain to each other. It was then I noticed just how many people were singing along word-for-word, creating a feel-good, harmonious atmosphere of like-minded fans.
Khan took a break, allowing Incognito to treat us to some serious acid jazz. Bandleader Bluey regaled us with childhood stories of dreaming up his ultimate group: Stevie on keys, George Benson on rhythm guitar, himself (naturally) on lead, and the legendary Chaka Khan singing – a dream that had come true tonight, and a heartfelt message for aspiring musicians in the audience. The band was on fire – they ripped into a fan's fantasy set-list: 'Good Love', 'Everyday', and the touching 'Still a Friend of Mine.' The star of the show was purple-haired singer Katie Leone, whose vocal prowess was phenomenal – a real force to be reckoned with.
Finally, Khan came back to generously give fans the big hits they craved, including 'Through the Fire' and 'What Cha' Gonna Do For Me'. Khan had a message for us before launching into her final song, 'I'm Every Woman': "This is not just a song for women. If you're a dude and you wanna get down to this, you go ahead." And many a dude did.
Bring on next year. If anyone has a spare helicopter I can use for transport though, let me know.