Dominique is Managing Director of Cubadak Paradiso Resort on Cubadak Island in West Sumatra. Established in 1992, the resort was a hospitality pioneer in this region, and is still unchallenged today. Located on a pristine white sand beach with rich coral reefs and dense jungle, this unspoilt destination beckons travellers in search of absolute tranquillity. 
Dominique, how long have you been a resident of Sumatra? Can you tell us how you ended up living west of Padang?
I have been living here for eight years now, my partner Marco has been here for 10 years, and we ended up here after a very classic expat life in the industry, lastly in Kuala Lumpur. We wanted to change our lives, and that's what we did!
Where did the idea to open Cubadak Paradiso Village come from? 
Cubadak Paradiso Village was founded 23 years ago by Mr. Gianluiggi (Nanni) Casalegno, an Italian gentleman who sadly passed away last year. I joined as a partner when the resort had already been in existence for 15 years. It was created at a time when there was strictly no beach hospitality solution in this part of West Sumatra, and we are still very much unchallenged 23 years later.
Please share with us the unique aspects of your resort.
We focus on being different: comfort without ostentatious luxury, attention without harassment, excellent food, a family style.
All you need to do is buy an air ticket to Padang and we take care of the rest.
On Tripadvisor, your ratings are either 'Excellent' or 'Very good', with no ratings below that. How are you able to maintain such a high level or service which ensures happy customers?
Guests coming here have been looking for something different, and they are happy that they finally found it! Meeting our clients' expectations is the key to it all I believe. In a time when people mostly look for their next holiday on the Internet, we have chosen to have a modest website, extremely descriptive with one objective: what you see there is what you will get. Finally, we live here too, with our guests, enjoying the same facilities as they do. The standard that we maintain is therefore the standard that we expect for ourselves.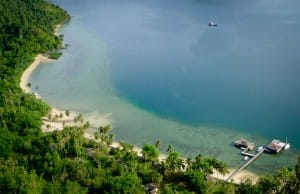 Many of your visitors comment on the delicious food at your resort. What kind of food do you serve and are you also able to serve good wine?
We call it fusion cuisine: Italian, French, Chinese, Indonesian. But we are lucky to have excellent ingredients; fruits, vegetables, fresh seafood, meats – all are incredibly tasty naturally. The bar serves alcohol, beer and wines. For the latter we are rather picky ourselves, and only offer wines that we would drink with pleasure, while maintaining prices at a reasonable level, which is a hard task in Indonesia.
What cultural differences have you had to adapt to living and working in Sumatra?
It was quite easy actually, coming from Malaysia. People in West Sumatra are adorable and it is possible here to get close to people. The Minang culture and laws are a bit complicated to assimilate, and this is a must if you want to run a business in Minang land. But in everyday life, people here are really easy to live and work with.
What's the most exciting aspect of your job?
Sharing. Sharing experiences with people visiting, listening to other people's lives. Sharing our daily routines with the staff. Sharing our lives with the nature around us. Sharing our passions (under water or on land) with guests passing by.
You offer diving and snorkelling at your resort – what is the best dive site and when is the best time to visit for diving?
We like all our dive sites and cannot name one best site. The biodiversity here is extremely rich, and in one day you can go from a sponge garden to a 1942 shipwreck to soft corals to an amazing night dive. And where we dive, there is no-one else – an absolute luxury! As we have no marked seasons here, diving is good just any time of year.
What kind of special flora and fauna can guests expect to see here? 
On land you will sea red-headed macaques or silver leaf monkeys, wild boars and monitor lizards as the most common species. In the air, rhino calao, hornbills, king fishers, fish eagles, black herons and loads of butterflies. And underwater, a very rich population of Southeast Asian reef fish and turtles. No big stuff here though; our currents are not strong enough to attract large pelagics.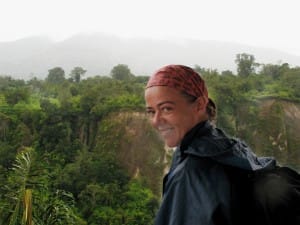 What do you do to give back to your area? Do you only hire local staff? 
The staff are indeed only local and since we don't produce or exploit anything ourselves, all our supplies are bought or made locally. We provide additional help as much as we can, helping people build their houses for example, or to rebuild them after an earthquake. We also engage in being a model company, paying taxes religiously. We are in close and constant contact with our local neighbours and authorities, helping them to handle and monitor the sudden abundance of local tourism in the area.
What kind of training is provided to your hospitality staff?
Everything! Our staff are from villages therefore they learn everything on site: cooking, serving, laundering, etc. So after here they can find a proper job. We try to teach English as well, with mitigated results!
What challenges do you face working in this remote area?
Supplies, but the greater challenges are the elements. After an earthquake for instance, you understand better what being remote means.
Tell us about the rubbish issues you face and how you think this problem would be best combated.
Well, like everywhere in Indonesia the sea brings a lot of plastic rubbish daily. Collecting and burning is our only solution as there exists no facility in the region. Unfortunately, as local tourism expands, the problem worsens. Solutions are at two levels: education and political willingness to address the issue. We are not at the stage of discussing garbage sorting here; collection and disposal would be a nice way to get started.
Do you feel the Government does enough to support the tourism industry in Sumatra?
Sumatra is very eager to develop tourism, in particular West Sumatra and its coast line. But there are conflicts of interest and a bit of a confusion as to where the efforts should go. For instance, we consider that you cannot promote coastal tourism and fish farming at the same time in the same place, or tourism and mining. And as very often happens, promotion comes first – and it works – but facilities remain non-existent.
If you were stranded on Cubadak Island and could only have three things with you, what would they be?
My survival book, my machete, and Bulan, our pet monkey.
Thank you, Dominique! To get in touch, email: [email protected]