The growing protests against Jakarta's governor only add to the worsening discrimination and violence fears of the ethnic Chinese.
The November 4 protests against the capital city's incumbent governor Basuki 'Ahok' Tjahaja Purnama brought more than 100,000 people to the streets. The attendees were predominantly Muslims who accused Ahok of blasphemy after a police investigation alleged he criticized certain Quran verses during his visit to one of the regencies in September.
Ahok has since apologized and insisted he was criticizing not the verses but instead "those who used it to attack him." Nevertheless, many hard-liners want him prosecuted, with some calling for his death. Others stormed the gated community where he and other fellow ethnic Chinese citizens live and vandalized properties.
These scenarios heightened fears and feelings of discrimination that some Chinese believe they have been suffering for years in Indonesia.  
"We the Chinese are always afraid of riots because we are usually the victims," shopkeeper Himawan Tjandra Kusnadi said as quoted by Wall Street Journal.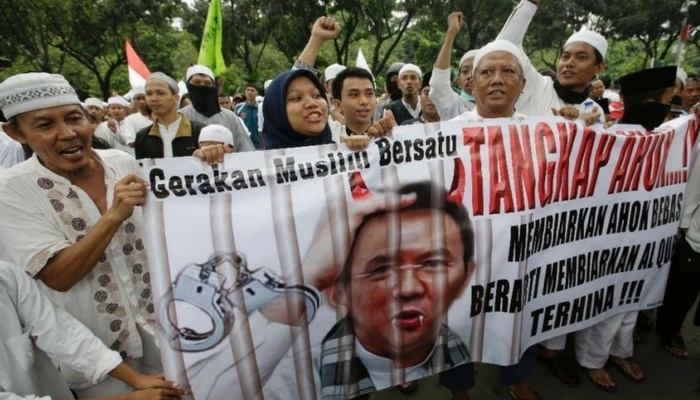 Chinese citizens in Indonesia make up only around 2 percent of the total population, and they are usually Buddhists or Christians.
While a good majority of wealthy Indonesians are actually of ethnic Chinese origin, most of them can be classified as either middle or lower class.
Despite a fair deal of economic contribution, the minority group has been subject to racial violence most notably the 1998 May riots that occurred in the nation's capital. Resentment against Chinese who benefited from close ties with the then-president Suharto, and his family, eventually incited locals to attack Chinese businesses and shops, looting and burning them.
About a thousand people died in the riots, who were burned to death during the looting, while many ethnic Chinese women were raped. 
For the ethnic Chinese in Indonesia, the attack on the governor is considered "an attack on the secular constitution," Chinese Indonesian economist Christianto Wibisono said.
The unrest forced President Joko Widodo to postpone his trip to Australia in early November. His government has called for mutual respect and national unity.
Image credits: Wikipedia Indonesia, Associated Press via Fox News