Dwi, the second of six children brought up in Singaraja, who is today studying for a degree in International Hospitality Management at Stenden University's Bali campus, is the second Balinese student to do so at this prestigious University on a full scholarship worth Euro 26,000. And Dwi deserves to have been chosen to be in this pole position as a role model for other Balinese and Indonesian kids who aspire to get on in life.
Dewi Sri, Bali and Java's rice Goddess, is an important and popular divinity who overcame difficulties on earth by being transformed first into rice and then into a snake to eat the vermin which devoured the rice; in Balinese religious life she controls the abundance of the rice harvest. She is revered to this day by all of Bali's rice farmers who hold ceremonies to her in their rice fields.
Dwi's father, a rice farmer himself, named her well. As with Dewi Sri, his daughter's path on this earth has not been an easy one. Indeed, it has all the elements of a classic Ramayana-like fable where good battles evil and wins out. Hers is an inspirational story. To all those who know her well, this twenty-one year-old is a modern-day Balinese heroine.
Dwi's full name is Kadek Dwi Anggayani, born 21 January 1992. Dwi's father died of lung cancer when she was fourteen. He was typical of many Balinese men of low status; a very quiet, private man. But there was real passion and resolve in his heart. Though poor himself, he studied at night at the local University trying to better himself – somewhat unusual at that time. Dwi's first memory of her father is of them watching the classic Ramayana drama on TV together, and of him explaining the meaning of this epic story to her. She says of her father, "He was a very good dad. He never finished University himself, but he saw education as a way for his children to succeed in their own lives."
The day before he died, fourteen year old Dwi gave her ailing father a therapeutic massage in his hospital bed. "I knew he would die soon. I just had a feeling. His eyes were very yellow. His soul had already gone."
He died the next day.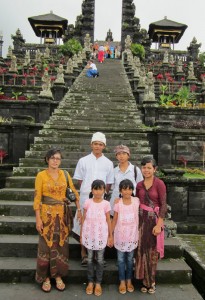 The family fell on really hard times after his death. Dwi's mum makes kebayas, a very traditional job, but with six hungry mouths to feed, it was never enough. Her uncles and aunts piled in with advice, but this was no help and school fees were not getting paid.
One afternoon, Dwi's mother took all six children to a free health clinic for a check-up and any treatment needed. It was being held for just a couple of hours in their village by visiting Bali Kids clinic. Once there, she heard of the opportunity for a child from the village to be adopted by the Bali Kids Foundation. Dwi's mum said, "Maybe this is a chance for you." Dwi wrote a letter of application and handed it to Ibu Yayuk Kanti, a Director of Bali Kids, and, after a long process, was accepted and moved to Denpasar with her siblings. This was a huge relief for Dwi's mother.
Dwi lived at Bali Kids for the next three years, going to a tourism-focused High School nearby, looking after her younger siblings, and occasionally talking to her mum on a borrowed mobile phone.
Her life changed once again when Brenton Whittaker, the Australian Director of Bali Kids, secured this bright 17-year-old the chance to complete an Australian high school education at Mater Christi College, Melbourne. She applied and was accepted by the Principal of the College, Mary Fitz-gerald, who was providing the educational scholarship, and an Australian family, Emma and Paul Davies, who took her into their home and took great care of her. Armed with a brand new passport and student visa, she boarded a flight to Melbourne in 2009, where she stayed until graduating last December.
Emma Davies said of her last week, "Dwi overcame many challenges – moving to a new country, learning a new language. She has the Nike "Can do" attitude: when facing something new she always says 'I will try.' She is a natural leader. She shows great care and respect to all around her. In her final year, she was elected International Student Captain and achieved fantastic academic results."
Dwi loves Australia and would have loved to have stayed on studying there. More than a year before graduating, she looked around to find a University or College where she could continue her studies to earn a degree in hospitality management. She came across Stenden University, which had opened a new campus in Bali, not 100 metres from her old school of SMK Parawisata Triatma Jaya, in Dalung village, on the western suburbs of Denpasar.
She applied and Stenden offered her a 100% scholarship after realizing they had a truly exceptional candidate in Dwi. Ringing in her head at the moment she got the news were the words she had spoken to her relatives back in Singaraja, who had done little to help Dwi's family after her father's death: "Just watch me, one day I will be a success."
Her dream now is to complete her course and work as a trainee manager at one of the large multinational hotel chains such as Starwood Group, being chatty with guests in Paris or New Zealand, "so I can see the Middle Earth where the Hobbit was filmed." Then she stops herself, "I cannot look too far into the future. I have to be realistic and take care of the present."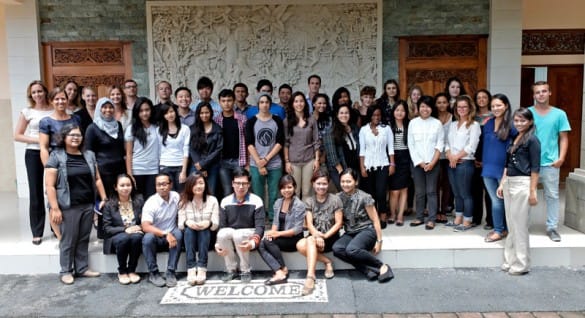 For her, this means passing all her exams at Stenden and also securing funding for her compulsory third year in Holland at Stenden's main campus before taking on an internship in her final fourth year back in Bali.
As she still needs to secure funding of about Euro 6,500 to support her with accommodation and living expenses during her third year in Holland, if there is a kind soul or two reading this willing to help this amazing girl, please contact Maureen (General Manager) or Mark (Academic Coordinator) at Stenden University's Bali campus (tel: 0361 412970 or email: [email protected]).
Applications for scholarships (25%, 50%, 75%, 100%) are welcomed each year by Stenden University Bali from outstanding Indonesian candidates. Apply before this year's deadline of 21st June, 2013 for next academic year and give your life a bit of Bali magic, too!