More and more healthy eatery joints are around Jakarta, to cater to the growing health-conscious community.
RIVA Grill Bar & Terrace at Wyndham Casablanca is an ideal option to get all the necessary nutrients we need to get our days going. Choose the healthy lunch set or ala carte dishes curated by Chef Hengky Efendy – a way to indulge without worrying about expanding waistlines. "You are what you eat, so eat right. Basically, whatever your taste buds enjoy for the moment can affect you in a few years ahead. For example, you momentarily satisfy your sweet tooth with cakes yet in three, five to ten years you find something wrong with your health," said Chef Hengky.
It starts with the person's intention: if they're eager to live a long, healthy life they would be more conscious of what they consume, however, "they need to be educated first, then they can change their mindsets."
The plant-based RIVA Super Bowl filled with a low GI grain, protein, healthy fats and organic vegetables will not crush the body's sugar levels. Inside this big bowl are nutrient-packed ingredients: barley rice, roasted sweet potato, chickpeas, mushroom, and asparagus, along with steamed broccoli and cauliflower, sliced avocado and fresh imported cherry tomatoes, accompanied by a light sauce of ginger, garlic, and lemon. Sip on RIVA's homemade original flavoured kombucha while enjoying this meal by the restaurant's terrace, viewing the hotel's lagoon pool. Still have room for dessert? No worries, RIVA offers non-dairy and low sugar desserts.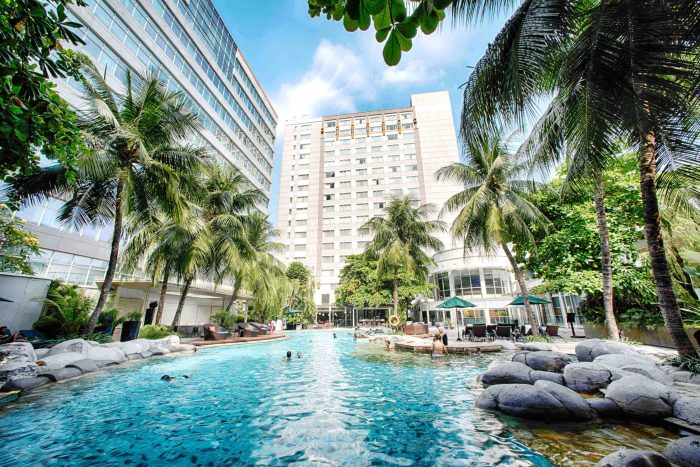 RIVA has both indoor and outdoor bars so guests can enjoy some cocktails – uniquely named after Wyndham's staff – while guests wait for the chef's recommended juicy Tomahawk Steak for dinner. This RIVA signature dish that's coated with butter is aged for 40 days with pink Himalayan salt inside its refrigerator until it's very tender, and displayed for anyone to check out.
"It's very casual here in RIVA. People can have lunch meetings or catch up over dinner and drinks at night. Certainly, steak lovers cherish RIVA," said Chef Hengky. "Though RIVA isn't fine dining, I make sure the presentation is uniquely highlighted."
Fitting a maximum of 100 people, this contemporary designed restaurant's healthy lunch set menu is worth Rp199,000++ per person whereas meat lovers can enjoy dishes from Rp85,000++ to Rp1,199,000++ per person. Or go for the Indonesian delicacies buffet at Cafe One – Wyndham is a foodie's haven.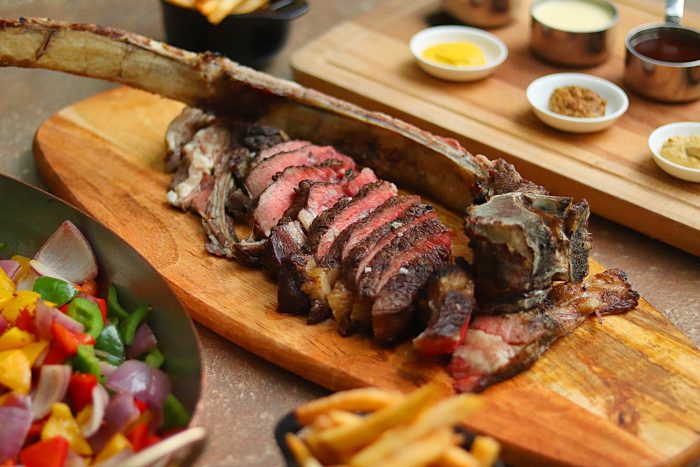 Wyndham is the perfect place for businesses, families and leisure travellers. With Indonesian guests choosing to spend their Jakarta nights here, people of other Asian nationalities and Australians are no strangers either. The relaxing lagoon pool, CrossFit inspired gym, colourful kids' room, and even a residence of 36 serviced apartments on the third to sixth floors (1-3 bedrooms) is ideal for long-term travellers, or just to indulge in a 220 sqm Presidential Suite on the 17th floor – Wyndham is the perfect place to rest in one of the 280 rooms, even for a weekend "staycation." Sports events such as yoga by the pool are regularly done here. Couples seeking a more intimate wedding venue can have their eventful, dreamy day at Lagoon Poolside, and 12 meeting rooms ideal for MICE venues are available.
Cafe One Asian Fusion:
Daily from 6 am to 11 pm
RIVA Grill Bar & Terrace:
Monday – Sunday from 11:30 am to 12 pm
Jl. Casablanca Kav.18, Jakarta
Reservations: call (021)-828-2000 or email: [email protected]