A strong undersea earthquake measuring 6.5 on the Richter scale rocked Indonesia's Aceh province early Wednesday, December 7, killing at least 97 people, destroying buildings and homes and setting off frantic effort to rescue dozens more missing.
Indonesia's disaster agency reported the death toll to be around 97 and dozens more missing, as rescuers continue to search through collapsed infrastructure for trapped survivors after the strong earthquake.
Spokesman for the national disaster management agency Sutopo Nugroho confirmed that Aceh, which sits on the northern part of Sumatra, has been put under a state of emergency.
The disaster management agency spokesperson reported that they are focusing their efforts on searching for victims and possible survivors, while President Jokowi has ordered the chief of staff to visit the disaster area.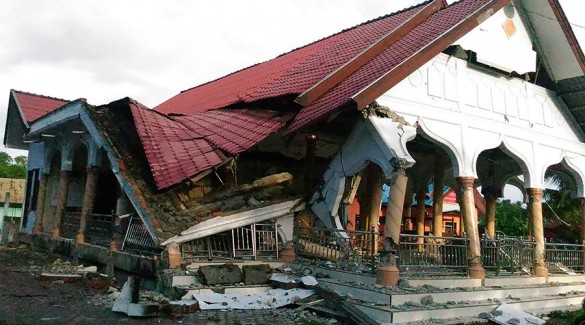 On December 26, 2004, Aceh suffered massive destruction from a strong earthquake that was centered on its western coast near Banda Aceh, the provincial capital; a catastrophic tsunami followed the quake.
This time, the earthquake hit the province's eastern coast, around 170 km (105 miles) from Banda Aceh. Home to about 140,000, Pidie Jaya regency bore the brunt of the most recent earthquake's damage.
Nugroho reported that majority of the victims were killed or injured from commercial and residential buildings collapsing. After the initial quake, at least five aftershocks were felt, the disaster management agency said.
Rescue operations and volunteer teams brought the injured victims to nearby hospitals that were immediately filled to capacity. A Reuters witness said many patients treated along hospital corridors or disaster tents complained of broken bones, open wounds, and scratches.
Aceh search and rescue agency officer Khairul Nova reported that dozens more remain missing.
In 2004, a 9.2 magnitude earthquake caused a tsunami that wiped out entire communities across the archipelago and other countries around the Indian Ocean. Indonesia was the hardest hit, where more than 120,000 people were killed in the Aceh province alone.