For more than 38 years, the BINA NUSANTARA Group has maintained a fine reputation for innumerable positive contributions to the country.
Since 1998, one of its units, BINUS SCHOOL Simprug, has proved its commitment to education by providing a strong foundation for further study and instilling a love of learning. With its focus on the International Baccalaureate (IB) curriculum, BINUS SCHOOL Simprug caters to all grade levels from early years 1 (for children aged 3) up to high school grade 12, making it one of the few IB World Schools available in Indonesia.
Each student at BINUS SCHOOL Simprug is equipped with the competencies they need to be a proud and outstanding achiever. BINUS SCHOOL Simprug incorporates inquiry-based learning, student-centered learning, and a holistic approach which makes our students internationally-minded, life-long learners.
A typical BINUS-graduating student; will have an overall IB passing grade above the world average; will have a chance of scoring a perfect 45 out of 45 on their IB diploma; can win international level competitions; and will be an accomplished leader in challenging social issues.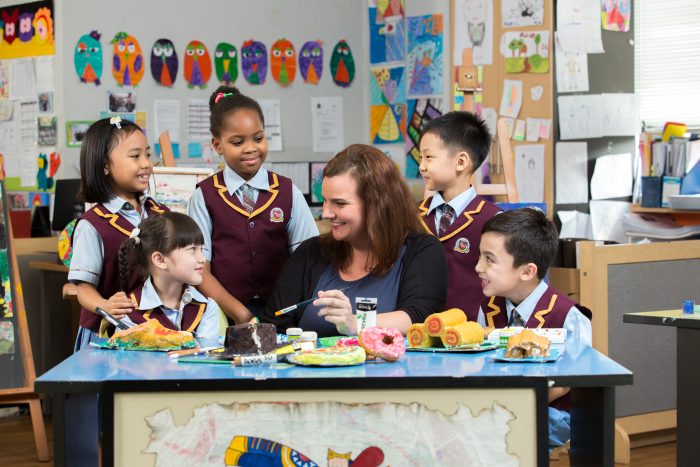 How to encourage children to enjoy learning and lead children to want to learn voluntarily?
Learning at BINUS SCHOOL Simprug not only focuses on academics but also on extra-curricular activities. We cater to the holistic development of our students. To encourage them to enjoy learning, we, as educators, ensure that we know the different interests, needs, learning profile, and readiness levels of our students; not only their names. We promote positive and caring relationships with our students, and we also provide students with various resources that they can explore. Our students are given choice, voice, and ownership of their learning. For example, starting in their early years, our students are involved in redesigning their learning environment, as they need a variety of flexible seating choices. Some students prefer to work on their own while others like to work in groups. We differentiate assessment tasks as well as learning engagements. Our students are also given options for how they are going to show their knowledge, skills, and understanding of concepts taught. We implement various grouping strategies and we also allow the students to communicate in their mother tongue in addition to using English as the language of instruction. (Ms. Richel Langit Dursin as a PYP Coordinator at BINUS SCHOOL Simprug).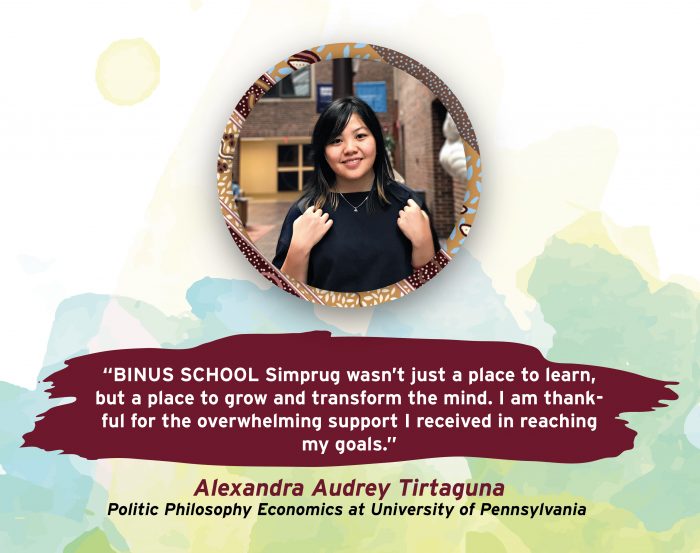 Graduates
Our graduates have been accepted into prestigious universities around the world, such as:
University of Pennsylvania
University of British Columbia
University of Michigan
Northwestern University
University College London
University of California, Berkeley
University of California, Los Angeles
University of Toronto
Babson College
Hongkong University of Science and Technology
Nanyang Technological University
Melbourne University, Australia
And many more.
RECENT ACHIEVEMENTS
APYLS 2019
With a passion in International Relations, we had the opportunity to talk about climate change, globalisation, protectionism, and how to relate all of these issues to the global economy. Students also got to meet the President of Singapore himself. Read more (link: http://simprug.binus.sch.id/2019/07/31/apyls2019/)
World Mathematics Invitational (WMI)
The competition, which was held in Fukuoka, Japan from 15-19th July, attracted 2,402 students from several countries – Brazil, South Korea, Bulgaria, Cambodia, China, Hong Kong, Indonesia, Iran, Kazakhstan, and more. Check out the results (link: http://simprug.binus.sch.id/2019/07/22/world-mathematics-invitational-wmi-winners/)
Nocturnal Solar Light Bulb for Sumba
Our BINUSIANs realise that in rural villages, access to electricity is extremely limited, particularly when the sun goes down. The end goal for this project was to allow those people to have access to lights so children could study and adults could work even after the sun sets. Read more: (link : http://simprug.binus.sch.id/2019/07/23/bulbs-for-sumba/)
Our work continues…