Satish Sethi is an expert in the aviation industry, with 18 years of solid experience behind him. Satish previously worked at Jet Airways and KLM before joining Emirates Airlines, where he has been for the last 13 years. His passion for this trade developed from a young age and he is still enjoying being a part of this thriving industry.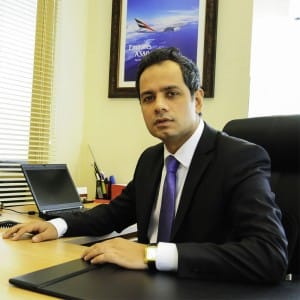 Satish, what brought you to Indonesia in August 2013?
My job requires me to head and manage Emirates operations in a different country every three to four years. After having finished my stint in Kuwait, Yemen and Bangladesh, I was offered to move to Indonesia, which I gladly accepted. It's a growing market in general and also for Emirates, which has been operating to Jakarta since 1992.
How has being the Country Manager in Indonesia differed from being that of the same position in Yemen?
In terms of business volume, this is the biggest amongst the ones I have been posted in.
The Indonesian travel market is far more diverse and mature. Numerous segments rule the industry here. These include business traffic, regional travellers, holidaymakers, tour packages, religious traffic, in addition to the vast segment of inbound tourism to Indonesia.
A simple comparison between Yemen and Indonesia would be in terms of our capacity, whereby in Yemen we offer 237 seats a day compared to 1,284 seats a day out of Indonesia.
Business aircraft manufacturers are seeing Indonesia as the emerging country for business aviation in Asia. Can you give us your thoughts on this?
The continuous growth of Indonesia's economy is encouraging the growing number of its middle class income consumers to travel abroad. Indonesian travellers are becoming more and more flexible and spontaneous when it comes to travelling and are much more willing to spend their money on going to places they have never been before. This is certainly an exciting time for us in Emirates where we are able to cater to the needs of the local people by offering a world class product at competitive prices.
Can you please give us a brief history on Emirates Airlines?
Emirates was founded as an airline in 1985 with two leased aircraft. It now flies to 142 destinations in 80 countries across six continents, providing air services that enable trade and travel to its home base in Dubai and beyond. Emirates also connects millions of people on the ground each year through its other operations including Emirates Holidays, its destination marketing arm, and tour operator Arabian Adventures.
How mainly airplanes do Emirates Airline have within its fleet worldwide? What are your growth projections this year in terms of aircrafts purchased?
Emirates Airline currently operates a fleet of 218 aircraft, all wide-bodied. 206 of which are passenger aircraft whereas 12 are freighter aircraft. This consists of 137 Boeing and 81 Airbus fleet. Emirates is also the world's largest operator of the double-decker Airbus 380, the world's largest passenger aircraft, with 47 of them in service and 93 more on order. It's worth mentioning that Emirates offers a lounge, bar and a shower room onboard this aircraft, thereby also investing in quality and not just quantity.
At the Dubai Airshow in November of 2013, Emirates ordered 200 aircraft, which is dubbed as the largest order in civil aviation history, rewriting all previous records. Our total order now stands at 374 aircraft worth USD 162 billion. This purchase supports and creates hundreds of thousands of jobs through the global aviation supply chain and many of these new aircraft will replace older ones in our fleet. With this, Emirates expects to fly 70 million passengers in 2020 – and together with our partners in Dubai, we are already progressing on plans to ensure the right infrastructure is in place to support and capitalize on this growth.
Could you please tell us how much Emirates Airline is worth?
In simple words I would say it's priceless. It's not just an airline, it's also a brand which is gradually becoming an essential part of many travellers' lifestyles. Our global sponsorships are spread over most sports like soccer, cricket, tennis, sailing, golf, horse racing, Formula 1, In monetary terms, I can share that Emirates earned over USD 22 billion in revenue in the last fiscal year alone while carrying 39.4 million passengers and 2.1 million tonnes of cargo. It's even harder to quantify the worth of our over 48,000 talented workforce.
Emirates Airline is known for its exceptional business class. Can you tell us what you offer Economy travellers?
Ergonomically designed seats, extra legroom and superior service ensure that Emirate's Economy class travel stands out from the competition. Emirates was the first airline to provide economy travellers with their own individual television screens in 1992. Emirates has ensured that its in-flight entertainment system has remained second to none, while catering and service levels have consistently been voted as world beaters in international travel awards and surveys. Our in-flight entertainment system ICE (Information, Communications, Entertainment) has won the World's Best Airline In-flight Entertainment Award by Skytrax World Airline Awards for the eight consecutive year.
Last year Emirates Airline and Qantas joined forces. Could you tell us a little bit about this partnership?
Emirates and Qantas joined forces in March of 2013. The partnership marks a new era for Qantas and Emirates, and for global aviation, as the two carriers collaborate to deliver the best network, lounges, frequent flyer benefits and travel experiences. Our two airlines offer the largest joint fleet of Airbus A380s and passengers will be welcomed through Concourse A, the world's first, purpose built A380 concourse at Dubai International Airport. This partnership will allow long haul travel to be more seamless and faster for millions of Australian. Customers from Adelaide, Brisbane, Perth, Melbourne and Sydney have one–stop access to 65 destinations in the Middle East, North Africa, the UK and Europe via the joint Qantas and Emirates network. Another major benefit to customer is the range of products we are offering frequent flyers.
Emirates claims to have lower emissions than other airlines. Can you tell us more about this and what other environmental programmes or advancements you have?
Yes, indeed. Our goal is to make sustainability and eco-efficiency the cornerstone of all of our operations, both in air and on the ground. Emirates has committed to environmentally responsible operations through the Group's Environmental Policy, which is implemented through the Environment program. What this means for an organization is growing our business to be economically sustainable, while using fewer resources and creating less waste and pollution.
In Australia, Emirates opened the 1,600 hectare Emirates Wolgan Valley Resort & Spa in October 2009 – it is one of Australia's first luxury conservation resorts. The resort buildings themselves take up less than 2% of the conservation reserve and have been designed with green buildings principles in mind. Wolgan Valley is also the first carboNZero certified hotel in the world. Additionally in Dubai, working alongside the Dubai Government, Emirates established Dubai Desert Conservation Reserve to protect critical desert habitat and a variety of endangered species.
I hear you're a golfing man. Which courses do you play to escape the capital? Which course is your favourite?
In my short stint here, I have only explored seven or eight golf courses. Damai Indah in BSD city and Rancamaya in Bogor are the ones I loved the most. A friend recently told me that a bad day at Golf is better than a good day in office. These gorgeous golf courses in Indonesia made me believe that.
What do you believe to be the key to your success?
I believe in the following two theories:
1. Don't work to please your employer. Instead, work to please yourself.
2. Never stop experimenting. If you want something you never had, you have to do things you've never done.
Thank you for your time. To contact Satish please email: [email protected]