Lena Thong is a leader of serviced offices in Indonesia, founding Marquee Executive Offices 10 years ago in Jakarta. Her company now has 11 office locations on offer to its customers – with one in Bali – servicing small businesses and startups looking for a convenient, all-in-one office solution. A York University, Toronto, Canada alumnus, this business administration graduate started her career in the Salim Group before embarking on her own journey as the founder of Marquee nine years later.
What sparked the idea to start Marquee Executive offices?
Gaining experience in the property market and the service industry gave me the perfect experience and opened my eyes to how much opportunity we could create. With a huge population in Indonesia, and rich in natural resources attracting many foreigners to invest, I saw a huge market potential. All businessmen and women looking to start their businesses here need flexible office terms and conditions with a cost effective and efficient concept.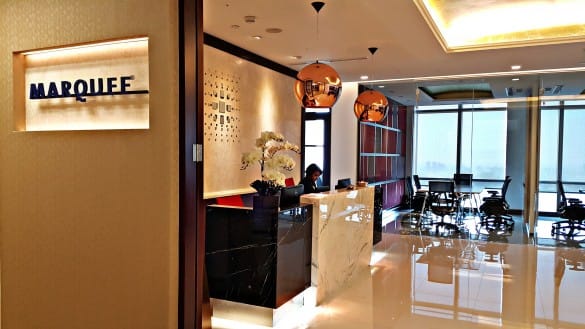 What do your serviced offices provide your tenants? How is it different than renting your own office?
We offer fully furnished and comprehensive services. It only takes five minutes to set up and our tenants can immediately start their businesses. Office infrastructure such as high-speed Internet connection, telephone lines, video conferencing and meeting room facilities are also ready to use. The tenants only need to bring their computers/laptops to start working.
With conventional offices, or renting your own office, clients need to spend extra on capital investment to furnish the office, and build office infrastructure and facilities. In addition, clients need to spend higher on variable costs such as hiring staff as receptionists, office assistants, security, plus there is the added cost of electricity bills, household expenses, etc.
The concept of the serviced office is indeed ideal for a maximum of a 20-person workstation to have effective and efficient costs. If your company has more than 20 employees, it will be too expensive hiring a serviced office for a duration of more than three years.
Some would say that serviced offices are expensive. What would you say to that?
I would say it is quite relative and depends on how people see the value that we provide our clients. Actually it is not necessarily more expensive.
Using a serviced office is more efficient, meaning the tenant does not have to rent extra space that is not effectively used, such as a lobby, pantry, service area, or meeting rooms. This could take up approximately 30 percent of your gross office area if choosing a conventional office.
We are certainly noticing a trend in Jakarta, and in Indonesia, of more and more co-working spaces and serviced and virtual offices opening up on the market. Why do you think that is?
When I started this business in 2006, I anticipated the business would be booming and it's happening now. Due to an oversupply in the market, many operators quote unrealistic rates, creating unnecessary price wars amongst competitors. It has been a challenging year for our business, especially considering today's economic conditions.
Marquee is the pioneer local serviced office company that has earned the recognition of having international standards. We need to keep maintaining these standards and giving value to our clients, including through product innovation.
Most people will ask this question before renting a serviced office: are there any hidden charges?
I'm proud to say that are no hidden charges at all with Marquee.
What interested you to open a Marquee office in Bali?
Bali has been known as a tourist destination and is now becoming a living destination. I saw an opportunity when looking at the rising number of residents. Our concept in Bali is more like a co-working space.
What kinds of clientele make use of your Bali office?
Our clients in Bali are mostly consulting businesses, such as IT consultants or building consultants.
What is the smallest office space you offer and at what cost, and what is the largest space you have and at what cost?
We provide a one-person office workstation to a 25-person office workstation and our rates are quite relative, depending on the location and building. In general, prices range from 5 million to 100 million rupiah per month. The minimum workstations we have per centre's location is 220.
What do you think is going to be the future of the office? Will more and more people work remotely?
Yes, certainly. With today's advancing technologies we can work remotely from anywhere. All we need is an Internet connection.
You had an event on December 12 discussing land ownership for foreigners. Can you tell us more about this?
We work with a few consultants to give knowledge to many expatriates who would like to own land in Bali.
Your first office was opened in Mayapada Tower in Sudirman, but since then you seem to be expanding more and more south, with several locations on Jl. TB Simatupang. Do you foresee more offices moving their headquarters outside of the capital in the future?
Possibly, because moving away from the city centre would be more efficient in terms of time management, and especially with the heavy traffic, which can be one of the major factors at play.
Across your 11 branches, how many staff do you employ? What is the most important training aspect that they undergo?
We have 108 employees. Our company gives much training to enhance the skill of our employees, covering leadership, negotiation, customer service and more. For me, all of the training we provide is extremely important so that we are able to give an above standard service.
When you opened the first Marquee 10 years ago, what was the biggest challenge you faced? And is this a hurdle you still face today?
Managing human resources is always the most challenging to us. Yes, it is a never-ending challenge. Staff have to be happy working with the company in order for them to give the best service to our clients.
What is your vision for Marquee Serviced Offices?
My vision is that we are the leader in the serviced office industry, internationally recognized for excellent service and integrated business solutions.
And finally, what traits do you possess or have you developed in order to be the successful businesswoman that you are today?
I consider myself to have a strong will, persistent and consistent in everything I do. I believe I work hard with dedication to the business. Ultimately I always aim to be number one, as I believe everyone can do so. To remain successful, we need to keep updating to market trends and be flexible to adapt in today's changing world.
Thank you, Lena. For more information, please visit: www.marqueeoffices.com