At the end of 2014, Indonesia experienced a sharp drop in coffee exports partly due to unfavourable weather conditions. Will the commodity fare better this year?
Indonesia's coffee sector may flourish this year thanks to improved weather in production areas across the country. But the increased output may still not be enough to satisfy foreign and local demand, which is both currently on the upswing, analysts say.
According to the Association of Indonesian Coffee Exporters (AEKI), the country harvests about 700,000 metric tonnes of coffee beans each year from 1.3 million hectares of cultivation area, with a growth rate of 1 to 2 percent annually. Export turnover from the commodity, dominated by the Robusta strain that's normally used in instant coffee, is up to US$1.5 billion, the trade group claims. Indonesia is the world's second largest Robusta bean producer. The strain grows densely in South Sumatra in places like Lampung, Bengkulu, and other nearby provinces, while the pricier Arabica bean mostly grows in North Sumatra and Java.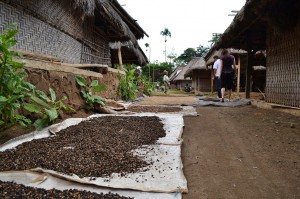 "Indonesian coffee beans have higher quality and value compared to coffees from Brazil and Vietnam," says Irfan Anwar, AEKI chairman. "Our coffee is now exported to 100 countries, with our biggest importers coming from the US, Europe, and Japan."
Industry experts project Indonesia's coffee crop this year will grow to 800,000 tonnes. But harvest season is predicted to be later than normal due to mixed amounts of rain in some key crop-growing areas.
"Lack of rain could push back the harvest, while too much rain could degrade the quality of the beans," says Armia Zuhri, director of the Sumatra Permata Gayo Cooperative in North Sumatra. "Lack of rain [in Aceh] in December and January means the harvest was pushed back to February, so [beans] are piling up this month." Zuhri's cooperative produces 100 percent organic Fair Trade Certified coffee, and exports about 1,500 kilograms of coffee each year. Last year, the cooperative collected US$10 million from about 2,600 members, whose crops were mostly exported to the US, Europe, and Australia.
Last year, Indonesia and neighbouring countries such as world's second largest overall coffee producer, Vietnam, faced climate anomalies caused by El Niño. This ultimately led to a decline in exports.
While prices for Indonesian coffee beans in the global market fluctuated, Anwar says that the price tag for the archipelago's beans at the moment is "more expensive" than Brazilian coffee, with the South American nation's Arabica selling at US$6 per kilogram, and its Robusta at US$2.5 per kilogram.
The numbers at home are promising, too.
Coffee exports may have fallen 20 to 25 percent to 475,000 tonnes last year, but higher local consumption may help offset the loss in 2015.
AEKI predicts that local demand will jump 20 percent annually – from currently 1.3 kilograms per capita to 1.56 kilograms next year. This sharp uptick is driven by a newfound fondness of a great 'cup of Joe' – particularly one brewed from single-origin specialty variants – among the country's increasingly wealthy middle-class. A variety of upscale cafes can now be found in Indonesia's big cities, usually selling bags of specialty beans harvested from provinces like Flores, Gayo, and Toraja.
"The trend is good in helping local farmers distributing their coffee," says Veronica Herlina of the Sustainable Coffee Platform of Indonesia (SCOPI), an organisation that promotes Public-Private Partnership in the coffee sector to bolster sustainability of the local commodity. "Indonesia has the most specialty coffee in the world, because every soil, culture, every [piece of] land, helps form these beans' characteristics." Single-origin specialty coffee also helps increase the country's coffee quality, she says.
Coffee giant Starbucks also wants in on the action. The Seattle-based company is planning to double its number of stores in Indonesia from the current 200 to 400 outlets in five years' time, according to Starbucks Indonesia COO, Anthony Cottan.
The trend is good news for all stakeholders in the industry, but new players may think twice before entering the country's already crowded Java business. If entrepreneurs took the traditional approach, they would compete head-to-head with veterans and household names like Kapal Api Global, Sari Incofood Corporation (the owner of Indocafé), and other multinational coffee players such as Italy's Illy and Japan's Ueshime Coffee Co.
However, Indonesia still needs to wake up and smell the coffee. Analysts and industry watchers believe that local farmers may not be able to meet increasing demand in an industry that's largely unsettled by climate change and lack of sustainability programs.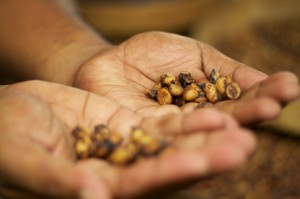 Indonesia produces about 750 kilograms per hectare and is the world's third biggest coffee producer behind behemoths Brazil and Vietnam, which produce four tonnes and two tonnes per hectare, respectively. Southeast Asia's biggest economy is always sprinting with Colombia, where the annual yield is roughly on par with Indonesia's. This means that the number three position largely depends on weather conditions in both countries, year after year.
"We aim to increase output to one tonne per hectare, or about a 25 percent increase from our current output by 2018 or 2020," says Anwar. "I believe that it's a realistic target."
To help achieve the target, AEKI recently signed a Memorandum of Understanding (MoU) with the Vietnam Coffee-Cocoa Association. Under the MoU, the two nations will exchange information on coffee prices between the two markets, as well as share techniques to increase productivity and profit, according to Anwar.
"Indonesia and Vietnam are the world's leading coffee producing countries, so we need to advance our cooperation," explains Anwar. "We can learn how to increase productivity and better marketing from Vietnam." Vietnam's total cultivation area is smaller than Indonesia, with only a little more than 600,000 hectares, but the country's productivity and export levels are higher. Each year, Vietnam exports one million tonnes of coffee beans, with a turnover of more than US$3.4 billion.
To increase productivity, however, farmers, coffee companies, and stakeholders in the business also must ensure that their farming practices are sustainable. According to a research note released last year by TechnoServe and Sustainable Trade Initiative (IDH), Indonesia has three times as many smallholder coffee farmers as Vietnam, but only one third of the coffee yield: "Low farmer output and the highly fragmented nature of Indonesia's production base make sustainability programs significantly more expensive than in Vietnam."
The researchers also estimate that only seven percent of Indonesia's coffee exports are currently certified as "sustainable". If the Indonesian coffee sector doesn't change its current course, and with exports declining in significance, "sustainability efforts are likely to plateau," says IDH.