Indonesia's recent business-friendly policies have made it easier for companies to start their businesses in the country. While the opportunities for running businesses in Indonesia are compelling, the company registration process is still slightly different to what overseas entrepreneurs might be used to.
Legal Entities in Indonesia
Choosing the right entity is one of the key-driving factors contributing to successful business in Indonesia. Entity type influences foreign investments, employment of foreigners as well as collecting revenues.
Foreign-Owned Company
A foreign-owned company, PT PMA, also known as Foreign Private Limited Liability Company, is the most common company type for foreign business owners in Indonesia.
It is also the only legal entity owned by foreigners that can engage in business activities to generate profits in Indonesia.
Negative Investment List
Compliance with the Negative Investment List is one of the characteristics that distinguishes a foreign-owned company from other legal entities.
The Presidential Regulation coordinates the maximum foreign ownership based on the business sector in which a company will be incorporated in.
If the business sector is only partially open or fully closed to foreign ownership, a local partner (an Indonesian citizen or a legal entity in Indonesia to start a business with) is required.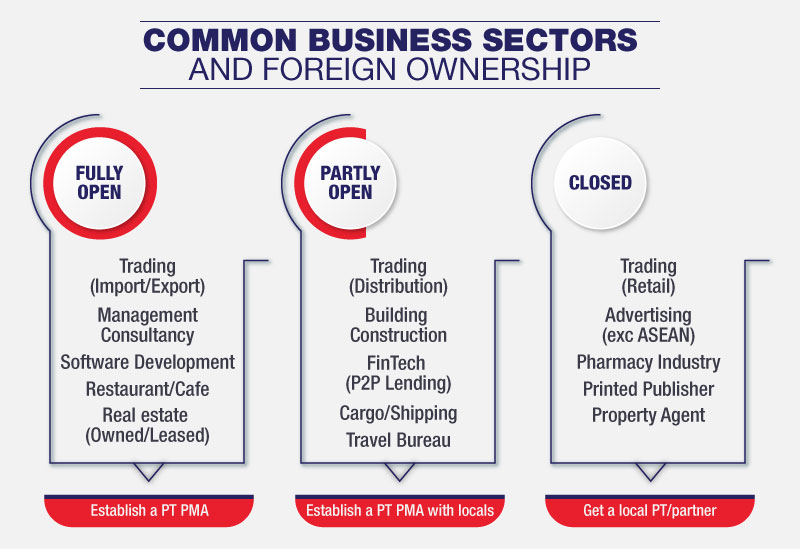 Local Partner
Even though it is a common practice for foreigners to sign a nominee arrangement with a local partner, this legal document is not sufficient and should be accompanied by a set of additional legal agreements.
It is in compliance with the Indonesian law that does not recognise terms such as 'trust' and 'trustee' and shareholders stated in the Articles of Association become both beneficial and legal owners.
To avoid putting your business at risk of a blind trust, it is always worth considering to perform due diligence of your partner and sign agreements with notable agents and trustworthy companies only.
Requirements for Foreign Company Establishment
Foreign investors looking to establish a company in Indonesia should meet the following criteria.
1. Organisational Structure
PT PMA must be composed of at least two shareholders. They can be individuals or corporations, foreign or Indonesian or a combination of both and the minimum amount of shares per shareholder is IDR 10 million (US$ 750).
The minimum organisation structure consists of one director and one commissioner with one of them being an Indonesian citizen.
2. Capital Requirements
The authorised capital requirement in a PT PMA is above IDR 10 billion (US$ 750,000). Twenty-five per cent of which must be deposited as paid-up capital.
The minimum IDR 10 billion investment plan can be either working capital or fixed assets. A value of land and buildings is excluded from its amount unless a company's main business activity is in industry.
3. Business Location
A domicile letter is a prerequisite for registering a PT PMA. Since using a residential address is not allowed in most Indonesian cities, many investors opt for using serviced offices.
Establishment Process of PT PMA
To support the ease of doing business in Indonesia, the process of registering a limited liability company was modified recently. Although a new Online Single Submission (OSS) System was introduced, its adaptation is still in process and needs adjustments.
Online Single Submission System
Investors intending to expand their business activities or revise their company documents are required to do so through OSS to acquire the Business Identification Number (NIB) and other licences.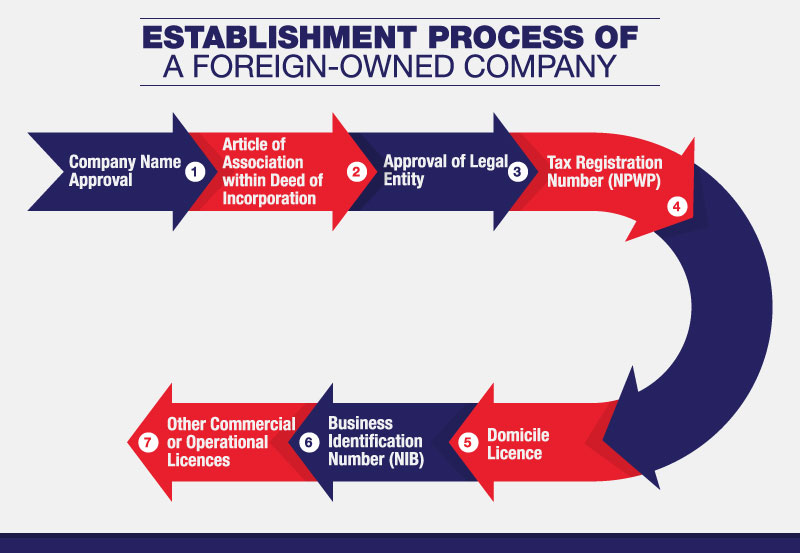 Currently, company registration for most business sectors is conducted as follows:
Company name approval – The company name should consist of three words and words considered as vulgar or obscene in Indonesia must be avoided.
Article of Association within Deed of Incorporation – A notary must witness the establishment of the company and the content of AoA is required to comply with the Company Law.
Approval of Legal Entity – Ministry of Law and Human Rights approves the Deed of Incorporation submitted by the notary.
Tax Registration Number (NPWP) – A valid company's tax ID is a mandatory document for proposing bank loans as well as obtaining other company's documents and other tax-related activities.
Domicile Licence – A certificate issued by the related government institution in the area which your company is located.
Business Identification Number (NIB) – A unique company profile number replaces Company Registration Certificate (TDP) and serves as import licence, customs identification number and registration under Health and Social Security System. Business Licence and Location Permit are issued during this step as well.
Other commercial or operational licences – To start commercial operation, particular businesses such as healthcare product companies, medical devices producers and distributors and cosmetic companies must fulfil commitments to obtain valid commercial or operational licences.
When PT PMA Does Not Fit Your Needs
Despite the benefits of setting a PT PMA, foreigners might be discouraged by the ownership restriction as well as the large capital requirements.
In such circumstances, a local company or a representative office might be able to cater to your needs to jumpstart your business in Indonesia.
Local Company
A local limited liability company, or PT, is one of the most common company entities in Indonesia for its simple registration and fewer requirements.
On the other hand, it must be fully owned by an Indonesian citizen or a local company and based on the investment capital size, the number of work permits for foreigners is also restricted.
Representative Office
Foreign companies that are interested in exploring potential business opportunities and have no intention to get involved in commercial transactions in Indonesia can opt to set up a representative office.
Since it cannot engage in any trading or business activities, only market research, promotion activities and feasibility studies are permitted. There is no capital or investment needed, making it an ideal way to explore the business environment in Indonesia.
Cekindo is a leading consulting company in Indonesia that provides one-stop business services such as company registration, serviced office and local nominee services. Become one of our satisfied clients and jumpstart your business at https://bit.ly/CekindoExpat