Gradients of burnt orange slowly turn into inky blue as the last lilting notes of the gambang kromong traditional orchestra turn into resonating applause.
The moment then shifts into one of reverence upon a single spotlight outlining a solitary figure in batik — and the first stanza of Indonesia Raya national anthem marches melodiously. Thus, the Grand Opening of Batavia PIK in Golf Island at Pantai Indah Kapuk (PIK) starts on a high note with the musical Pesta Remaja Jakarta. This event takes a more poignant tint as Jakarta commemorates its 496th anniversary, made even grander at the world's first overwater retail, dining, and entertainment complex by Agung Sedayu Group and Salim Group: Batavia PIK.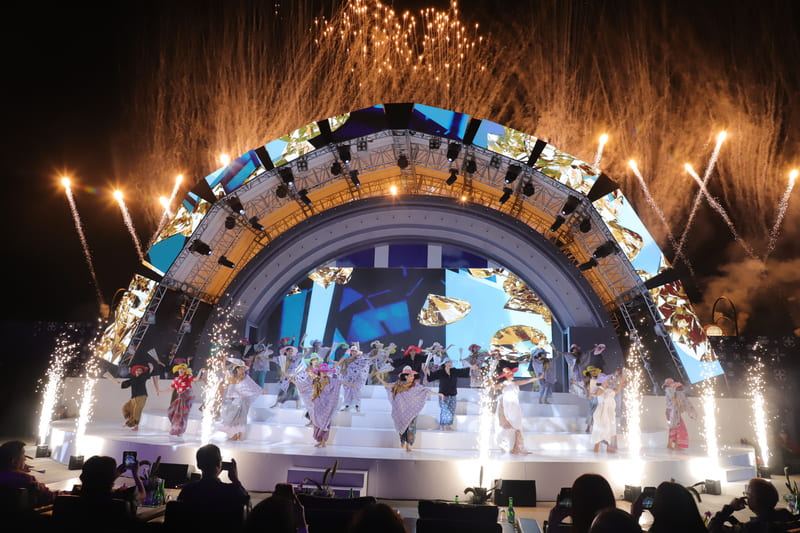 Showcasing works by Swara Gembira in Broadway-style orchestration, Pesta Remaja Jakarta tells the story of the thriving metropolitan amid globalisation. The colourful characters in each colossal act present a modern rendition of dialogues, dances, and songs from the Betawi, Peranakan, and the Old Batavia setting. Among its original works, Swara Gembira presents a song titled "Terima Kasih Jakarta" to depict the current capital of Indonesia as a centre of governance, economy, and cultural melting pot. Reflecting on the storied past of this city-now-called Jakarta, Amantara, a subsidiary of Agung Sedayu Group in charge of Batavia PIK, collaborates with Legacy Entertainment to bridge the past and present in a modern retelling of the melting pot.
Beyond Batavia PIK's wide entrance plaza, its tropical vernacular architecture and melodious Indonesian music welcome all into a nostalgic reverie of old Batavia city: "The Queen of the East". As one of the busiest centres of maritime trade in 18th-century Southeast Asia, Batavia was a melting pot where acculturation happened. Batavia PIK, as the biggest floating destination in Jakarta, carries the same spirit where each thematic tenants and curated events speak of unity in diversity. Casting a spotlight on Indonesian cultures, Batavia PIK Alun Alun is the best place to enjoy a late afternoon stroll as the wind softly carries the din of songs and laughter. One fine example is the lenong comedy, a traditional theatre arts signature of the Betawi culture.
A modern version of lenong during the Pesta Remaja Jakarta featured Jovial and Andovi da Lopez. The da Lopez brothers are famous as actors, comedians, and YouTubers on the SKinnyIndonesian24 channel — the latter as their stardom platform for many creative roles, including musicals. The Pesta Remaja Jakarta musical also included the Rapot podcast quartet of radio hosts and young, creative Indonesian talents Reza Chandika, Ankatama Ruyatna, Radhini Apriliya, and Natasha Abigail. The narratives highlighted from their performances called the next generation to remember their roots and actively participate in preserving Indonesian cultures.
Natalia Kusumo, the CEO of Commercial & Hotels Division 2 at Amantara-Agung Sedayu Group, said: "Indonesia is a land rich with history, arts, cuisines, and many more cultural facets—from which we inherit a lasting heritage carrying profound innate wisdom. We imprint these inspirations and values on Batavia PIK, a modern melting pot where the younger generation can express their creativity as the next cultural torchbearer. Hence, we invite everyone to unearth Nusantara's unique history and heritage at Batavia PIK for the Indonesian culture to remain relevant throughout generations."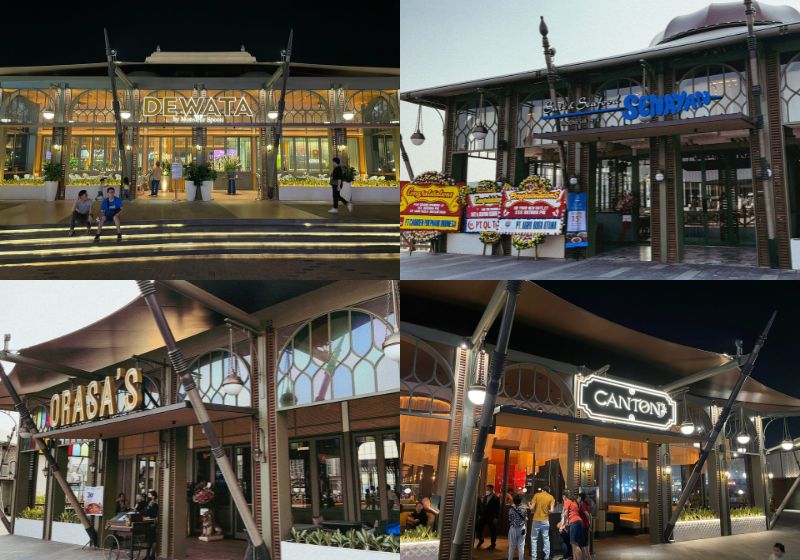 The floating retail compound sprawls on a 3.5-hectare, starting from Golf Island with stand-alone restaurants curated by Amantara: Tugu Rempah, Dewata by Monsieur Spoon, Sate&Seafood Senayan, Warung Made, Hansang, Cutt&Grill, Villa Capri, Orasa's, Saigon Ngon, Rumah Jajan Bu Nanik, Canton 168, and more. Criss-crossed by bridges and wide esplanades, Batavia PIK extends to its upcoming second phase on the neighbouring Pantai Kita (Riverwalk Island PIK) with the Pasar Rakjat concept.
Marcus King, Legacy Entertainment's Chief Projects Officer, and one of the firm's owners, said:
"Retail developers all over the world are in a moment of reflection and transition. With its seamless fusion of ancient and modern culture, retail, and entertainment, we hope that Batavia PIK will represent a literal bridge between the past and the future. No matter how the industry changes or audiences evolve, people all around the world will always want to dine together and be entertained together. Here they'll be able to do both in a setting unlike any other."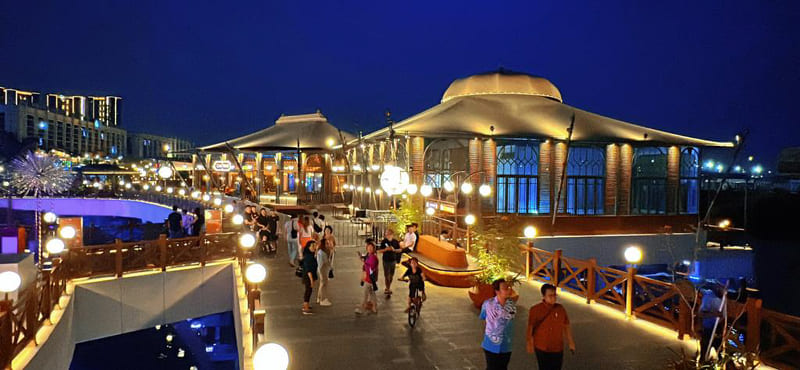 Scheduled to open in Q3 2023, Pasar Rakjat at Riverwalk Island is a dedicated area to highlight the range of creative SMEs in Indonesia through a unique marketplace architecture and nostalgic decoration, such as Pasar Buku, Pasar Gerabah, Pasar Anyaman, and Pasar Perabot. By supporting the local SMEs, Pasar Rakjat aims to grow Indonesia's tourism, especially in DKI Jakarta.
Sawitri Setiawan, the Director of Commercial & Leasing at Amantara–Agung Sedayu Group, said: "Our tenant curation here demonstrates a slice of life in Batavia city as a bustling port where many nations traded and mingled, resulting in wide-ranging creations and flavours to be enjoyed by anyone and everyone."
Batavia PIK also adds to the convenience of visitors with facilities such as locally made souvenir stores, musholla, Batavia PIK buggies and other accessibility amenities, wide pedestrian walkways, visitors' directories, and so on. Furthermore, to complete the guest experience at Pantai Indah Kapuk, Amantara presents the all-in-one PIK Experience by Amantara application, available for download through the Google Play Store and Apple Store. Its main features include a loyalty program, information about destinations under Amantara, updated events and promos, details on public transport routes to the PIK area, and many more.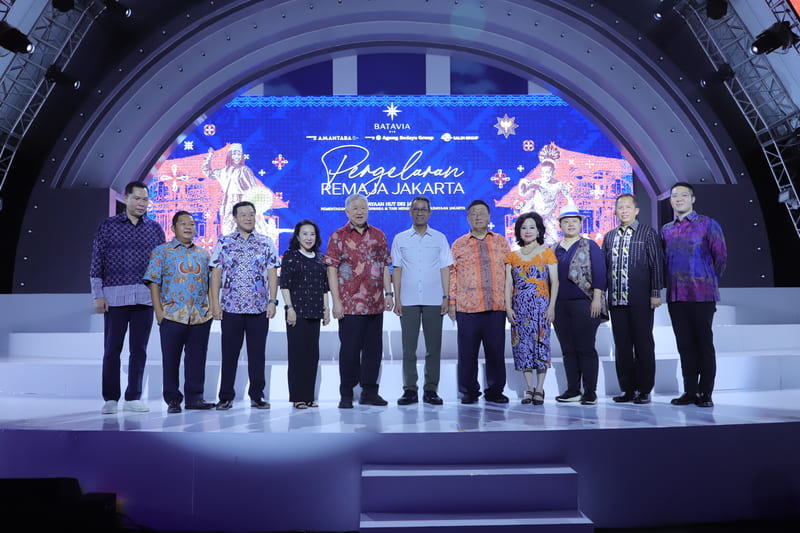 Anwar Salim, the Director of Operating Units of the Commercial & Hotel Division at Amantara–Agung Sedayu Group, said: "Batavia PIK completes the integration of destinations from the eastern to western areas of Golf Island PIK accessible to all. Moreover, with its historical concept and tropical architecture, Batavia PIK offers an unforgettable experience for residents and global visitors experience to the PIK area."
Going beyond a vision to preserve Indonesia's history and various cultures, especially for the next generation, Batavia PIK champions Environmentally Sustainable Design (ESD) using water and waste management, eco-friendly materials, and more. The cultural destination combines historic Batavia-style architecture with eco-living concepts, landscaping, and biophilic design to create a harmonious relationship between the site, its environment, and the visitors' comfort.
Hence, Batavia PIK earned the Best Retail Development title from PropertyGuru Asia Property Awards 2022—with many more achievements to come as it warmly welcomes global visitors to the PIK area.