Thanks to various conceptual, curated, and integrated destinations, Golf Island PIK ranks among the top travel choices in Jakarta #diPIKaja.
Within the past two decades, Pantai Indah Kapuk (PIK) has been the keyword as the go-to culinary hotspot for residents and travellers alike. These days, the area has been growing as a curated and conceptualised travel destination, drawing visitors from as near as the Jabodetabek area to other regions around Indonesia and tourists from abroad. Besides its strategic site with beautiful sunrise and sunset views on the shores of the Java Sea, PIK is famous as the hip hang-out place for millennials and families looking to enjoy holidays and weekends.
Curated and conceptualised by Amantara as the subsidiary, each destination has its uniqueness, identity, and story to provide a fun and exciting time for all. Here are five must-visit hits and viral travel destinations in Golf Island PIK: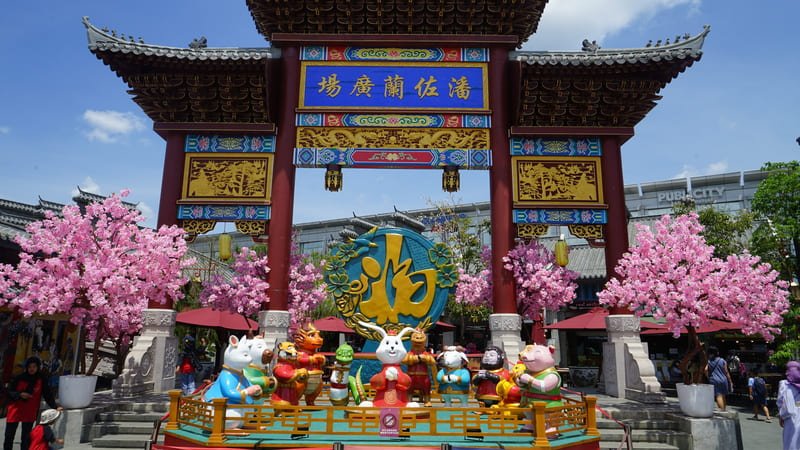 Pantjoran PIK
Pantjoran PIK is a culinary and travel destination celebrating the unique traditions where Chinese and Indonesian cultures meet and meld into the Chinese-Peranakan heritage. Presented through a unique modern lens, Pantjoran PIK tells of intermingling heritages and historical narratives via legendary cuisines and rich architecture. Since its opening in November 2020, this destination has become among the favourites of local visitors and global travellers thanks to its iconic red paifang gate called Gerbang Kemakmuran, five-stories Pagoda, Guan Yin and Guan Yu statues, and many more photogenic murals.
From its architecture, Pantjoran PIK goes from the more traditional styles found in China to the ones specifically from Guangdong and Fujian provinces. These are some of the original areas where many settlers had moved to then-Batavia in today's Old Town Jakarta area, such as Jembatan Lima, Pancoran, Glodok, and surrounding neighbourhoods in West Jakarta.
With this meticulous work to preserve and present the unique architecture of the Chinese-Peranakan heritage, Pantjoran PIK won the Best Retail Architectural Design title from the 2022 PropertyGuru Asia and Indonesia Property Awards. However, Pantjoran PIK goes above and beyond to provide a place where communities can meet and mingle.
The Oriental atmosphere here is even more festive thanks to the colourful decorations, especially during the special events at Pantjoran PIK. Among the thematic events with various concepts and activations, the annual special events include the Lunar New Year between January and February, Cap Go Meh in February, Festival Bakcang in June, Mooncake Festival in September, and Pantjoran PIK's anniversary in November.
With its conceptualised spaces, Pantjoran PIK supports the growth of Indonesian SMEs and creates job opportunities for those living in the surrounding areas. Furthermore, this destination helps preserve legendary Chinese-Peranakan culinary offerings from the Pancoran area in Glodok and historic cities around Indonesia: Wong Fu Kie, Hawaii, Din Tai Fung, Es Kopi Tak Kie, Zangrandi, Maison Weiner Cake Shop, Bubur Kamseng, Bakmi Gang Kelinci, Nasi Campur Asan 333, Kam's Roast, Ya Kun Kaya Toast, Kuotie Shantung, Es Goyang Kenangan, Maystar, Ponggol Nasi Lemak, Beach Road Scissors Cut, and many more.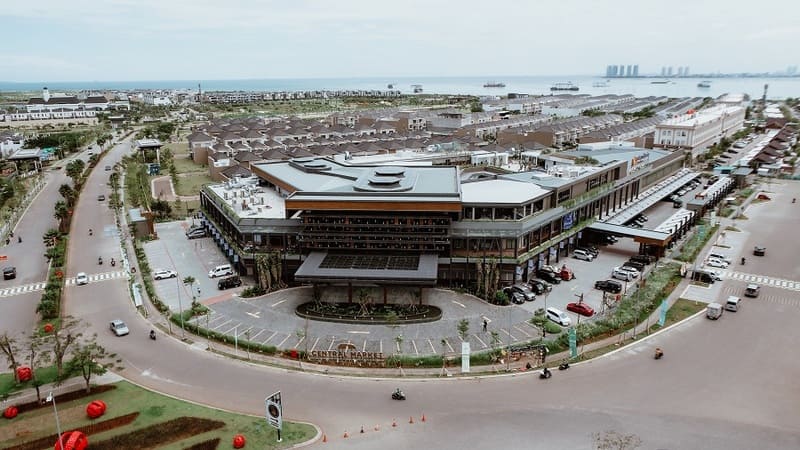 Central Market PIK
Central Market PIK sits at the heart of Golf Island PIK in integration with other destinations and facilities, such as Pantjoran PIK, Sedayu Indo Golf, By The Sea PIK, and the residential areas. After opening its doors in November 2022, Central Market at Golf Island PIK soon went viral on the Indonesian social-media scene thanks to its green architecture, unique interior, and homey atmosphere. This one-stop shopping centre champions an eco-friendly concept through various innovations and initiatives to answer a rising awareness for daily sustainable living.
Central Market PIK relies on a biophilic design to create a harmonious blend between the building, nature, natural lighting, and good air circulation. Up to 60 percent of its energy comes from solar panels and a natural cross-ventilation system. Green technology further applies to Central Market PIK with plenty of open spaces, and vertical gardens and green canopies add more cooling effects to the building. All these are possible thanks to a solid collaboration between PTI Architects, Bitte Design Studio, Eco Mantra, Grow Little Garden, and SOSJ Design Bureau & Consultancy.
For its efforts and commitment to care for the environment and people, this destination received the EDGE Advanced green building certificate from the Green Building Council Indonesia and International Finance Corporation-World Bank Group—the first one in PIK to do so. Moreover, it is the first retail building and one of the large-scale buildings in Indonesia to achieve the highest level of EDGE certification. Further cementing its success, Central Market PIK also won the Best Retail Architectural Design title from the 2021 PropertyGuru Asia and Indonesia Property Awards.
With a tagline, "Everything for everyone at a central location", Central Market PIK will surely bring a new shopping experience supported by more top tenants like Grand Lucky, Kinokuniya Bookstore, Bakerman, Gontran Cherrier, Sushi Tei, Six Ounces Coffee, Super YumCha, Paradise Dynasty, Mandif Butcher, Salad Stop, Kool Kreme, Lapis Lapis, Sour Sally, Baby Dutch Pancake, Demie Bakmie, Ban Ban, Susuru, Goobne, Halo Seoul, Maison Pierre, and many more. Moreover, its rooftop garden also serves as Hyde Park, where pets and families can play and shop together in an open space garden. To the delight of pet parents and their fur babies, Hyde Park has a café, a pet hotel, a grooming school, a pet shop, and a dog lounge.
Another green oasis in the city for communities and families to gather is Urban Farm at Golf Island PIK, which officially opened in December 2020. Nestled amid abundant greeneries, visitors can meet and enjoy togetherness while reading at the Transit Bookstore, bringing pets to the PawPular Pet Grocer, arranging flowers at Kinetic Farm, and enjoying culinary choices at tenants such as GIOI, Monsieur Spoon, Kopi Seindonesia, Wicked Pies, Tipsy Cream, and more. Urban Farm is also home to many community events where visitors can enjoy bazaars, organic markets, workshops, sporting events, live music sessions, and many more activities.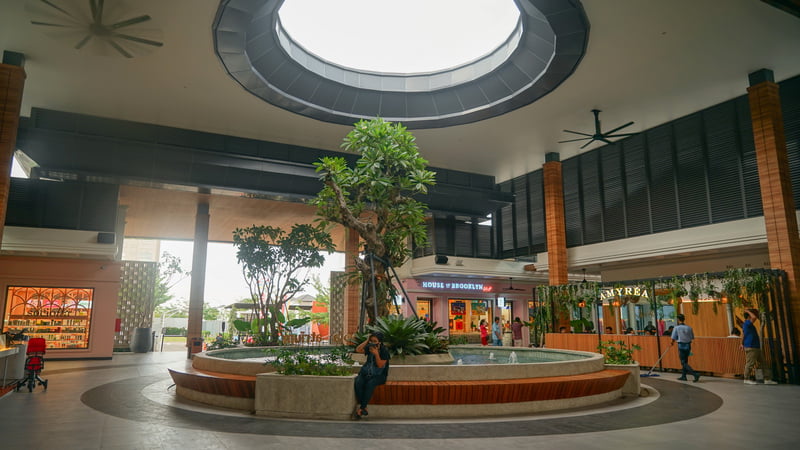 By The Sea PIK
By The Sea PIK (BTS PIK) at the east side of Golf Island PIK is the first seaside fashion district in North Jakarta, integrated with Central Market PIK, East Coast By The Sea, and the Jalasena Timur Transjakarta bus stop. With a resort-like interior design and semi-outdoor architecture, BTS PIK brings a unique shopping experience for visitors to outlet-type stores showcasing local fashion products to support the country's growing creative-economy industry.
Among the local and international fashion tenants at BTS PIK are 3Mongkis, Bateeq, Beatrice Clothing, Saturdays, Optik Seis, Vallice, Callie Cotton, Shop by Kami, Sovlo, Neru, Lewis Emma, Buiboo, Bohopanna, Helio, Bloom Et Champs, Mandy's Shoes, Cosmonauts Spaceware, AFRO, Marhen.J, and many other brands. Moreover, there are also beauty tenants like Sociolla, Saff & Co., Luxcrime, Studio Tropik, LaLaLash, and Nature Republic.
Besides retail therapy, this seaside fashion district has F&B choices to accompany any shopping spree, such as Cold Moo, Milky Way, Bleum Coffee, Mami Lana, Ume Sando, House of Brooklyn, Feel Matcha, Amyrea, and Teazzi. More lifestyle tenants at BTS PIK include Canvas Living, Cubic Home Décor, Kemayu, and Balloon Bar.
Since opening in August 2022, BTS PIK often rolls out the carpet for fashion shows accompanied by arts and crafts workshops and thematic bazaars in collaboration with local businesses and talents, such as local designers, creative-economy professionals, and I Love Bazaar.
In February 2022, for example, BTS PIK held the 'Wave of Love' fashion show featuring tenants' collections and more young, talented Indonesian designers. More pop-up fashion, beauty, and lifestyle stores from I Love Bazaar enlivened the event with fun workshops. There were also special deals from tenants at BTS PIK. Onwards, this destination will see more regular thematic and collaborative events to provide a place for the youth and local SMEs to create, innovate, and contribute to Indonesia's creative sector.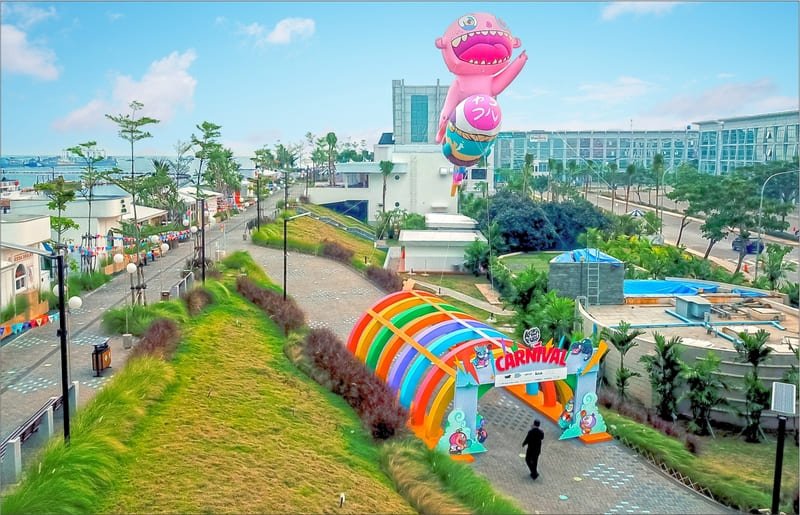 Cove PIK
Cove PIK is a conceptual outdoor retail destination for lifestyle and F&B tenants on the west side of Golf Island PIK adjacent to Batavia PIK. Stretched on the coastal line across Riverwalk Island at 4,555 square metres, this outdoor destination presents fun culinary, shopping, chilling, and hangout experiences with friends, family, and communities.
Cove PIK is the best event space for exciting events thanks to its unique open-space concept and beautiful seaside sunset views. Since opening in 2021, the destination has hosted various local- and international-scale events, such as the Karafuru Festival around the NFT topic, Astro Interstellar by Museum of Toys, Java Jazz on the Move, Astro Interstellar by Museum of Toys, Cove Skatepark, Cosmo Summer Party, Nyala! Cuan Town Festival by OCBC NISP, Coach Tabby pop-up tour, and many others; Cove PIK also often holds bazaars for local SMEs. Beyond fun and games for all, these events provide a place for youth to express themselves and enjoy their hobbies.
Completing each visit, Cove at Batavia PIK offers tasty and trendy culinary choices such as Sushi Hiro, Okayu Osho, Gelato Secret, Bad Neighbor Craft Beer, Hiyoten, Hot Stuff, Oyster Dealer, Brezza Aperitivo, Ask for Patty, Pancious Go, This Earth, and more. Visitors can also enjoy the sunset from the phinisi boat while enjoying fresh seafood menus from Talassa, an all-day breakfast menu and pastries at Livingstone Café & Bakery, and juicy burgers from Lawless Burgerbar. For shopping, visit 3Mongkis, the Museum of Toys, and Meiji.
Batavia PIK
Standing majestically on the connected opposite sides of Pantai Maju (Golf Island) and Pantai Kita (Riverwalk Island), this floating 3.5-hectare destination is one of the grandest projects to top off the development in Golf Island upon its opening on May 2023.
Inspired by old-time Batavia city as one of the centres for maritime trade in Nusantara, Batavia PIK carries a conceptual design through its tropical-style architecture. At the compound's centre stands the Batavia Icon against the backdrop of sea docks. Built on stilts above the water, Batavia Icon houses an art gallery highlighting Indonesian artists. Visitors can also try the giant angklung installation to appreciate the diverse cultural heritage of the archipelago.
Further enlivening the atmosphere, Batavia PIK utilises music, decoration, and various Nusantara-themed, international-standard water, light, and music shows. Even more exciting programs will take place at Pasar Rakjat to celebrate Indonesian culture, such as theatre shows, dances, music events, shadow puppet performances, arts and crafts, and more.
Adding to a unique experience at Batavia PIK is a range of local and international culinary choices, shops and souvenir stores, cafes, and curated retail stores. Among the famous tenants are Dewata, Canton 168, Orasa's, Sate & Seafood Senayan, Villa Capri, Rumah Jajan Bu Nanik, Filosofi Kopi, Yeu Saigon Café, Cutt n Grill, and Warung Made. A floating musholla and lined pedestrian walkway further enhance comfort for visitors here. With comprehensive facilities, various tenants, and exciting entertainment, it was no surprise that Batavia PIK won the Best Retail Development from PropertyGuru Asia and PropertyGuru Indonesia Property Awards in 2022.
As the crown jewel strategically located on the opposite sides of the channel between Golf and Riverwalk Islands, Batavia PIK is the destination for residents, local visitors, and international tourists. Moreover, its integration with other travel destinations on Golf Island PIK means visitors can enjoy more exciting experiences with their friends, communities, and families.