Inspired by Batavia City of the past, Batavia PIK brings new concepts, eco-friendly innovations, and modern architectural design into a magnificent travel and culinary destination on Golf Island PIK.
Celebrating the 496th anniversary of DKI Jakarta, Agung Sedayu Group and Salim Group present a masterpiece: Batavia PIK. Curated and conceptualised by Amantara as a subsidiary of Agung Sedayu Group, Batavia PIK is a majestic destination consisting of two phases in the Pantai Indah Kapuk area. Its first phase on Golf Island PIK opens in May 2023, followed by the second phase on Riverwalk Island, to gradually open in Q3 2023.
This 3.5-hectare floating culinary and entertainment destination connects the two islands and gets its inspiration from Batavia city as the trade centre in the colonial era of the Kingdom of the Netherlands, dubbed as the "Queen of the East." The port city, now called Jakarta, is famous for its beauty and as a melting pot where various nations gathered and traded. The resulting cultural assimilation thus influenced architecture, arts, culinary, and other aspects of local cultures.
The thematic concept and architectural details of old Batavia City are some of the main attractions at Batavia PIK. Music and decorations enhanced the authentic experience with Nusantara-themed, international-standard shows with water, light, and music. This unique entertainment concept and architecture, never seen before in Jakarta, completes the destinations in Golf Island PIK, which earned Batavia PIK the Best Retail Development title from PropertyGuru Asia Property Awards 2022.
Moreover, Batavia PIK applies Environmentally Sustainable Design (ESD) using water and waste management, eco-friendly materials, and more. The same system also applies to Central Market PIK, the first retail building in Indonesia to receive the EDGE Advanced certificate from the International Finance Corporation-World Bank Group and Green Building Council Indonesia. As such, Batavia PIK and Central Market PIK rely on the eco-living concept, landscaping, distinct architecture, and biophilic design to create a harmonious relationship between the site, its environment, and the visitors' comfort.
With a vision to preserve Indonesia's history and various cultures, Batavia PIK presents Pasar Rakjat as one of its main attractions. This area supports the SMEs in Indonesia through a unique marketplace architecture and nostalgic decoration divided into Pasar Buku to Pasar Gerabah, Pasar Loak, Pasar Anyaman, and Pasar Perabot. By supporting the local SMEs, Pasar Rakjat aims to grow Indonesia's tourism, especially in DKI Jakarta.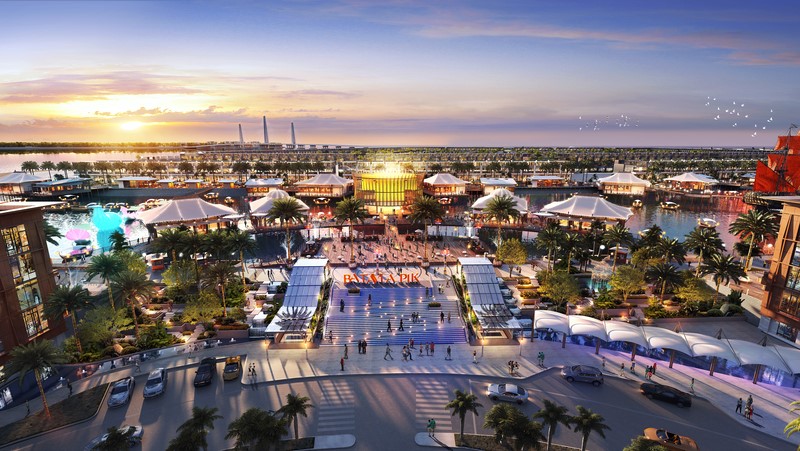 Natalia Kusumo, the CEO of Commercial & Hotels Division 2 at Amantara-Agung Sedayu Group, said: "The younger generation in Indonesia needs to know the cultural riches here and grow strong roots to apply national values as the foundation for a brighter future. We hope that Batavia PIK becomes a modern melting pot to showcase the beauty of Indonesia for the people here and visitors from abroad."
Besides entertainment, visitors can take photos of the sunset on the sea from the Batavia Icon built on the sea. This iconic building houses an art gallery featuring Indonesian artists and installations, such as a giant angklung set, as an appreciation for the diversity in Nusantara.
Sawitri Setiawan, the Director of Commercial & Leasing at Amantara-Agung Sedayu Group, said: "We have curated the tenants at Batavia PIk to bring the best of local and international options so visitors can enjoy a variety of unique culinary adventures."
More facilities add to the convenience of visitors, such as souvenir stores, cafes, curated retail tenants, musholla, pedestrian walkways, and global culinary choices. Some well-known tenants in Batavia PIK include Tugu Group, Dewata, Sate&Seafood Senayan, Warung Made, Filosofi Kopi, Cutt&Grill, Villa Capri, Orasa's, Yeu Saigon Cafe, Rumah Jajan Bu Nanik, and Canton 168.
Anwar Salim, the Director of Operating Units of the Commercial & Hotel Division at Amantara – Agung Sedayu Group, said: "Strategically located and integrated with other destinations on Golf Island, Batavia PIK brings historical concept and architecture to enhance residents and global visitors' experience here."
To complete the guest experience at Pantai Indah Kapuk, Amantara presents the PIK Experience by Amantara application. A loyalty program, information about destinations under Amantara, and updated events and promos are some of its main features. This all-in-one application is available for download through the Google Play Store and Apple Store.