Every early morning, Made walks out into the shallow waters around the island of Nusa Lembongan in Bali.
He pushes his "jukung" (slender, wooden boat) a bit away from the shore to get it into thigh-deep water, then hops onto it to row along vast fields of plants tied to sticks that form columns.
As he gets further away from the shore, the jukung and Made look like a paper boat and a toy in the vast seaweed farm of Bali. Symmetrically cut in squares and rectangles, the farm starts where the waves die and spread until the edges of water where two islands – Nusa Lembongan and Nusa Ceningan – transform the sea into the shape of a rivulet.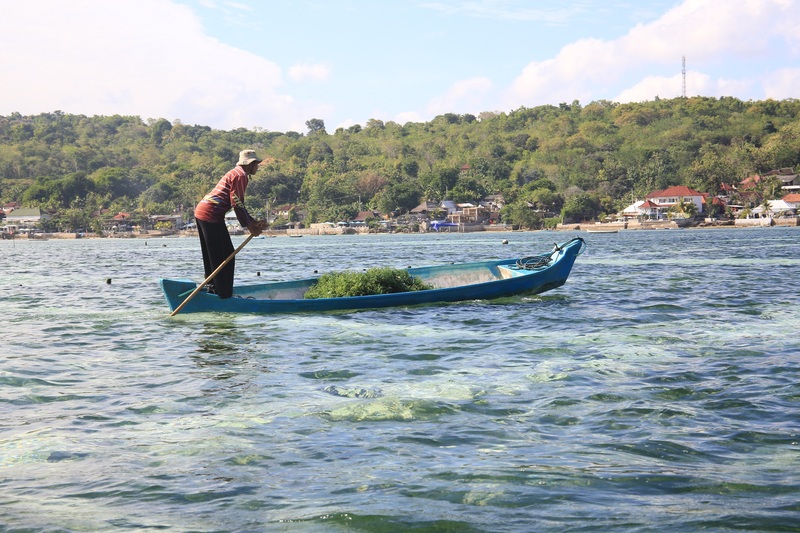 History says that some businessmen from East Java introduced seaweed into the island and brought up this idea of farming a few decades ago. Ever since that time, seaweed farming has flourished for an adorably continuous period. Made and the villagers all have their own individual columns of seaweed on the farm. Some own a handful while there are also others who have large swathes of shares. But the most interesting thing to note is that these seaweed farms are the property of all villagers of the two tiny islands. Apart from this one where Made works, there are others in other parts of Nusa Lembongan like in Jungut Batu off the western shore.
The seeds are usually purchased from Nusa Penida, one of Bali's tourist gems. Once the seeds are brought to Lembongan, the farmers start planting them in their underwater plots. Each plot typically measures around 5×50 metres but may vary in size. The ropes that are bought along with the seeds are used to tie the seeds around wooden sticks at the ends and middle edges of the columns. The planted seeds that form the columns spread dark green hues in juxtaposed order when viewed from above.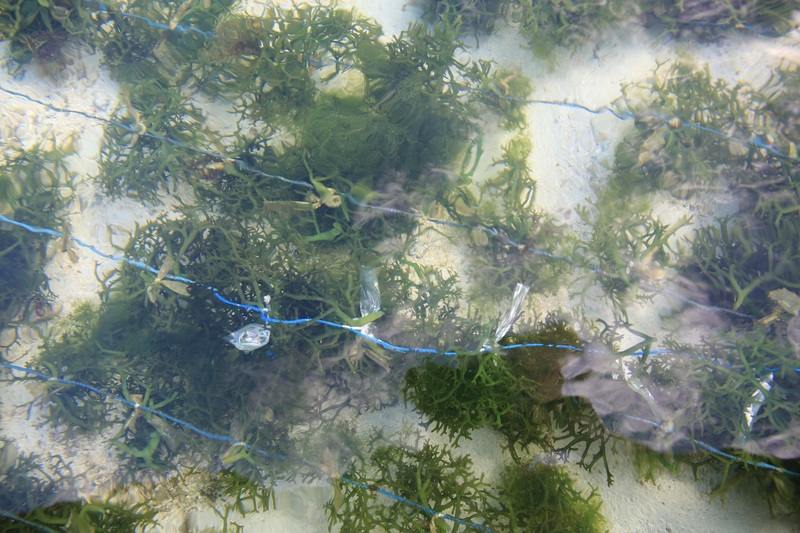 Each of these submerged columns (look like boxes) is capable of producing approximately 100 bundles of seaweed. The choice of ocean terrain is a crucial one, for it must gracefully yield to both the ebb and flow of tides. These seaweeds can thrive during high tides, but warm temperatures may not be friendly to their growth. To mark each farmer's territory, each column is adorned with fluttering flags, tethered to sturdy wooden stakes. Harvesting starts after the seeds remain underwater for about 45 days. This is usually done during full moon and new moon nights, meaning at least twice a month.
Depending on the size of the columns, the harvesting process can stretch for up to 10 days. The farmers often find themselves toiling through moonlit nights, their brows aglow with the illumination of head torches during low tides. Working during nights in the sea involves windy and cold environments which is no easy calling. Come morning, they wield their harvest knives, cutting the seaweed free and ferrying it to the shore. As the afternoon tide ebbs, they curate new rows of seedlings, preparing the stage for the next harvest.
Made occasionally takes tourists to his farm to show them and give them a true experience of bringing the harvest home. Sitting in a jukung, he shows them how to separate the green fibre from the seaweeds before bringing them ashore. He also gets his spear and wooden sticks out to demonstrate how to plant seaweeds. Tourists often look at this in awe as Made makes the job of carrying his cumbersome spear and fixing the sticks look like a left-handed job.
The income earned through harvesting seaweeds is just enough for the farmers to feed their families on a monthly basis. At the moment, a kilo of dried seaweed fetches about Rp14,000 (about US$1) which will enable each of them to pocket at least Rp3 million (about US$200). As there can hardly be any savings after monthly expenditure payments, most farmers are engaged in multiple professions. Made is a farmer during the mornings, a villa caretaker during the afternoons and a security guard by night.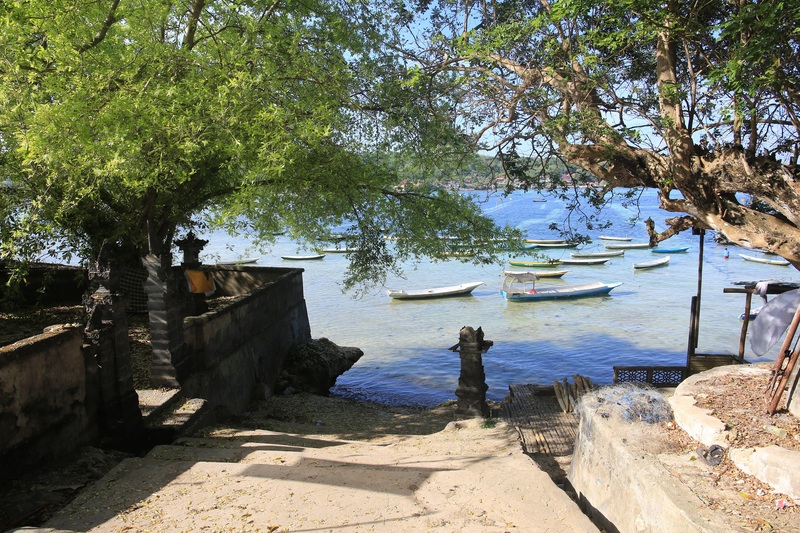 The income from villas and other professions is more lucrative, but during the COVID-19 pandemic, all the farmers had to take refuge in Bali's traditional ways of work and earning. Covid shut all businesses for more than two years, causing Bali's illustrious tourism industry to dive into an eerie lull. Made and his friends worked on the farms but were not quite successful in selling off everything they harvested as their movements were highly restricted.
As Made wades out of the farm in the shallow waters, carrying ready-to-be dried seaweeds in his twin baskets tied to a pole, balanced on his shoulders, a thought lingers in my mind about seaweed's future. Seaweed is probably the most promising reply to single-use plastic. Farming it and popularising it among the public is inevitable in the coming years. It may not be as easy or as cheap as plastic, but Indonesia has the potential to show the world how this solution can work out and spread globally.