A Wilderness Escape
A trip to the Gunung Leuser National Park in Southern Aceh is an authentic wilderness experience. Your accommodation choices are limited to budget forest cabins or simple bungalows, so it's a no- frills affair. It's possible to spot gibbons, Thomas leaf monkeys, orangutans, hornbills, moon snakes, elephants and monitor lizards. Although pretty rare, there have occasionally been Sumatran tiger and Sumatran rhinoceros sightings.
On my first morning in the Park, the lodge where I was staying became a hive of activity with people packing water, strapping up their leg gaiters and heading out for their morning trek.
Several trails start right from the lodge and, after only ten minutes walking, you enter the cool forest. If you observe silence on your walk, you are almost certain to see wild orangutans within a very short time.
It's a case of 'follow the leader' and, when the guide stops, you stop. There are no banana feeding platforms in this area of Gunung Leuser; it is a natural habitat. To maximise your chances of seeing an orangutan, you follow the fruit trails on the forest floor, which may also mean a bit of bushwhacking.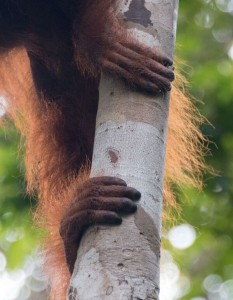 We spotted our first large primate high up in the trees, next to a stand of giant old growth trees reaching 30 metres into the sky. Our guide was so excited to point out not only one, but three orangutans. It often takes a trained eye to spot a wild orangutan. Unless they are on the move, these masters of camouflage blend perfectly into their environment. They sit very high in the treetops and are ever so still, making very little noise.  
Within minutes of spotting our three orangutans, a family of gibbons joined us. Their high-pitched lyrical calls are beautiful to listen to. I quickly got out my smartphone and recorded the sound. The gibbon call is a song which builds and gathers pace, lasting about 20 minutes.
Next minute, our guide pointed to the east and there, gliding through a gap in the trees, a magnificent lone hornbill cruised gracefully on a steamy jungle air stream, her large wingspan brushing either side of the foliage.
We headed back to the lodge for lunch and eagerly swapped stories with the other travellers there. Two German fellows had seen seven orangutans on their morning jaunt and they were going back for more.
After lunch, I clambered into the back of an old, weathered truck, along with a folded river raft, a bunch of oars and four guides – this time to explore more wildlife from the river.
The rafting trip gave us a great insight into village life, which we observed intermittently along the river's edge.
As we passed by, friendly cheers and waves from the local village children broke the silence, as they scrambled and fell over each other to greet us, trying to keep pace with the raft. They entertained themselves (and us) by jumping off rocks, impersonating animal calls and clowning about. Great river entertainment.
The trip combined a series of swift-paced rapids with lots of slow relaxed glides on the river current. When the cool, clear river slowed down to a meander, we tucked the oars inside our boat and soaked in the serenity and silence of the wide open river. Towering trees provided shady relief as we passed a few caves. Now and again, we spotted the odd beehive dangling from the high treetops.
I asked our guide about other wildlife in the area. He explained: "Oh I have seen three tigers, about two years ago now. They were down by the river. I was actually fishing at the time. Also, we have herds of wild elephants here in the Park. I have seen them many times. It's quite common."
The 'big four' live in the Park – elephant, tiger, orangutan and rhinoceros. It is also the habitat of the clouded leopard and the sun bear. The Gunung Leuser National Park was established in 1980 and gained World Heritage Listing for Tropical Rainforest Heritage in 2004.
With the world's largest official state flower (the Rafflesia) and, for example, 17 species of squirrels as well as over 10,000 plant species, it's a nature lover's dream. By staying in Ketambe, the Park's eco-tourism accommodation, you support and help to preserve what is truly one of the most beautiful places in Indonesia.
How to Get There
Medan, Sumatra to Ketambe by road
230 km (7-8 hours drive)
Tour guide and driver:  Ibu Ferzya    
Tel:  + 62 812 156 7052
Email:  [email protected]
Option:  Banda Aceh to Ketambe by road is worth considering. It's a spectacular drive. Allow a fifteen hour drive.
Medan to Ketambe by air
30 minutes – 110 kms by air
Susi Air currently operates. However, it depends on schedules which can change at very short notice and payment is by cash only. Booking by agent/tour guide recommended.
Kutacane Airport (Alas Leuser Airport) to Ketambe – 30 kms by road
Accommodation:  Wisma Cinta Alam, Ketambe, Gunung Leuser National Park – Budget clean cabins. No website or email. Can be booked by your tour guide.
Forest Guide:  Pak Misuardi – Tel:  +62 853 736 23237