Pack your swimming gear we're off to the beach to swim, slide, surf, parasail, jet ski or scuba dive. Take your pick! For kids who live in Bali, many can swim well by five and some are entering international swimming and diving competitions — and winning — by age ten or eleven. What else do kids want to do in one of the world's best holiday resorts? Spend some time in the water, of course. Here we take a quick journey around Bali at some of the water sports' highlights in the north, east and west of the island.
Bali has several water parks, three located in Kuta; the fabulous Bali Waterbom, the Circus Water Park and the New Kuta Green Park, the latter two catering mainly for locals.
KUTA'S WATERPARKS
Waterbom
Waterbom is located near Discovery Mall in the centre of Kuta's Jl. Kartika Plaza. It has a host of features and activities, with 20 slides, swimming pools, kiddies' pools and a lazy river where you float along inside your tube in a large meandering circular flow. The 3.5 hectare park is well laid out, with many features, like the gazebos, hidden behind shrubbery, making them more private. There is a selection of good food stalls in the food court which serve a wide range of dishes and snacks — fish, chicken, fruit — at realistic prices (unlike most adventure parks). It is very busy at lunch time, but if you have a gazebo your meals will be delivered to you.
New to the park in 2010 were three additional water slide features, the aqualoop, better known as "Climax", the Boomerang and the Superbowl. The Boomerang sees riders shoot down the slide and up an almost vertical wall before sliding back to the finish. Superbowl sees you in your inflatable slide down a drop, ride a circular wall, and as you slide into the middle, you then shoot through a tunnel and come out riding the water slide from side to side as you come down fast.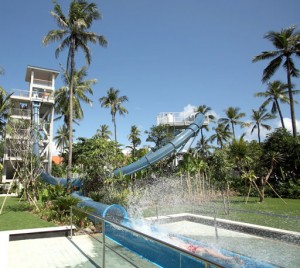 The most exhilarating slide is undoubtedly Climax! Climax starts with a single rider getting inside a perspex tube. The door closes, the trap door opens and you fall through mid-air at high speed, slide down the loop before coming to a halt by creating your own big wave. You come out of this literally shaking with the feeling of being in free-fall if only for a moment. It's scary, but so much fun. Climax is also affectionately known as the toilet bowl slide because of the feeling of being flushed.
Waterbom is a great day's entertainment for all ages. It's relatively cheap by western standards and if you are in Bali long enough, buy a two day pass as the extra day is cheaper still. A two day pass is valid for seven days. Towels, lockers and gazebos are available for hire and there are plenty of pool chairs to give your feet a rest.
Instead of using cash, you get a cash-band that has credit on it and straps to your wrist, so no need to carry a bag. Any extra credit gets given back to you at the end of the day.
It's best to arrive early (open 9am-6pm every day), so you can get settled in and go on the popular rides before the queues get big around lunchtime. Even when busy though, you don't have to wait too long.
For those who like a little pampering, you can get a whole body massage — or your feet cleaned of dead skin delivered to you by fish that nibble at your feet.
Jl. Kartika Plaza
Tel: +62 361 755 676
Fax: +62 361 753 517
E-mail:[email protected]
Prices (2013):
US$ 31 ($50 for two days) adult
US$ 19 ($31 for two days) child (2–11 years old)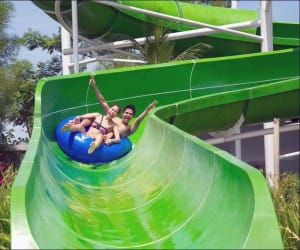 Circus Water Park
Circus Water Park opened in 2010 and features waterslides, pools, water bucket, Phinisi boat and restaurant area.
Book early at [email protected]
Jl. Raya Kediri, Kuta
Tel: +62 361 764003.
Prices are for adults US$11 (concession $7.20) and $6 ($4) for kids, with family package 2+2 at $33 ($27)
New Kuta Green Park
New Kuta Green Park, which opened in 2012, sits within a five hectare park and features wave pool, waterslides, flow rides, flying fox and bungi trampoline.
Jl. Raya Uluwatu, Pecatu, South Kuta
Tel: +62 361 8484777
All three venues have concession prices for families and larger groups and there is plenty of free parking.
Prices: Foreigner Rp.112,000 and Rp.72,000 for domestic – so bring along your KTP, Kitas or Indonesian drivers licence to show you live here.
EAST COAST'S WATERSPORTS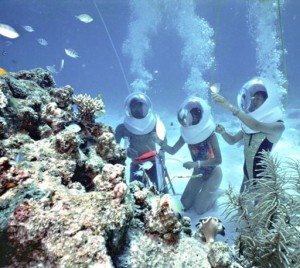 Nusa Dua's Watersports
Nusa Dua/Tanjung Benoa has become the place in south Bali associated with parasailing and jet ski. When the winds are light, the jet skis are out. When the winds are stronger, the energetic parasailers come out in force. Surprisingly few water skiers take to these waters, perhaps because of the cost. Try a banana boat or flying fish for a bit of watery fun.
A recent and popular feature is the "Walk on the bottom of the sea;" no swimming ability necessary, you just need to be brave enough to put on a divers helmet with full face mask and air hose to the surface and spend half an hour at shallow depth (max five metres) enchanted by the wonders of the coral reef, protected from sharks and barracuda by a protective net. It is an experience of a lifetime for kids (age nine and over) who have never seen the delights of the undersea world up close and very personal. They come back to the surface with every diver's question-and-answer: "Did you see so-and-so… really awesome!"
Bali Seawalker is located at Puri Santrian Resort, Jl. Danau Tamblingan, Sanur, Denpasar. Prices start from US$ 46 for kids.
North Bali's Diversity
Whether it's diving at Menjangan Island in the West or taking a dip in Air Sanih's cool spring pool in the East, north Bali's Buleleng district offers a wide range of activities both on and off the water.
Located 10km west of Singaraja, Bali's old capital and only large town in the north, is Lovina, this district's "Tourist Central."
Lovina's Watersports
Lovina has every kind of accommodation, from big hotels to budget losmen, a host of restaurants, bars, dive shops, supermarkets, banks and transportation to suit your needs and your pocket. It is particularly favoured by younger tourists who want to get away from teeming south Bali.
Lovina itself has many attractions, from its black chromatic sand beach with its colourful fishermen's outrigger canoes to the hundreds of dolphins which are seen almost daily a kilometre or so offshore. One of the favourite excursions in Lovina is going dolphin watching. Fifty to eighty outrigger boats head out every morning around 6am in search of schools of dolphin. Hundreds of dolphin can be seen in an hour or two at this time of the morning — a real sight to behold. Lovina beach draws the crowds again around 6pm to watch the sunset.
Hot Water Springs and Buddhist Monastery at Banjar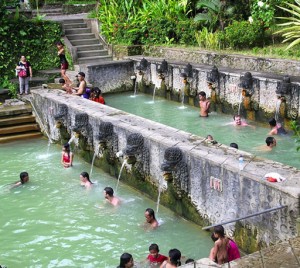 The Hot Water Springs, located about 2 km inland from the main road at Banjar, is a natural hot spring which is open daily 7am–6pm. Its water is rich in iron and sulphur and is believed to have healing properties. There is a large swimming pool kept warm by the continuous hot water flowing into it and a mini 3.5 metre high triple-piped waterfall which pummels the flesh, making the body feel relaxed and fresh.
Brahma Vihara Arama, built in 1970 in adjoining Tegehe hamlet, is popular with Buddhist visitors from all over Asia who come here to worship and meditate. It has several unique Balinese Hindu features including colourful dragons guarding the entrance and a wooden drum tower for calling the monks to prayer. Its location on the northern slope of the mountains affords a wonderful view of the north coast. Tel: 0362 92954.